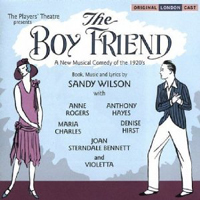 Original London Cast, 1954 (HMV/Sepia)

(3 / 5) A pastiche of 1920s tuners with an absurd but dear book and a Sandy Wilson score packed with wonderful tunes, The Boy Friend is presented here in a cast album of the show's first full production. As such, this is the most "authentic" of the musical's various recordings, but others are more complete, more fully orchestrated, and boast better singers. Many of the songs were edited down for this recording, and "Safety in Numbers" and "The 'You-Don't-Want-to-Play-With-Me' Blues" are missing entirely. The performers set the tone for those who followed. Anne Rogers is Polly, the finishing-school student who falls in love with a messenger who turns out to be the son of a lord; Denise Hurst is Maisie, in love with wealthy Bobby Van Dusen; and Maria Charles is Dulcie, who has a flirtation with Lord Brockhurst. The plot comes to what is described as an ending "in which everybody is successfully paired off in a matter of minutes."  — David Wolf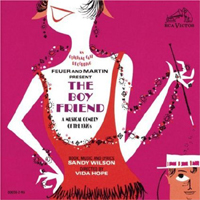 Original Broadway Cast, 1954 (RCA)

(4 / 5) When top-flight Broadway producers Cy Feuer and Ernest Martin got the American rights to The Boy Friend, they agreed to bring author Sandy Wilson and director Vida Hope to New York to ensure that the U.S. edition would be faithful to the London original. But the plan soon soured. According to Feuer's autobiography, Wilson and Hope insisted on adding a new scene and song, which the producers vetoed. Wilson's version of the story is that Feuer and Martin cut a song, switched actors from one role to another, and fired others. He claims they even tried to get rid of star Julie Andrews, whereas Feuer writes that he knew she was a genius all along. From all reports, the New York production was faster, louder, and broader than the original. In the only change that Wilson approved, the music was re-orchestrated (by Ted Royal and Charles L. Cooke), and more musicians were added. The Broadway cast performs with punch and precision, and the score sounds great on this recording — especially the snazzy new overture, which rides to a dazzling conclusion. — D.W.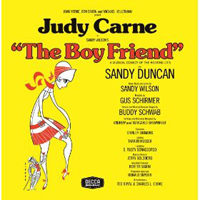 Broadway Revival Cast, 1970 (Decca)

(4 / 5) The original Broadway production of The Boy Friend ran 485 performances, beginning in 1954. Three years later, the show was revived Off-Broadway and ran nearly twice as long. In 1970, it was revived again, this time on Broadway, and  although the run was short, that production yielded a cast album that includes the Act II finale and other previously unrecorded numbers. Judy Carne, then a star of TV's Laugh-In, got above-the-title solo billing but proved uninteresting onstage; while she sings well enough as Polly, she can't compare with Julie Andrews or Anne Rogers. People who remember this production always refer to it as "the Sandy Duncan Boy Friend." Indeed, Duncan was adorable in the secondary role of Maisie and got all the reviews (with her charming partner, Harvey Evans), but on the recording, she has some trouble with "Safety in Numbers." Leon Shaw as Percy Browne sings his part of "Fancy Forgetting" poorly; Barbara Andres as Hortense speaks "It's Nicer in Nice" rather than sings it; and the orchestra performs without the glorious abandon of the players on the first Broadway album. — D.W.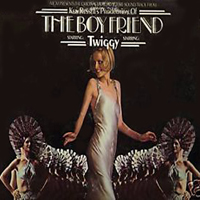 Film Soundtrack, 1971 (MGM/no CD) 

(1 / 5) MGM had long owned the film rights to The Boy Friend but did nothing with them until the studio took the lunatic step of handing the property to director Ken Russell. His screenplay has a repertory troupe visited by a Hollywood director who turns the troupes show The Boy Friend into a lavish movie musical. The film is filled with striking images, yet it's campy and witless. We're left with the charming performances of Twiggy and a young Tommy Tune. The score, here marred by too-cute orchestrations by Peter Maxwell Davies, has little feel of the '20s. Two songs, "The 'You-Don't-Want-to-Play-With-Me' Blues" and "It's Nicer in Nice," were cut from the film but are on the soundtrack album. Meanwhile, two vintage non-Sandy Wilson numbers, "You Are My Lucky Star" and "All I Do Is Dream of You," were added; their interpolation can only be described as unnecessary, which is also a good word for this recording.  — D.W.