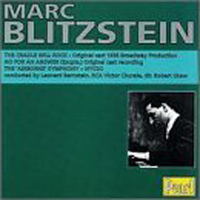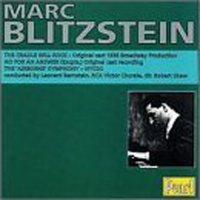 Original Broadway Cast, 1938 (Musicraft/Pearl)

(3 / 5) The Cradle Will Rock, produced by John Houseman and directed by Orson Welles, was created under the auspices of the WPA's Federal Theatre Project. What was to have been its opening performance at the Maxine Elliott Theatre was blocked by guards who were ordered to close down the controversial show. The company and audience then marched to the Venice Theatre on 59th Street, where the premiere took place with the actors performing from the house as composer-lyricist-librettist Marc Blitzstein played a lone piano on a bare stage. For two weeks, performances continued without sets and costumes and with solo piano accompaniment. When the show reopened six months later for a Broadway run, it was recorded; this may well be considered the first original Broadway cast album ever. It includes narration and accompaniment by composer/lyricist Marc Blitzstein, and the score sounds like no other. Heavily influenced by Brecht-Weill works, Blitzstein turned his classical training toward creating an agitprop piece about the Great Depression. It offers musical theater songs, protest songs, pastiche numbers, recitative — whatever would engender audience response to the unpleasant truths being revealed. The performances on this vivid recording are full of passion. Olive Stanton is vulnerable in the historic "Moll's Song" and later grabs you with "Nickel Under the Foot." As Larry Foreman, Howard Da Silva delivers a powerful "Leaflets," leading into the title song with an effective mixture of humor and outrage. As Ella Hammer, Blanche Collins sings "Joe Worker" with appropriate defeat in her voice. Other highlights are "Honolulu" (a spoof of tropical songs), the satirical "Art for Art's Sake," and the sarcastic "The Freedom of the Press." These recordings, documents of great historic value, are available on CD in the two-disc Pearl set Marc Blitzstein: Musical Theatre Premieres, which includes the 1941 cast album of No for an Answer (featuring a young Carol Channing) and The "Airborne" Symphony, conducted by Leonard Bernstein. — Jeffrey Dunn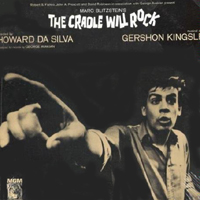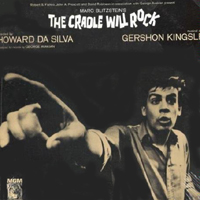 Off-Broadway Cast, 1964 (MGM, 2LPs/no CD)

(3 / 5) Two notable aspects of this revival were its superb direction by Howard Da Silva and the contribution of Leonard Bernstein as musical consultant. Gershon Kingsley's piano playing and musical direction are crisp and driving. Nancy Andrews, who dominates the first half as Mrs. Mister, rips into her material with gusto and great pipes. In the second half, Jerry Orbach as Larry Foreman sings with power and outrage, especially in the title song. Also impressive are Gordon B. Clarke, Joe Bova, and Rita Gardner. — J.D.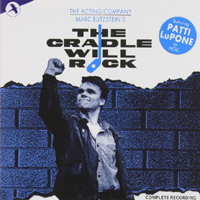 Original London Cast, 1985 (Polygram/JAY, 2CDs)

(3 / 5) This production reawakened interest in The Cradle Will Rock when The Acting Company presented it Off-Broadway, again directed by Howard Da Silva, and then took it to London. Each performance began with John Houseman recounting the saga of the show's cancellation in 1937; that 12-minute prologue is recorded here. At the piano is musical director Michael Barrett, a Bernstein protégé. Randle Mell is a powerful Larry Foreman, and Michele-Denise Woods as Ella Hammer stops the show with "Joe Worker." Patti LuPone's rendition of Moll's "Nickel Under the Foot" is one of her finest recorded performances, searingly honest and faultlessly nuanced. Other standouts are David Schramm, Casey Biggs, and Leslie Geraci. This is an often exciting, concise recording of the piece; the first disc of the set consists entirely of Houseman's narration. It should be your first stop in getting acquainted with this groundbreaking musical.  — J.D.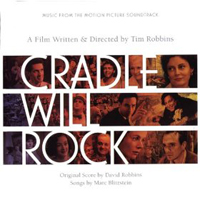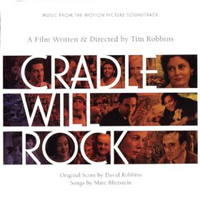 Film Soundtrack, 1999 (RCA)

(1 / 5) Tim Robbins' film Cradle Will Rock (no "The") tells the story of the original production intermingled with other plots concerning art and censorship. About half of this CD is devoted to songs from the original show; the other half is new music composed for the film by David Robbins. "Moll's Song" (sung by Emily Watson), "Croon Spoon" (Eddie Vetter and Susan Sarandon), "Honolulu" (Erin Hill, Dan Jenkins, Vicki Clark, Tim Jerome), "Reverend Salvation" (Vicki Clark and Chris McKinney), "The Freedom of the Press" (Henry Stram and Tim Jerome), and "Art for Art's Sake" are all here in unedited form, plus Audra McDonald's compelling rendition of "Joe Worker." (Other songs in the film are not on the CD.) In the notes for the recording, David Robbins writes: "The arrangements you hear are, for the most part, Blitzstein's original orchestrations." This may be technically true, but because the orchestra here consists of only 12 instruments with a single violin, the score has more of a Brecht-Weill sound than the operatic heft that Blitzstein intended. The disc begins with an awful rendition of "Nickel Under the Foot," heard in the film over the end titles, but don't let this one disgraceful track keep you from exploring the pleasures of the recording.  — J.D.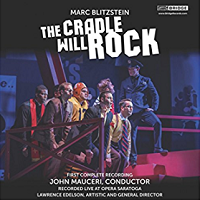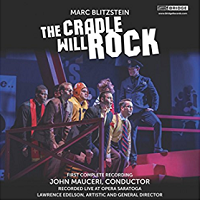 Live Performance at Opera Saratoga, 2018 (Bridge)

(4 / 5) This is the first and, to date, only complete recording of the full score of The Cradle Will Rock with the original 1937 orchestrations by Blitzstein restored, and it's a revelation in that regard. Overall, the orchestrations are fuller, more melodic, less "spikey" than one might expect, giving credence to Jeffrey Dunn's comment (as stated above) that Blitzstein was going for more of an operatic sound rather than a minimalist, Brecht/Weill flavor with this work. Of course, that grand operatic heft is heightened here by the casting of singers with "legit" voices, and also by the fact that the excellent live recording exhibits a fair amount of natural reverb. The cast is strong, led by Christopher Burchett as Larry Foreman, Ginger Costa-Jackson as Moll, Matt Boehler as Mr. Mister, Audrey Babcock as Mrs. Mister, and Justin Hopkins as Reverend Salvation. Conductor John Mauceri leads a crackling, energetic performance that seems geared more towards entertaining the audience than "alienating" us in the Brecht/Weill fashion.  — Michael Portantiere