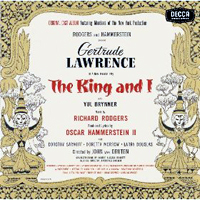 Original Broadway Cast, 1951 (Decca)

(3 / 5) Although the quality of Gertrude Lawrence's singing as Anna Leonowens in Rodgers and Hammerstein's The King and I was widely criticized, the effectiveness of her performance onstage was never questioned. While listeners may find the star's vocal quality somewhat quivery here, the charm and drama she brings to such now classic songs as "I Whistle a Happy Tune," "Hello, Young Lovers," "Getting to Know You," and "Shall We Dance?" gives substance to the superlatives that are still thrown around regarding her performance. Owing to space limitations on LPs of the 1950s, this recording has no dialogue lead-ins, little internal dialogue, and edits in many songs, while the "Small House of Uncle Thomas" ballet and "Western People Funny" numbers are cut entirely. The exquisite Doretta Morrow as Tuptim wins the vocal prize with her solo "My Lord and Master" and her two duets with the stalwart but very American-sounding Lun Tha of baritone Larry Douglas. Dorothy Sarnoff is wonderfully dignified in her rendition of "Something Wonderful," and Yul Brynner's first recording of "A Puzzlement" is essential, even though abridged. The sound quality of the recording was improved through remastering for digital media, and the preservation of the songs as originally performed, orchestrated by Robert Russell Bennett, and conducted by Frederick Dvonch shows this score to be a masterwork. Though subsequent recordings of The King and I are far more complete and offer better sound, it would be a mistake to overlook this album.  — Jeffrey Dunn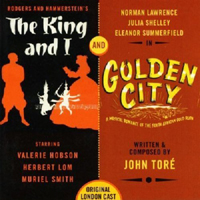 Original London Cast, 1953 (Philips/Sepia)

(1 / 5) Listening to Valerie Hobson as Anna, we can only wonder why, when so many people had issues with Gertrude Lawrence's singing in the Broadway production, a stronger vocalist was not engaged for the role in London. Hobson has charm but fails to soar in her songs, except when she duets with Herbert Lom in "Shall We Dance?" Lom's "A Puzzlement" is even further abridged than Yul Brynner's on the original Broadway album, and not nearly as interesting. As Tuptim and Lun Tha, Doreen Duke and Jan Mazarus are generically legit singers. The only performance that rises above the level of "adequate" is Muriel Smith's "Something Wonderful." The Sepia CD is filled out with songs from two British musicals, Golden City and Bet Your Life. — J.D.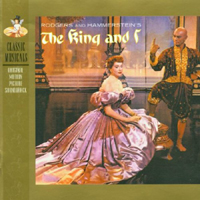 Film Soundtrack, 1956 (Capitol/Angel)

(4 / 5) One of the best stage-to-screen adaptations, the film version of The King and I is largely responsible for the musical's enduring popularity. To begin with, it captured Yul Brynner's performance for posterity, and Marni Nixon's gorgeous vocal dubbing for Deborah Kerr is uncannily perfect. The soundtrack recording contains three songs that are not in the film — "My Lord and Master," "I Have Dreamed," "Shall I Tell What I Think of You?" — and the audio portion of the "Small House of Uncle Thomas" ballet, performed almost complete in the film, is also included on the expanded version of the album. Orchestrations are credited to Robert Russell Bennett plus three others; supervised by musical directors Alfred Newman and Ken Darby, these orchestrations provide a majestic sound. Terry Saunders (LadyThiang) does her own fine singing, while Rita Moreno (Tuptim) and Carlos Rivas (Lun Tha) are respectively dubbed by Leona Gordon and Reuben Fuentes.  — J.D.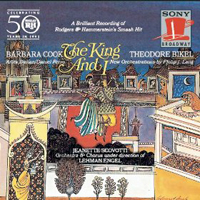 Studio Cast, 1964 (Columbia/Sony)

(3 / 5) Unfortunately, this album features new orchestrations by Philip]. Lang, even though the originals for this score were among the best that Robert Russell Bennett ever created. Lang made a point of going his own way here, but his orchestrations actually work best when they are most reminiscent of the originals; when he seeks to improve, he fails. Nevertheless, this is a noteworthy recording in that it offers a superb performance by Barbara Cook, who had played Anna in a critically acclaimed 1960 staging of The King and I by the City Center Light Opera Company, run by Jean Dalrymple and devoted to faithful revivals of great musicals. While Cook's performances of all of the songs are wonderful, her "Hello, Young Lovers" and "Shall I Tell You What I Think of You" are among the best on record, and her "Shall We Dance?" with Theodore Bikel as the King has great verve. Bikel delivers "A Puzzlement" in a stalwart manner; Jeanette Scovotti and Daniel Ferro are appropriate if unexciting as the young lovers; and Anita Darian is fine as Lady Thiang. — J.D.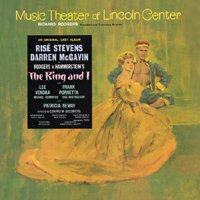 Music Theater of Lincoln Center Cast, 1965 (RCA)

(3 / 5) The King and I was the inaugural production of the regrettably short-lived Music Theater of Lincoln Center — Richard Rodgers, producer. The major news about this cast album was that it contained the first recording of the "Small House of Uncle Thomas" ballet (in a skillfully edited version), supervised by Rodgers and featuring Lee Venora as a superb Tuptim. Risë Stevens is a gushingly operatic Anna, Darren McGavin as the King makes a strong showing in "A Puzzlement," Frank Poretta lends his glorious tenor to the Lun Tha/Tuptim duets, and Patricia Neway is a supremely stately Lady Thiang. (Note: The CD/digital edition of the album includes Neway and the women singing "Western People Funny," which did not make the cut for the original LP edition, presumably because there wasn't room for it). — J.D.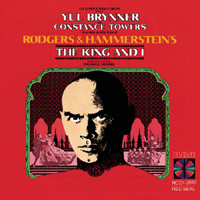 Broadway Cast, 1977 (RCA)

(4 / 5) A lot of previously unrecorded music from The King and I (but not the "Small House of Uncle Thomas" ballet) can be heard here. Included are the offstage chorus that leads into "I Whistle a Happy Tune," the crossover scene of monks chanting in counterpoint to the King's children singing"Home Sweet Home," the charming "Royal Bangkok Academy" song, the reprise of "A Puzzlement" for Anna's son, Louis, and Prince Chulalongkorn, the droll "Western People Funny," the lovely instrumental "Dance of Edward and Anna," and the finales of Acts I and II. The completeness of this recording gives Yul Brynner a much stronger presence than displayed on the original Broadway album or the film soundtrack. Constance Towers is in excellent voice as Anna, even if she's hampered occasionally by some of conductor Milton Rosenstock's slow tempi. June Angela and Martin Vidnovic are fine as the "young lovers," but this is the first recording to make adjustments in "I Have Dreamed," giving Lun Tha more and Tuptim less of the second chorus. A wiser idea was the casting of an Asian actress as Lady Thiang, and Hye-Young Choi's beautiful singing helped make this concept de rigueur for subsequent stagings. The original orchestrations sound excellent here, and the inclusion of so much music and dialogue earns-this recording a worthy place next to the original Broadway cast album. — J.D.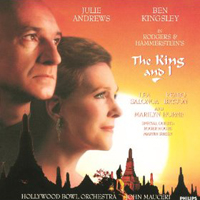 Studio Cast, 1992 (Phillips)

(3 / 5) Despite what sounds like a dream cast in the leading roles, this recording is strangely underpowered. It uses the arrangements and orchestrations from the film version of The King and I, which had internal cuts in many of the songs. On the plus side, several sections of dialogue are included, lending dramatic context to some numbers. The casting of Julie Andrews as Anna benefits the recording greatly. Ben Kingsley offers a well-sung, dramatic King, Marilyn Horne sings a majestic "Something Wonderful," and if we must have a pop-vocalist approach to Tuptim and Lun Tha, Lea Salonga and Peabo Bryson at least sound tasteful and pleasant. If you are a fan of Andrews and have always longed to hear her as Anna, this recording is a must. The fact that her voice is not in pristine shape here matters little; her mere presence in the role, which fits her like a glove, makes up for any deficiencies. — J.D.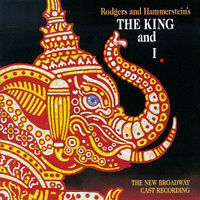 Broadway Cast, 1996 (Varèse Sarabande)

(2 / 5) This revival starred Donna Murphy and Lou Diamond Phillips. While their singing was fine, what made their performances noteworthy was the revelatory acting that they brought to many scenes. Happily, a good amount of their dialogue is included on this recording. It gets down to business immediately with an overture that is really no more than a brief prelude and goes right into the Anna/Louis scene containing "I Whistle a Happy Tune." Some listeners may have problems with Murphy's use of chest tones rather than the expected soprano for Anna, but her "Hello, Young Lovers" comes from a place of great depth, and her "Shall I Tell You What I Think of You?" is compelling. However, "Getting to Know You" seems painfully slow, even if Murphy's performance almost justifies the tempo. Phillips explores "A Puzzlement" with such spontaneity that you may feel you are hearing it for the first time. Together, the stars score quite well in the scene leading into the finale of Act I and in the "Shall We Dance?" sequence — but, somehow, that song does not soar musically. This cast album also boasts many rarely recorded inclusions: "Confrontation" (between Anna and the Kralahome); "Procession of the White Elephant," with dialogue from the Kralahome, Captain Orton, and Prince Chulalongkorn; "The Letter," read by Anna to Lady Thiang; and the final scene, wherein Jimmy Higa as the Prince makes a game attempt at becoming kingly. As Tuptim and Lun Tha, Joohee Choi and Jose Llana were heartbreaking lovers onstage, but they come across as rather bland here. On the plus side, Taewon Yi Kim makes an impact as Lady Thiang; her"Something Wonderful" is enhanced by the inclusion of her scene with the Kralahome, in which Randall Duk Kim's presence is strong. Still, what was a thrilling stage experience is not fully captured on this recording. — J.D.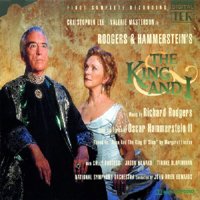 Studio Cast, 1997 (JAY, 2CDs)

(4 / 5) This is a note-complete recording of the score, with a very suitable cast led by British opera star Valerie Masterson and film star Christopher Lee, superbly conducted by John Owen Edwards. Here we have the first absolutely full recording of the "Small House of Uncle Thomas" ballet, and only the second recording of the charming "A Puzzlement" reprise for Louis and Prince Chululongkorn. Overall, the score is very well sung, and a worthy attempt was made to create a dramatic listening experience. Masterson sings earnestly throughout, Lee is suitably grave (if a bit humorless), and in the role of Lady Thiang, Sally Burgess offers a splendid performance of "Something Wonderful." As the lovers Lun Tha and Tuptim, Jason Howard and Tinuke Olafimihan might have been oddly matched in a stage production, but they sound terrific here. This is a necessary recording for anyone who truly loves The King and I. — J.D.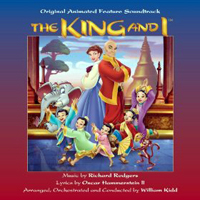 Animated Film Soundtrack, 1999 (Sony) No stars; not recommended. If you think of this as a studio cast recording, rather than a soundtrack recording, you might get through it without grimacing. The singing of Christiane Noll as Anna and Martin Vidnovic as the King is excellent, but anyone who has seen the animated film that yielded this soundtrack album will find it impossible to shake off that awful memory. Here's a scary thought: One day, a kid will be sitting in a theater at a revival of The King and I, and when "I Whistle a Happy Tune" begins, the child will ask: "Mommy, where's the dragon?" — J.D.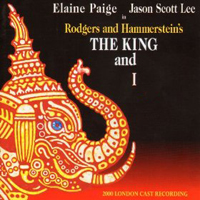 London Cast, 2000 (WEA-Warner Music)

(4 / 5) With the casting of Elaine Paige as Anna, it was evident that this London revival and cast album would be defined by the sterling vocal powers of the leading lady. Not only is Paige's singing expectedly excellent, her acting is top-notch, and all other elements of this recording very strong. Instead of slavishly imitating the 1996 Broadway cast album, producer Mike Moran took a fresh approach with this recording, giving it a dramatic tension that's sustained throughout its 70 minutes. The brief prelude is rich, taking us into the Captain Orton scene with Louis, then to Anna's entrance as Paige sings a beguiling "I Whistle a Happy Tune." Her magic continues in "Hello, Young Lovers" and "Getting to Know You." Paige's "Shall I Tell You What I Think of You?" reveals a mixture of humor, anger, warmth, and bottled-up fury. As the King, Jason Scott Lee delivers "A Puzzlement" and "Song of the King" with brio, and he and Paige wring everything possible out of "Shall We Dance?" As Lady Thiang, Taewon Yi Kim, who was also in the 1996 Broadway production, evinces a deeper understanding of the character now; this influences her singing of "Something Wonderful" to stunning effect. Tuptim's "My Lord and Master" is sung with intensity and some welcome anger by Aura Deva, who also adds urgency to "We Kiss in a Shadow." Sean Ghazi as Lun Tha is equally impressive here, and the well-played scene following the song gives the reprise enormous weight. Then this Tuptim and Lun Tha bring a totally different quality to "I Have Dreamed"; no longer fearful, their voices glide to a sweeter place as they ardently caress this glorious Rodgers and Hammerstein song. Other delights: Alexander Deng is an excellent Prince who will be King, and the entire "Small House of Uncle Thomas" ballet is included under the direction of John Owen Edwards' skillful baton. So, what's missing that was on the 1996 Broadway album? "Royal Dance Before the King," "Procession of the White Elephant," the reprise of "Something Wonderful," and some dialogue. But with the excitement that this recording whips up, let's not quibble. — J.D.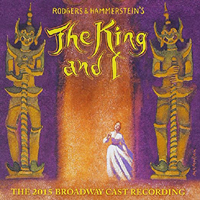 Broadway Cast, 2015 (Universal Music Classics-Decca Broadway)

(3 / 5) While the Lincoln Center Theater production that yielded this recording was gorgeous and compelling, the performance of the score as recorded on the cast album and heard in isolation is disappointing in several respects.  Kelli O'Hara brings her famously beautiful voice to Anna's music, but her tendency to sing much of the part very lightly and lyrically, plus some uncharacteristic toying with phrasing, does not make for ideal interpretations of these immortal songs. The energy and grit that O'Hara evidenced in the show's book scenes, which helped win her a Tony Award, are present here only intermittently. Ruthie Ann Miles as Lady Thiang also won a Tony for her performance, yet she does not have quite the sumptuous vocal tone one wants to hear in "Something Wonderful," nor is the rather pop-ish quality of her phrasing and pronunciation right for the character. Conrad Ricamora as Lun Tha sounds strained and uncomfortable in the higher-lying measures of "We Kiss in a Shadow" and "I Have Dreamed"; Ashley Park fares considerably better as Tuptim. Although Ken Watanabe's heavy accent and less than sturdy singing in the role of the King came in for some criticism, his performance on the cast album is strong, charismatic, and engaging. The orchestra sounds great under musical director/conductor Ted Sperling, but the overture is marred by the inexplicable addition of "Shall We Dance?" Finally, this recording includes a lovingly conducted, skillfully edited version of the "Small House of Uncle Thomas" ballet that's undercut to some degree by Park's melodramatic, shouty delivery of Tuptim's narration. — Michael Portantiere