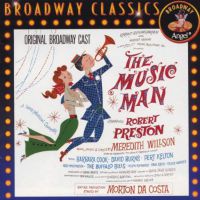 Original Broadway Cast, 1957 (Capitol)

(5 / 5) This is one of the greatest of all cast albums. Meredith Willson, in his first Broadway effort, wrote the colorful, varied music and lyrics. The score of The Music Man is full of innovation, beginning with the unconventional opening "Rock Island," in which a group of traveling salesmen rhythmically discuss how Harold Hill is ruining their business — instant exposition in a musical number with no actual singing! There follows an excellent chorale that introduces the "Iowa Stubborn" townspeople. After having been turned down by song-and-dance men Danny Kaye and Gene Kelly, the role of "Professor" Hill went to Robert Preston, an established stage/screen actor who had no prior musical credits. And what a blessing that turned out to be. Preston is mesmerizing in the half-spoken, half-sung "Trouble" and he sings "Seventy-Six Trombones" with enormous skill and gusto. His rendition of "The Sadder-but-Wiser Girl" reveals a vaudevillian's pizzazz, yet he also sounds fully at home in the soft-shoe-tempo love song "Marian the Librarian" and holds his own in the ballad "Till There Was You." Most of that ballad is sung by Barbara Cook, arguably the greatest soprano leading lady/ingenue in Broadway history. After a delightful "Piano Lesson" (Marian telling her mom, played by Pert Kelton, about Harold Hill having followed her home), Cook takes the beautiful "Goodnight My Someone" and makes it shimmer. When she sings about the man of her dreams in "My White Knight," it's a perfect expression of romantic yearning. And when Marian's emotions explode in the discovery of "Till There Was You," it's one of those rare moments when a cast album gives you the thrill of a live performance. The Buffalo Bills do excellent barbershop-quartet singing. Eddie Hodges, as little brother Winthrop, lisps charmingly through "Gary, Indiana" and adds to the excitement of "The Wells Fargo Wagon." And Iggie Wolfington, as Marcellus, has great fun with "Shipoopi." The one thing missing is the complete original overture. While it may be hard to comprehend how The Music Man won the Tony Award for Best Musical over West Side Story, this album does make it clear why the show was such a hit. — Jeffrey Dunn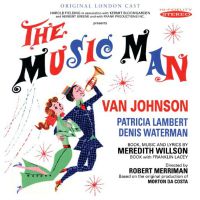 Original London Cast, 1961 (HMV/Sepia)

(2 / 5) In the London production of The Music Man, Van Johnson played Harold Hill. The film star was a selling point at the box office, and he also brought a real American presence to the British cast. This recording is a fun listen, if not distinctive. Johnson's performance is more than pleasant, and Patricia Lambert sings beautifully as Marian. A particular standout is the Winthrop, Denis Waterman. A regrettably abridged version of this album was released on a budget-priced CD by Laserlight in 1995; missing from it were "Iowa Stubborn," "Piano Lesson," "Sincere," "The Sadder-but-Wiser Girl," "My White Knight," and "Shipoopi." Go with the more recent Sepia CD edition, which presents the complete recording. — J.D.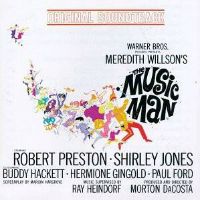 Film Soundtrack, 1962 (Warner Bros.)

(4 / 5) Your feelings about this recording will depend on several things: Do you prefer Hollywood's Shirley Jones to Broadway's Barbara Cook? Do you favor the souped-up movie arrangements/orchestrations, or the stage originals? Do you think the conventional ballad "Being in Love" is an improvement over the more complex "My White Knight?" Would you rather hear Robert Preston's Harold Hill as he sounded when the show first opened, or after he had been playing the role for a few years? Since responses to all of those questions are highly subjective, I won't try to convince you one way or the other. Anyway, of primary importance is Preston — and on this disc, his Harold Hill is as spontaneous and irreplaceable as ever. Buddy Hackett is an engaging Marcellus, Hermione Gingold makes a major impact in her few vocal moments, and Ronnie Howard is delightful as Winthrop. Pert Kelton wonderfully reprises her Broadway role as Mrs. Paroo, and The Buffalo Bills are also on hand again. — J.D.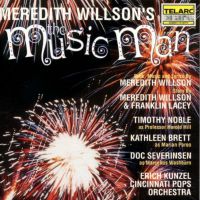 Studio Cast, 1991 (Telarc)

(1 / 5)This recording features Erich Kunzel conducting the Cincinnati Pops Orchestra; it uses a mixture of the Broadway and film orchestrations of the score. Included are "My White Knight," "Being in Love," and Harold Hill's version of "Gary, Indiana." The orchestrations are credited to Don Walker (Broadway), Ray Heindorf (film), and four other gentlemen — so if the album doesn't sound consistently theatrical, small wonder. The movie's overture is also here, along with dance music that seems an amalgam of the stage and film versions, none of it played with much excitement. There is a huge chorus: the Indiana University Singing Hoosiers. Timothy Noble plays the title role; the notes refer to him as a leading operatic baritone, but his portrayal of Harold Hill is way off the mark. Marian is played by Kathleen Brett, a Canadian soprano who has a pure, pretty voice but does not ignite any sparks. Doc Severinsen plays Marcellus and leads "Shipoopi" with some energy, but the rest of the supporting cast is uninteresting. So, why does this recording deserve even one star? The "It's You" ballet, previously unrecorded, is included here. Also of interest is a counterpoint version of "My White Knight" and "The Sadder-but-Wiser Girl." — J.D.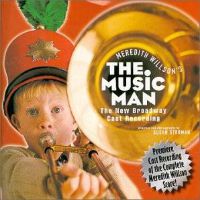 Broadway Cast, 2000 (Q Records)

(1 / 5) Onstage, Craig Bierko sounded so astonishingly like Robert Preston in the title role of The Music Man that the actor's own personality never emerged. On this cast album, the similarity is great enough to be spooky; you may wonder, "Which recording did I put on?" Since any successful production or recording of this show must have a dynamic Harold Hill, Bierko is a major handicap. On the plus side, Rebecca Luker's performances of "Goodnight, My Someone" and "My White Knight" are beautifully sung. The barbershop quartet is also fine, but adding the voices of Harold and Mrs. Paroo (Katherine McGrath) to "Gary, Indiana" barely allows Michael Phelan to register as Winthrop. Finally, while the album contains almost every bit of music that was heard in this revival, along with dialogue to add dramatic punch, the new orchestrations (by Doug Besterman) and dance arrangements (by David Crane) aren't improvements on the originals. In fact, adding accompaniment to "Rock Island" is harmful, as the lyrics don't fall as pungently on the ear. — J.D.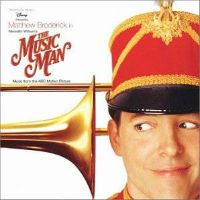 Television Film Soundtrack, 2003 (Disney)

(1 / 5) The casting of Matthew Broderick as Harold Hill was controversial, to say the least. Some viewers of this TV film may have gradually fallen under Broderick's spell and, by the final scenes, may have bought into his subtle characterization. On the soundtrack recording, however, his performances of "Trouble" and "Seventy-Six Trombones" are simply too low-key. Broderick does a little better with "The Sadder-but-Wiser Girl" and "Marian the Librarian," but Hill's first two songs must establish the character strongly for the show to work. On the plus side, Kristin Chenoweth's Marian is enchanting. The supporting players are all good actors who sing well, but their vocals don't have much éclat and often seem muted. Some of the musical changes that were made for the big-screen version of The Music Man are included here, but how nice that Chenoweth sings "My White Knight" instead of the inferior "Being in Love." — J.D.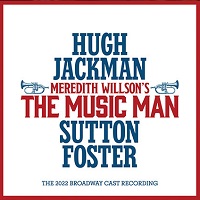 Broadway Cast, 2022 (Accidental Jacket Entertainment)

(1 / 5) After the COVID-19 pandemic had shut down theatre for nearly two years, Broadway needed a hit to entice audiences back to NYC and live performances. Enter Hugh Jackman and Sutton Foster, headlining an expensive, old-fashioned staging of The Music Man. The show proved to be a major success in terms of ticket sales, but artistically, its merits are arguable, as evidenced by the cast recording. On the plus side, we have a full, rich-sounding orchestra and a large, robust ensemble performing Meredith Willson's score for maximum impact. Jonathan Tunick's orchestrations are mostly lush and appropriate, following the mold of Don Walker's originals (except for added percussion in "Rock Island"). This is also perhaps the most complete of any Music Man recording to date, including every bar of incidental music as well as large excerpts of dialogue. However, there are major setbacks. First, there's a "Shipoopi" with rewritten lyrics (by Marc Shaiman and Scott Wittman) that are meant to address recent complaints about the original version's gender politics. Sung by Shuler Hensley, whose gruff baritone is a mismatch for the role of the impish Marcellus, this new version of the song is far less fun than the original. But most detrimental to the recording are the performances of Jackman and Foster. Though Jackman gives his all to Harold Hill's songs, he sounds tired and strained, and over-singing causes many of his musical moments to come across as effortful rather than effortless. Foster, meanwhile, is vocally wrong for Marian Paroo, each of her songs having been reconfigured to accommodate her brassy belt rather than challenge her to engage her soprano register. As a result, none of these songs soar as they did when sung by Barbara Cook or Rebecca Luker for previous recordings. One of the most disappointing tracks here is "My White Knight," presented in an earlier version by Willson that features a lengthy patter section at the beginning. With the definitive original cast recording, the fantastic movie soundtrack, and the 2000 revival cast album available, this Music Man feels more incidental than essential. — Matt Koplik