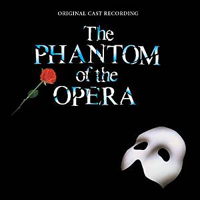 Original London Cast, 1986 (Polydor, 2CDs)

(2 / 5) Andrew Lloyd Webber's score for this virtually through-sung musical based on the famous novel by Gaston Leroux contains many wonderful melodies; unfortunately, as has been pointed out by sharp-eared critics, some of them are not quite original. Various tunes in The Phantom of the Opera owe much to the work of such composers as Claude Debussy, Giacomo Puccini, and Frederick Loewe. Of the songs that seem to be original, several are pretty but stylistically inappropriate to the time period in which the show is set; for example, "Think of Me," with its aggressively dotted rhythms. For that matter, the arrangement of the title song makes it sounds like a disco number. Charles Hart's lyrics (additional lyrics by Richard Stilgoe) range in quality from good to poor. The most successful sections of the score are its lighter moments, particularly the "Notes" / "Prima Donna" sequence. Given the general level of the material, the performance is not bad overall. Michael Crawford is quite compelling as the Phantom; his mannerisms and odd vocal timbre are well suited to a character who's supposed to be a freakish madman, and with the help of skillful audio engineering, Crawford delivers some spine-tingling high notes. His Christine, Sarah Brightman, sounds fine when singing in the middle of her range at a dynamic level no greater than mezzo forte, but her soprano thins out and become shrill when it rises in pitch and volume, and her vibrato is too heavy for the weight of her voice. Steve Barton sings well as Raoul, especially in the beautiful "All I Ask of You." The recording gets one grudging star for its few nice moments, but don't take that as a recommendation to buy it. A final insult: In its initial release, this two-CD set wasn't tracked, so the only way you could skip to various sections of the score was to press and hold the forward or backward search buttons on your CD player. Reportedly, Lloyd Webber insisted on this, because he had conceived Phantom as a unified, complete work and wanted listeners to experience it as such. (No comment!)  — Michael Portantiere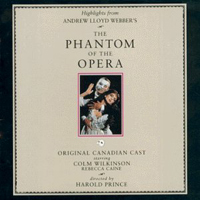 Original Canadian Cast, 1990 (Decca)

(1 / 5) As the Phantom on this recording, Colm Wilkinson displays a strong, beautiful, emotionally expressive voice, yet some listeners will find his mannerisms and his Scottish accent intrusive. Also, the broad pseudo-British accents of several other members of the cast are laughably stilted. Rebecca Caine's soprano is mediocre as heard in Christine's songs, and her pronunciation is very poor. Byron Nease's Raoul sounds fine when he's not overacting and artificially darkening his voice. For some reason, many of the lyrics as set down on this recording are revisions of the originals — but the new versions aren't superior, just different. This one-disc recording of the score's "highlights" is a better option for purchase than the two-disc London album because it's shorter, it's cheaper, and you don't have to sift through lots of dross to get to the few songs that are well written and don't call to mind the melodies of other composers. — M.P.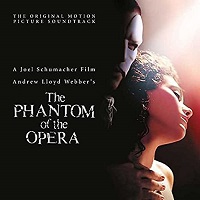 Film Soundtrack, 2004 (Sony)

(1 / 5) Whatever one's opinion of The Phantom of the Opera in musical or dramatic terms, its title role offers a golden opportunity for a leading man with a beautiful and distinctive singing voice. So it seems almost perverse that the fellow who was chose to play the Phantom in the 2004 film version was — Gerard Butler, a Scottish stage and film actor who had no previous musical experience other than having sung in a rock band as a young man while studying to be a lawyer, and whose voice, as it eventually became clear to anyone who saw the film and/or heard the soundtrack recording, was not up to the demands of pop-opera arias like "Music of the Night." In the role of Christine, Emmy Rossum displays a soprano that's very pretty, if rather thin, and at least her singing isn't plagued by that awful, quivering, Sarah Brightman vibrato. The best vocalist among the three major leads is Patrick Wilson as Raoul, though his all-American accent in both his songs and the dialogue included on the recording is distracting in context, making him sound like a fish out of water. Minnie Driver's singing as Carlotta was dubbed by opera singer Margaret Preece, who does a fine job with "Prima Donna" and her other vocal moments — and, in recorded dialogue, we do get to hear the amusingly over-the-top Italian accent Driver developed for the role. As might be expected, the large orchestra hired to record the film soundtrack sounds wonderful playing lush orchestrations crafted along the lines of the stage originals. Like the Canadian cast recording reviewed above, the soundtrack album contains one disc's worth of highlights, so if you want to hear more of the Phantom score as heard in the movie, you'll have to buy or rent it on video. — M.P.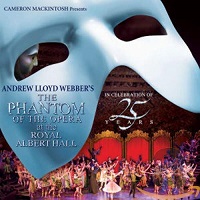 Royal Albert Hall – 25th Anniversary Cast, 2011 (Decca Broadway, 2CDs) 

(2 / 5) This live recording of a fully-staged presentation of Phantom at London's Royal Albert Hall in celebration of the show's 25th anniversary stars Ramin Karimloo, an Iranian/Canadian singer-actor who has become a major presence on the London and New York stages in recent years, and Sierra Boggess, the American musical theater star who originated the title role in The Little Mermaid on Broadway and who would go on to play the female lead in Andrew Lloyd Webber's School of Rock. Both are extraordinarily gifted from a vocal standpoint — his strong, exciting bari-tenor has plenty of "ping," her soprano is creamy and sumptuous, with no flutter — and are therefore a pleasure to hear in this music, if you like the score to begin with. Hadley Fraser sounds virile, romantic, and very appealing as Raoul. The performance, also available on video, features a cast and orchestra of more than 200, with special guest appearances by Michael Crawford and Sarah Brightman, plus Colm Wilkinson,  Anthony Warlow (who played the title role in the Australian production), Peter Jöback (who has starred as the Phantom in the West End, on Broadway, and in Sweden), and John Owen Jones (from the London and 25th anniversary tour productions). It's all quite lavish and over-the-top, very much in keeping with the general tone of a modern-day poperetta that has become a worldwide phenomenon. — M.P.