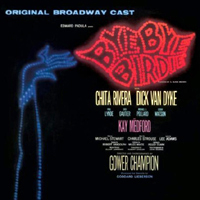 Original Broadway Cast, 1960 (Columbia/Sony)

(5 / 5) Here is pure pleasure. Bye Bye Birdie, with a book by Michael Stewart, managed to satirize the Elvis Presley craze, racial prejudice, the generation gap, the Shriners, and so on, while retaining a thoroughly plausible air of innocence. The cast is ideal:  Dick Van Dyke has an easy charm and faultless timing as pop songwriter Albert, who faces disaster when his meal ticket, the hip-swiveling teen idol Conrad Birdie (Dick Gautier), is drafted. Chita Rivera is sensational as Albert's exasperated assistant/girlfriend, Rosie. As Kim, the winsome teenager chosen to kiss Birdie in a televised farewell, Susan Watson shows why she was a top Broadway ingenue in her day. Paul Lynde, as Kim's harried dad, is the least likely husband and father imaginable but is hilarious nonetheless. Birdie was the making of composer Charles Strouse and lyricist Lee Adams, for good reason. This is the rare Broadway score in which the comedy numbers retain their humor. Among the comedic highlights are "The Telephone Hour," in which a horde of teenagers gossip about the budding romance in their midst; "Healthy, Normal American Boy," in which Albert and Rosie feed outrageous lies about Conrad to the press; "Hymn for a Sunday Evening," a paean to Ed Sullivan's insanely popular TV variety show, complete with Lynde's priceless reading of the line, "Ed, I love you!"; "Kids," the parents' cri-de-coeur; and "Spanish Rose," in which Rivera is a campy delight ("I'Il be more Español than Abbe Lane!"). Add a couple of songs that became standards ("Put On a Happy Face," "A Lot of Livin' to Do") and what more do you need? Robert Ginzler's orchestrations keep the tone light and bright throughout. This recording is essential to any Broadway collection. (A CD bonus track features Strouse discussing the show and singing "Put On a Happy Face.") — David Barbour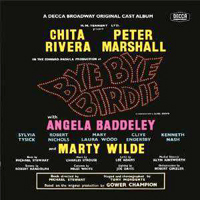 Original London Cast, 1961 (Philips/Decca) No stars; not recommended. This show did not thrive in the West End, and the cast recording is inferior to the Broadway album in almost every way. Rivera is still on hand, but Peter Marshall, as Albert, tends to overwhelm the numbers — although he does a nice job with "Baby, Talk to Me." Sylvia Tysick's chirping as Kim is a trial, and Robert Nichols' straightforward approach (emphasis on the "straight") to Mr. MacAfee results in no laughs whatever. Marty Wilde, a British pop star at the time, is a persuasive Birdie; but conductor Alyn Ainsworth's slower tempi undermine the score's humor and brio, especially in "The Telephone Hour," which is further marred by the cast's pitch problems and shaky American accents. — D.B.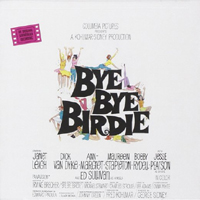 Film Soundtrack, 1963 (RCA)

(1 / 5) Irving Brecher's screenplay altered the show's plot to the point of terminal silliness, adding such complications as a troupe of snooty Russian dancers and a super-effective pep pill. But Strouse and Adams did come up with a kicky new title tune, delivered with gusto by Ann-Margret's Kim, played as a voluptuous teenager. Van Dyke is still charming and Lynde is still a riot, but a game Janet Leigh isn't an acceptable substitute for Rivera; the role of Rosie has lost much of its humor along with the songs "An English Teacher," "Healthy, Normal American Boy," and "Spanish Rose." The soundtrack recording doesn't replace the Broadway album, but it's fun if you're an Ann-Margret fan. The most recent CD edition features three previously unreleased tracks. — D.B.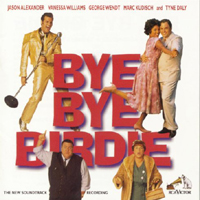 Television Film Soundtrack, 1995 (RCA Victor)

(1 / 5) The TV film that yielded this recording is more faithful to the Broadway production than was the 1963 big-screen version. The soundtrack recording benefits from the charmingly sung Kim of Chynna Phillips and the amusingly over-the-top Birdie of Marc Kudisch. George Wendt offers a refreshing take on Mr. MacAfee, but Jason Alexander as Albert pushes too hard for his laughs; 30 seconds into "Put On a Happy Face," you'll be yearning for Dick Van Dyke. Vanessa Williams is a vocally confident Rosie, yet her performance lacks fire; even outfitted with clever new lyrics, "Spanish Rose" isn't really her thing. Two numbers have been added: "A Mother Doesn't Matter Anymore," sung by Tyne Daly as Albert's castrating mom, makes an obvious point obviously; and "Let's Settle Down," a ballad for Williams, sounds jarringly like one of the singer's pop hits.  — D.B.