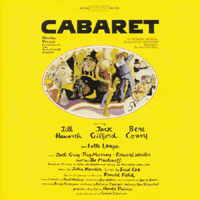 Original Broadway Cast, 1966 (Columbia/Sony)

(5 / 5) Christopher Isherwood's play I Am a Camera, set in Berlin during the rise of Hitler, had been a notable stage success, but the property entered a new sphere with this musicalization. The John Kander-Fred Ebb score is rich in songs that move the plot. Directed by Harold Prince, the show darted effortlessly between the Isherwood narrative and the Kit Kat Club scenes dominated by
Joel Grey, whose Master of Ceremonies — insidious, humorous, and peerlessly decadent — was unlike anything ever seen on Broadway. His performance ignites the cast album from the first notes of "Willkommen," but the show also featured another great casting choice. Who, after all, could bring more authority to a story set in this time and place, and one presented very much in the Brecht-Weill style, than Lotte Lenya? In "So What?", Lenya as Fraulein Schneider growls out decades of cynicism and hope in the same haggard/grand style that she brought to "Pirate Jenny" and the rest of her Weill repertoire. Opposite her is Jack Gilford as the sweet, doomed Herr Schultz; his "Meeskite" is at once amusing and grotesque. Sally Bowles, played by Jill Haworth, is also central to the story. A big point of the role is that Sally's not a good singer and her showbiz ambitions are among the greatest of her many delusions. Capturing that on a recording isn't easy, and Haworth's vocalism would be helped by more style; when Sally sings "Cabaret," the song needs to matter more than it does here. As Cliff, Bert Convy is a comforting presence. All in all, this album is essential. — Richard Barrios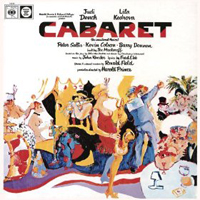 Original London Cast, 1968 (CBS/Sony)

(4 / 5) It's not surprising that the first London production of Cabaret kept close to the Broadway original, since Hal Prince was again in charge. But the cast differed, and in the case of Sally Bowles, this was particularly heartening. Judi Dench was no more of a singer than Jill Haworth had been, and possibly not even as good. Her cracked tones sometimes suggest Bette Davis on a dark night. But who needs vocal polish when your acting is this good and you're playing an untalented fraud? Seldom has Sally's mercurial nature been so evident; Dench is pushy, touchy, and insecure as she croaks out the title song. Fraulein Schneider fares well, too, as Lila Kedrova brings a layer of fragile appeal to the role. Kevin Colson is a good Cliff, and Peter Sallis is an adequate Schultz. As the Master of Ceremonies, Barry Dennen performs with distinction. The overall reading of the score is less glossy than the original, its rough edges entirely appropriate to the show and a harbinger of productions to come. — R.B.
Film Soundtrack, 1972 (ABC/MCA)

(5 / 5) This is not Cabaret as seen onstage. In the hands of Bob Fosse, the film version is a true reimagining of the show, and it created a major sensation upon release. Gone are the plot songs and the relationship of Fraulein Schneider and Herr Schultz; with the exception of "Tomorrow Belongs to Me" and a brief rendition of "Married" as heard on a phonograph, all of the songs are confined to the Kit Kat Club. They comment on the action in brilliant fashion. The Kander-Ebb score went through several other changes, as well: "Don't Tell Mama" was replaced with "Mein Herr," "The Money Song" became the wicked "Money, Money," and the new Sally Bowles — Liza Minnelli — got her own torch song, "Maybe This Time" (written years earlier by K&E, and performed by Minnelli on her first solo album in 1964). Some critics took issue with the gifted Minnelli playing the amateurish Sally, but such objections seem ultimately pointless. Simply put, this is a terrific recording. Minnelli and Joel Grey are in top form in their Oscar-winning roles, and Ralph Burns' orchestrations have a more intimate period élan than those of the original show. — R.B.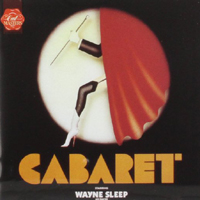 London Cast, 1986 (First Night)

(1 / 5) The Cabaret movie has thrown a long shadow over subsequent revivals, which have taken place in many different lands and languages. This first English-language recording after the soundtrack shows the film's influence: "Mein Herr" and "Money, Money" replace their stage counterparts, and "Maybe This Time" is included as well. Also, the Master of Ceremonies has become the star of the show in both billing and emphasis. But it's not clear why anyone thought that creating the role of Mr. Mistoffelees in Cats qualified Wayne Sleep for the star treatment he receives here; his mincing, cutesy Emcee displays no style or charm, let alone menace or danger. Kelly Hunter is an indifferent Sally, while Vivienne Martin is a vocal dead ringer for Lenya. The other players are adequate — at least in comparison with the show's over-hyped, underachieving star. The best feature of this disc is the musical direction of Gareth Valentine;  here is one of the most authentic-sounding Cabaret bands ever. — R.B.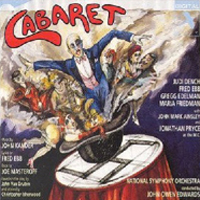 Studio Cast, 1994 (JAY, 2 CDs)

(3 / 5) With the rise of the compact disc, longer recordings became possible. Spreading Cabaret over two CDs allowed the inclusion of all the music from the original version plus the movie variants and songs added for the 1987 Broadway revival (which yielded no cast album). But since this is a familiar and popular score, the interest shifted to some fascinating casting: Judi Dench moving from Sally in the 1960s to Schneider in the 1990s, Jonathan Pryce as the Master of Ceremonies, and lyricist Fred Ebb as Schultz. Dench's performance is the most successful; her throaty tones fit the saturnine character, yet she doesn't hit us over the head with faux-Lenya posturing. Ebb, for his part, sings well and lacks only the last degree of Gilfordesque skill needed for this endearing role. Pryce approaches the emcee with intelligence, striving for something free of the influence of Joel Grey; but without the visual element, the performance comes off as rather mousy and tentative. Gregg Edelman does his usual adequate job as Cliff, a role he played on Broadway in 1987, and Maria Friedman's Sally is terrific. The recorded sound gives the orchestra a bit of a slick sheen, but it's nice to have all the music for this fine show in one place. — R.B.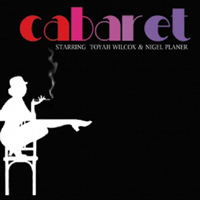 Studio Cast, 1997 (Carlton) No stars; not recommended. In 1997, the world wasn't exactly holding its breath for another Cabaret recording — especially not a badly performed, half-hour rundown of the movie songs alone. But, evidently, British record companies abhor a vacuum. The result is this silly mess, with just two singers and a cut down band. The notes tell us that Toyah Willcox and Nigel Planer are big stars and great performers. It's good to have these statements in writing, because nothing that's heard of them would clue us in. There's no need to spend much time detailing how ghastly this disc is, but if you're just dying for an instrumental version of "Two Ladies" or for a "Willkommen" without a chorus, here you go. — R.B.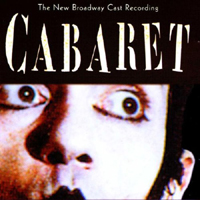 Broadway Cast, 1998 (RCA)

(4 / 5) Few were prepared for what Sam Mendes wrought with this revisal of Cabaret. (His interpretation of the show opened in London in 1993 and moved to Broadway five years later.) Not everyone appreciated this darker take on the show, with its overt sexuality and actual cabaret-style audience seating, but the imagination and theatricality of Mendes and co-director/choreographer Rob Marshall's vision could not be denied. The cast album, riveting and unsettling, evokes the production as accurately as possible without the visual element of S.S. grunge/chic. Alan Cumming makes the Master of Ceremonies more athletic and nasty than ever, dripping with sleazy sexuality. His success in the role proves that this show is good enough to hold up to widely varying interpretations. Natasha Richardson's Sally is in the Judi Dench mold; she has enough musicality to carry the tunes, and her acting ability takes care of the rest. Her "Cabaret" is as far as it could be from Liza Minnelli's force-of-nature defiance, yet both versions work. Mary Louise Wilson and Ron Rifkin are touching as Schneider and Schultz, even if their accents are shaky. Everyone else works hard and well, and the atmosphere of the production is powerfully conveyed on disc.  — R.B.