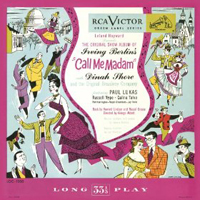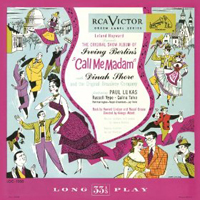 Dinah Shore With Original Broadway Cast, 1950 (RCA/Flare)

(1 / 5) After the smash-hit Annie Get Your Gun, an Ethel Merman-Irving Berlin rematch was inevitable. In Call Me Madam, once again, a real-life character inspired a musical fantasy: Mrs. Perle Mesta, an American widow known for her financial largess and lavish parties, had been a major supporter of Harry Truman and, as a reward, was appointed ambassador to Luxembourg. In the show, she became Sally Adams, ambassador to Lichtenburg. Truman remained Truman, and the Howard Lindsay-Russel Crouse script contained any number of jokes about the President's detractors and his singing daughter Margaret. Berlin's score is good, not great; the standout number is the bouncy duet-in-counterpoint "You're Just in Love," which was added late in previews. RCA backed the hit show and owned the recording rights, but Merman was under contract to the rival Decca label, so two albums emerged. RCA made theirs with Dinah Shore instead of Merman, whose Decca set is reviewed below. Neither recording is very successful. RCA gives a fuller sense of the show, with overture, choruses, and a strong supporting studio cast. Unfortunately, there's also some lame narration to explain the plot to home audiences. Shore sings with her trademark smoothness and verve but with no theatricality; for all its sly humor, "The Washington Square Dance" sounds like a generic pop tune when she delivers it. As for Paul Lukas, with just enough singing voice to get by, he makes as suavely Continental an impression here as he did in his movie roles. Russell Nype is an ideal juvenile, neither too light-voiced and callow nor heavy-handed, and Galina Talva does very well opposite him. The recording would be a worthy memento of the show were it not for the utterly miscast singer at its center. — Richard Barrios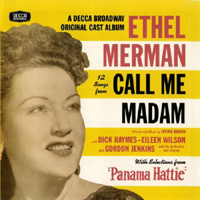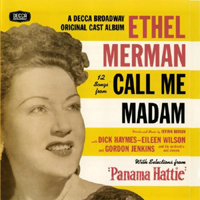 Ethel Merman With Studio Cast, 1950 (Decca/MCA)

(1 / 5) Ethel Merman's star quality is present in spades on this album, but the Broadway aura is gone. Neither the recording acoustic nor the arrangements add up to a worthy equivalent of a "cast album." Even Merman sounds a tad dispirited (for her), which is understandable under the circumstances; how could theatrical magic have been created when her cohort is the bland Dick Haymes? The rest of the support is equally uninspiring and shows just how much of a make-do effort this was. In theory, the recording is essential, but in reality, it's for completists and Mermanites only.  — R.B.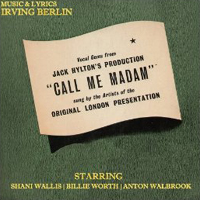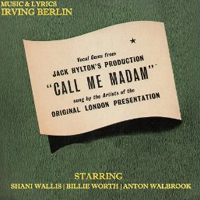 Original London Cast, 1952 (Columbia/Stage Door)

(2 / 5) Call Me Madam is so quintessentially American — one of its songs, "They Like Ike," was later retooled by Berlin to serve as Eisenhower's campaign song — that a successful overseas transfer might not have seemed to be in the cards. But even with a cast of mixed nationalities and no Merman in sight, the show was a hit in London. British affection for Berlin certainly helped, and so did the star. Billie Worth was a second-rank player in America, understudying Mary Martin and appearing in flops. As the London Sally Adams, she's a delightful leading lady; if Merman's voice suggested a trumpet, Worth's is more like a muted cornet. Her singing is firm, her top notes ringing, her diction crisp, her mien enthusiastic. In the ballad "Marrying for Love," her softer-grained tone is very appealing, and she holds up her end of "You're Just in Love" nicely. Speaking of adventurous casting, Worth's vis-a-vis is a real curio: Anton Walbrook, best known as the domineering impresario in the classic film The Red Shoes, is a suave Cosmo who does everything he can to sing as little as possible. Jeff Trent, another Yank, is nearly as good as Russell Nype; he's partnered by the teenage Shani Wallis who, in her West End debut, sings with lovely ingenue tone and a bizarre heart-of-Transylvania accent. It's also odd to hear "They Like Ike" with British accents. Still, on the whole, this is a worthy recording — R.B.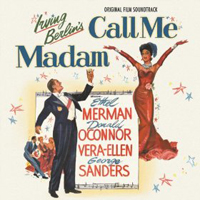 Film Soundtrack, 1953 (Decca/Hallmark)

(3 / 5) Despite the usual deletions and toning-down that mark stage-to-silver screen transfers, Call Me Madam and its star worked well on film. In fact, the soundtrack is a far better representation of Merman in the show than the earlier Decca recording, with added vitality and Oscar-winning musical arrangements by Alfred Newman. Donald O'Connor is a splendid sidekick; his "You're Just in Love" is a career highlight. George Sanders is the best singer of all the Continental actors who ever played Cosmo, and Carole Richards (dubbing for Vera-Ellen) is an acceptable Maria. The recording consists mostly of tracks by Merman, in top form. "The Washington Square Dance" is gone and "Something to Dance About" has been shifted to the O'Connor/Richards team, but compensation comes with a 1913 Berlin interpolation, "International Rag," that's as well suited to the star as anything else in the score. (A new Cold War lyric was added for the occasion.) Some people felt that Merman was too big for the movies, but here, the fit was just right. — R.B.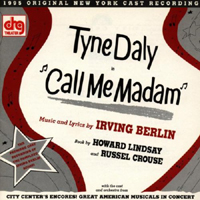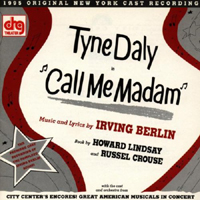 Encores! Cast, 1995 (DRG)

(2 / 5) A great thing about the New York theater is that the sheer number of producers and available artists allows for both new musicals and revivals of all sorts. Some producing organizations are devoted to bringing back older properties, and none has done so more dynamically than City Center Encores! Having said that, the series' presentation of Call Me Madam was not one of its best efforts. Sally Adams was played by Tyne Daly, who sounds oddly at sea on this recording. An intelligent and incisive actress, she tries too hard to "characterize" Sally with frontier inflections and a self-consciously hearty manner. Without the compensation of a strong singing voice, this quickly becomes tiring. Rob Fisher and his Coffee Club Orchestra play the score with a good deal of spirit, but while the remainder of the cast is adequate, no one makes a great impression; even Melissa Errico, whose later performance in One Touch of Venus was an Encores! high point, sounds correct rather than distinctive.  — R.B.