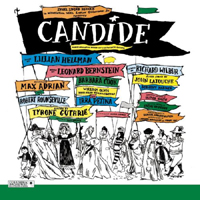 Original Broadway Cast, 1956 (Columbia/Sony)

(5 / 5) This recording starts with the most exciting overture in Broadway history, and just keeps getting better after that. Leonard Bernstein's gilded score for this adaptation of Voltaire's classic is one of the great glories of the American musical theater. Unfortunately, Lillian Hellman's libretto failed to please, and the show had a pitifully short run; but, happily, numerous "revisals" have kept the work alive. Here, Bernstein's peerless melodies, and piercingly witty lyrics by a trio of poets — Richard Wilbur, John Latouche, and Dorothy Parker — are performed by a first-rate cast. Robert Rounseville plays the title role of the naïve youth whose optimism sees him through a series of disasters; he's especially touching in the ballad "It Must Be So." Max Adrian is delightful as Dr. Pangloss, whose boundless optimism infects his young charges; in "The Best of All Possible Worlds," he gets things off to a jaunty start. Other standouts are William Olvis as a gleefully corrupt governor (his wooing ways are made explicit in "My Love") and Irra Petina as the Old Lady (she leads the showstopping "I Am Easily Assimilated"). Best of all is young Barbara Cook as Cunegonde, Candide's compromised love. She's ravishingly innocent in the duet "Oh, Happy We" and then, a few tracks later, riotously cynical and corrupt in the stupendous aria "Glitter and Be Gay." Her rendition of this number is one of the essential recorded performances in Broadway history. Among the album's other highlights are "What's the Use?", performed by a quartet of connivers, and the stunning choral finale "Make Our Garden Grow." The entire score is wrapped in the brilliant orchestrations of Bernstein and Hershy Kay. This recording is a permanent pleasure and a must for every musical theater collection. — David Barbour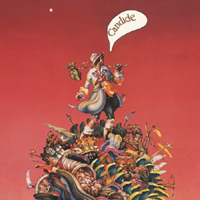 Broadway Cast, 1974 (Columbia, 2LPs/2CDs)

(1 / 5) For this production, Harold Prince gave Candide a new book by Hugh Wheeler and additional lyrics by Stephen Sondheim. Prince's staging, with plenty of sight gags and sex jokes, enjoyed a good run. This album, however, is the least of the show's many versions on disc. It includes most of the book, so you must endure long stretches of obvious humor to get to the songs. You also have to deal with Hershy Kay's reduced orchestrations and the capable but unexciting voices of Mark Baker as Candide and Maureen Brennan as Cunegonde. June Gable makes an amusing Old Lady, but Lewis J. Stadlen, playing Voltaire (who narrates), Dr. Pangloss, the Governor, and others, offers a performance that consists mainly of trick voices. The song list includes the "Auto-Da-Fé" sequence and "Candide's Lament," a moving ballad, neither of which are on the original recording. But the fine "EI Dorado," "What's the Use?" and "Venice Gavotte" are gone; and "Sheep Song," a too-cute entry, more or less replaces "EI Dorado." A nice innovation is having "Life Is Happiness Indeed" introduce the lead characters. Another is having the Governor sing "My Love" not to Cunegonde but to Maximilian, her foppish brother, when the latter is dressed in drag. Paradoxically, the longest-running production of Candide yielded this least interesting recording, which perhaps explains why its CD release was belated. — D.B.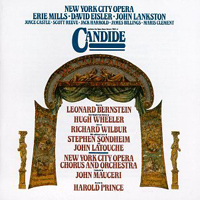 New York City Opera Cast, 1982 (New World Records, 2CDs)

(2 / 5) Harold Prince supervised the creation of yet another version of Candide for the New York City Opera, combining elements of the previous two productions. The two-disc recording has its moments, but these opera singers don't make the most of the brilliant lyrics, and at times they seem overwhelmed by the orchestra. The more serious songs come off best, including a superb "Make Our Garden Grow." Erie Mills' Cunegonde was much admired, and her "Glitter and Be Gay" is certainly adept. David Eisler and Joyce Castle are capable as Candide and the Old Lady, as is John lankston as Voltaire, Pangloss, and others. Pangloss has a new number, "Dear Boy," and Candide has a "Ballad of the New World." The first act "Quartet Finale" is back; so are the trio "Quiet" and "What's the Use?" — D.B.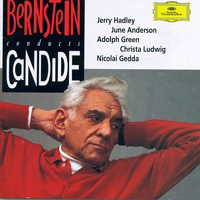 "Bernstein Conducts Candide," 1989 (Deutsche Grammophon, 2CDs)

(5 / 5) This is a welcome entry. The great composer-conductor Bernstein, who had little to do with the two Harold Prince productions, decided to compile everything for an all-conclusive, "final revised edition" of the Candide score. Eschewing the labored gags of the previous two versions, this one restores the somber undertone that is central to the composer's original conception. Additions include the opening "Westphalia Chorale"; the frequently heard refrain "Universal Good"; "Words, Words, Words," written for Martin, the alter ego of Pangloss; "We Are Women," a duet for Cunegonde and the Old Lady; and "The King's Barcarolle," in which five deposed monarchs yearn for the simple life. Restored are "El Dorado" and "Venice Gavotte." Best of all is "Nothing More Than This," an anguished solo for Candide that functions as a kind of 11-o'clock number. Bernstein's conducting is nothing less than thrilling; on no other disc does the orchestra make such an impression. The high-profile cast is led by opera stars Jerry Hadley (Candide), June Anderson (Cunegonde), Christa Ludwig (the Old Lady), and Nicolai Gedda (the Governor, among other roles). Although opera singers aren't always at home with such challenging lyrics, this cast is fine in that regard, Ludwig and Gedda being the standouts. Leave it to Adolph Green, of all people, to shine in such company, showing off his clear diction and comic gusto in the dual role of Pangloss/Martin. This recording is a must for fans of the score, thanks to Bernstein's conducting and the sheer mass of material. — D.B.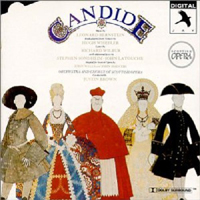 Scottish Opera Cast, 1991 (JAY)

(3 / 5) This one-disc recording has a song stack that's a close match to the original Broadway cast album. It's also one of the more sparkling renditions of the score, with a cast of full-bodied opera singers. Nickolas Grace's impeccable diction and comic sense make him a fine Pangloss, Mark Beudert offers an exceptionally well-sung Candide, and Ann Howard is a vivacious Old Lady. As Cunegonde, Marilyn Hill Smith delivers a memorable "Glitter and Be Gay" with a fine sense of high comedy. The orchestra, conducted by Justin Brown, tends to favor brass over strings, but Brown's tempi are energetic throughout. — D.B.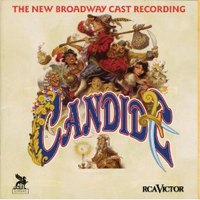 Broadway Cast, 1997 (RCA)

(3 / 5) Although this fussy, over-elaborate production quickly closed, the cast recording has its points of interest, beginning with Jim Dale's urbanely witty performance as Voltaire, Pangloss, and others. The show's book was retooled yet again, this time to give Andrea Martin more to do as the Old Lady, and she is a riotous presence; her rendition of "I Am Easily Assimilated" is a gem. Jason Danieley displays a golden voice and innocent manner that are are right on for the role of Candide, in contrast to Harolyn Blackwell's well-sung but occasionally too knowing Cunegonde. Brent Barrett is very strong as Maximilian, and turning up here and there are Borscht Belt clowns Arte Johnson and Mal Z. Lawrence. While not on a par with the best Candide recordings, this one does offer acceptable performances of the score's highlights. — D.B.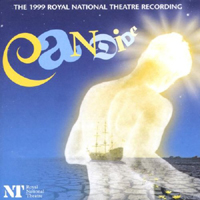 Royal National Theatre Cast, 1999 (First Night)

(4 / 5) According to the notes on this recording, the Royal National Theatre production featured Hugh Wheeler's book "in a new version by John Caird," who also directed. Actually, it's a blend of many previous editions. Bruce Coughlin's orchestrations are not as sparkling as the Bernstein-Kay originals, but they have a pleasing intimacy, and music director Mark W. Dorrell takes the score to a rapid clip. Innovations include a slightly different opening sequence, "Life Is Happiness Unending"; a new version of "Universal Good"; new lyrics for "Nothing More Than This" and the "Quartet Finale"; and a totally new version of "What's the Use?" Simon Russell Beale displays savoir faire and a fine voice as Voltaire/Pangloss. He's particularly amusing in "Dear Boy," rationalizing syphilis as a gift of the New World: "Without the little spirochete / We'd have no chocolate to eat!" The cast also includes distinguished artists Denis Quilley (the Baron/Martin) and Clive Rowe (the Drill Sargeant/Cacambo). In the latter role, Rowe sings "El Dorado" as a duet with the fine Candide of Daniel Evans. Alex Kelly is the best Cunegonde since Cook, delivering a grand "Glitter and Be Gay," and Beverly Klein is a lively Old Woman. The entire company blends superb diction with fine musical values, skills that are particularly noticeable in the most exciting rendition ever of "Auto-da-Fé." Not everything here works — the new version of "What's the Use" disappoints, for example — but this recording is very worthy overall. — D.B.