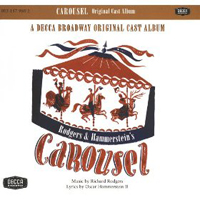 Original Broadway Cast, 1945 (Decca)

(4 / 5) This landmark musical is not the most popular of the Rodgers and Hammerstein canon in terms of the number of productions, but it may well be the most beloved and respected. A dramatic musical fantasy that ponders the power of love lasting beyond death, the show is said to have been the favorite of its composer, Richard Rodgers. Indeed, this is one of the most melodic and dramatic scores ever created for the musical theater,  including opera, comprising such now-classic songs as "If I Loved You," "June Is Bustin' Out All Over," "When the Children Are Asleep," "What's the Use of Wond'rin," Billy Bigelow's "Soliloquy," and the beautiful anthem "You'll Never Walk Alone." Oscar Hammerstein's lyrics are equally rich as Rodgers' melodies and harmonies. Therefore, any competent recording of Carousel reaches the stratosphere of musical delight. The original Broadway cast album was released on 78-rpm records and is heavily truncated; it's also an antique in some ways, including sound quality, as compared with subsequent efforts that capture the beauty and passion of the musical far more successfully. What this recording does have to offer is the powerful, spine-tingling vocal performances of the very first Billy Bigelow and Julie Jordan: John Raitt and Jan Clayton. Although Raitt's later recording of the score (below) has advantages over this one, his original performance is definitive. Some of the other singers sound a bit arch, and some of the tempi are rushed. Still, this is an invaluable time capsule that deserves a place of honor in any Broadway show album collection. — Gerard Alessandrini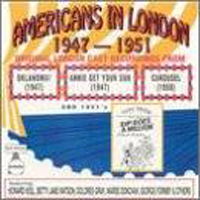 Original London Cast, 1950 (Columbia/Encore)

(4 / 5) The few recordings of songs from Carousel that were made by the original London cast add up to only about 16 minutes of music. Billy Bigelow is sung by Stephen Douglass, who went on to a successful career on Broadway, starring in Damn Yankees and other shows. He sounds wonderful here, and so does Iva Withers as Julie Jordan. Although both are a bit mannered in style, their beautiful voices lend much to the great Rodgers and Hammerstein songs. Too bad that more of the score wasn't recorded in those long-ago London sessions. (Note: the Encore label CD release of these recordings, pictured here, also includes excerpts from Oklahoma! and Annie Get Your Gun with members of the original London casts.) — G.A.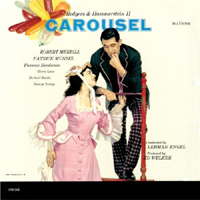 Studio Cast, 1956 (RCA)

(3 / 5) This recording contains much more music than the original cast album of Carousel, and it captures Don Walker's orchestrations in excellent hi-fi (but not stereo) sound. Conductor Lehman Engel does a fine job of coaxing theatrical performances from his operatic leads, Robert Merrill and Patrice Munsel, and the young Florence Henderson is in her element as Carrie. Also on hand is George S. Irving as Jigger Craigin. The album was quite satisfactory in its day, and although it has been superseded by subsequent releases, it's still a joy to listen to in its own right. — G.A.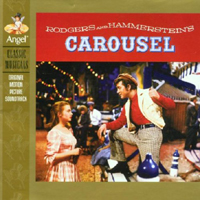 Film Soundtrack, 1956 (CapitolAngel)

(5 / 5) This recording achieves the nearly impossible: Can you think of any other Hollywood film soundtrack album that is the definitive version of a great Broadway show score? It features inspired, brilliantly expanded orchestrations by Edmund Powell and the 20th Century Fox scoring department under the supervision of Alfred Newman. The stereophonic sound heard on the remastered CD edition is mostly outstanding. Perfectly cast as the lovers, Gordon MacRae and Shirley Jones deliver Rodgers and Hammerstein's songs with artistry and unpretentious acting. As in the film soundtrack of Oklahoma! they offer stellar examples of how to perform American musical theater songs; their singing is melodic and strong, yet it sounds like a natural extension of their speaking voices. Among the film's supporting cast, Robert Rounseville as Mr. Snow and Claramae Turner as Nettie are vocal powerhouses. Barbara Ruick as Carrie and Cameron Mitchell as Jigger are possessed of less"legit"voices, but they give character performances loaded with personality. This album also contains the best-ever recording of the "Carousel Waltz"; under Newman's direction, it's a thrilling performance of an arrangement/orchestration that at once elaborates upon, yet remains faithful to, the original. The expanded soundtrack CD includes the songs recorded for the film but not used in the finished release ("Blow High, Blow Low" and "You're a Queer One, Julie Jordan") as well as all of the ballet music and the spectacular main title cut, an artfully edited version of the "Carousel Waltz." If you had to choose only one recording of this magnificent musical to own, this would be it. — G.A.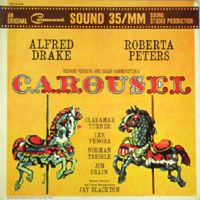 Studio Cast, 1962 (Command/no CD)

(2 / 5) What makes this recording notable is the cast. Alfred Drake was the original Curly in Oklahoma! and here proves what a natural he was for the part of Billy Bigelow. Listening to him sing these songs, you might think that he had created the role. Roberta Peters is vocally if not dramatically well suited to Julie Jordan, and none other than Claramae Turner is Nettie, recreating her role from the movie. The gorgeous-voiced Lee Venora is a fine Carrie, and the opera star bass-baritone Norman Treigle is Jigger. Sturdy casting aside, this album offers a re-orchestrated version of the score that stresses stereo effects over musicality; the added xylophones and other excessive percussion seem silly and annoying by today's standards, and the sound quality of the recording is extremely bright. On the whole, this is sort of a Muzak version of the score and, therefore, a curiosity. — G.A.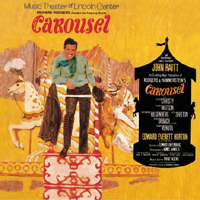 Music Theater of Lincoln Center Cast, 1965 (RCA)

(4 / 5) This first stereophonic stage cast album of Carousel, though skillfully recorded and mixed, lacks the theatricality that a recording drawn from a theatrical production should exhibit. Richard Rodgers himself was the revival's producer, and we can assume his preferences are reflected here. Impeccably conducted by Franz Allers, the score sounds glorious, and the performances are solid: Eileen Christy is an appealing Julie, Susan Watson a soubrettish Carrie, Reid Shelton a charming Mr. Snow, and the always impressive Jerry Orbach a colorful Jigger. Rounding out the fine cast is Katherine Hilgenburg as Nettie. But what gives this album importance is the fact that is offers "Living Stereo" recordings of Billy Bigelow's songs as sung by the original Billy, John Raitt. Here, the timbre of Raitt's voice is different from what is heard on the 1945 album — not better or worse, just different. He sounds more like a tenor, less like a baritone. Some may prefer this interpretation, but the operatic thrill of the original is missing. Still, this is a lovely recording. — G.A.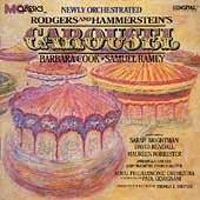 Studio Cast, 1987 (MCA)

(3 / 5) In this fairly complete but oddly lackluster recording, Barbara Cook's phrasing and acting as Julie Jordan are superb, but her rich, mature voice lacks the vulnerability that only a young ingenue can bring to the role. Opera star Samuel Ramey is a full-bodied Billy Bigelow, yet his "legit" sound plays against the more impetuous, youthful facets of the character. Sarah Brightman is quite charming as Carrie. The disc includes the rarely recorded "Geraniums in the Winder," along with a complete version of"If I Loved You." "June Is Bustin' Out All Over" and "You'll Never Walk Alone" are powerfully sung by Maureen Forrester. Yet, overall, the recording is unexciting. Perhaps that's partly because the new orchestrations lack theatrical drive, although they are conducted with professionalism and precision by Broadway veteran Paul Gemignani.  — G.A.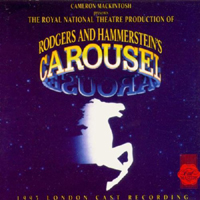 London Cast, 1993 (First Night)

(3 / 5) Director Nicholas Hytner's imaginative production of Carousel for the Royal National Theatre yielded this cast album. In the role of Billy Bigelow, Michael Hayden sounds pretty much the same here as he does on the recording of the subsequent Lincoln Center Theater production, also directed by Hytner but with an otherwise different cast. Hayden's colleagues on the London album include Joanna Riding, Meg Johnson, Katrina Murphy, and Clive Rowe. Martin Yates conducts the score with feeling, but many listeners will feel that the 1994 disc reviewed below has supplanted this one if only through greater star power in some of the supporting roles. — G.A.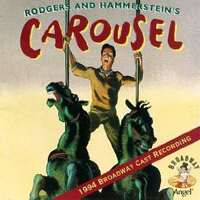 Broadway Cast, 1994 (Angel)

(4 / 5) Here is a stirring aural document of the Lincoln Center Theater production of Carousel. As he had done in London, director Nicholas Hytner proved again that the piece was much more than a quaint folk musical. Audra McDonald was thrust into Tony Award-winning stardom with her performance as Carrie; every nuance of her excellent interpretation is captured on the recording. Sally Murphy makes a fine Julie Jordan, Eddie Korbich is delightful as Mr. Snow, and opera star Shirley Verrett is outstanding as Nettie Fowler. The newish orchestrations are excellent, if not as large as the originals, and all of the choral numbers sound glorious in digital stereo. The star of the show in London and New York was Michael Hayden, who brought solid acting and a vibrant sexuality to the role of Billy Bigelow. Unfortunately, most of that doesn't translate to the recording, and Hayden's vocal limitations overshadow his charisma. For that reason alone, this cannot be considered the definitive cast album of Carousel. Still, as a memento of a great production and a fairly complete recording of the score in digital sound, it's very worthwhile. — G.A.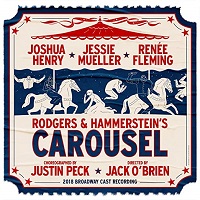 Broadway Cast, 2018 (Craft Recordings)

(4 / 5) This big Broadway revival of Rodgers and Hammerstein's most dramatic musical was fairly well received by critics and audiences alike, but it only ran for five months. The recording, however, is a mostly excellent presentation of that version, and will be enjoyed for many years to come. The orchestrations, revised by Jonathan Tunick, are beautifully mixed and sound quite stirring, plus the recording includes much of the thrilling dance music that was heard in the show to accompany its fine new choreography. The vocal stars of the album are Joshua Henry as Billy Bigelow and Jessie Mueller as Julie Jordan; their performances are nearly perfect, coming through with even more vibrancy as recorded than they did in the theater. Also on hand to deliver an excellent and very fresh, Tony Award winning performance is Lindsay Mendez as Carrie Peppridge. Alexander Gemignani as Mr. Snow hits the bullseye vocally and in his fine characterization, but the outstanding performance here is Joshua Henry's, his superb baritenor voice ringing out loud and clear. In fact, his is the best recorded performance of Billy Bigelow since Gordon Mac Rae and John Raitt.  A beautiful soprano from the opera world, Renée Fleming, makes for a stalwart Netttie Fowler in the standards, "June Is Bustin' Out All Over" and "You'lll Never Walk Alone." However, the trills and descants she adds to these songs, particularly the finale reprise of the latter, mar the genius of Richard Rodgers' melodies. Especially since her antics can be heard in the album's final track, they create a poor last impression on an otherwise highly enjoyable recording.  — G.A.