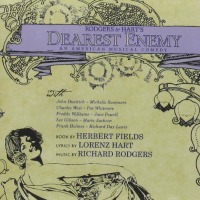 Studio Cast, 1981 (Beginners Records/Bayview)

(4 / 5) A minor milestone in the history of American musical theater,
Dearest Enemy
(1925) was the first book show with a score entirely by Richard Rodgers and Lorenz Hart. It was a big success despite its seemingly killjoy subject matter, the American Revolution. Of course, even though George Washington was on hand as one of the characters, the show didn't really focus on war: Its leading characters are a spunky American girl and a British officer, whose romance has a happy ending. Poised engagingly somewhere between operetta and musical comedy, this "baby-grand opera" was notably more clever than most '20s shows, with a cheeky and witty book by Herbert Fields and a score that belies its age. "Here in My Arms" and, perhaps, "Bye and Bye" are the only items that gained any lasting popularity, in part because the remainder of the songs are worked so gracefully into the action; there's a hint of period pastiche in numbers like "Heigh-ho, Lackaday" and "Where the Hudson River Flows." This London studio recording of the score is flawed only in that the singers are accompanied just by piano and the overture is omitted. The cast boasts no star names — a supporting player named Jane Powell is obviously not
the
Jane Powell — but everyone is quite on top of the material. In particular, Michelle Summers as Betsy Burke manages to combine modern and archaic vocal styles with effortless charm. A lovely show gets much of its due here. —
Richard Barrios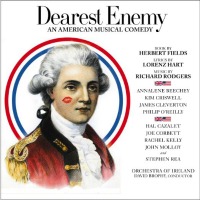 Studio Cast, 2013 (New World Records, 2CDs)

(4 / 5) To anyone wondering why it took nearly nine decades to come up with a complete
Dearest Enemy
, read the excellent notes that accompany this fine recording.  As with so many musicals of an earlier age, even some of the big hits, the parts and orchestrations were either lost or in fragmentary shape. Enter Larry Moore, who reconstructed the score from various extant pieces and, when necessary, found entirely valid ways to bridge the remaining gaps. (At one point, a little Tchaikovsky gets tossed into the mix. Well, why not?) With David Brophy conducting the Orchestra of Ireland and a fine cast, we now have as definitive an
Enemy
as could be imagined. If it perhaps lacks a bit of the conviction of the earlier British recording, everyone performs with spirit and charm. The orchestra and ensemble sound luscious; Annalene Beechey and James Cleverton are dandy lovers; and Kim Criswell, as Mrs. Murray, manages to keep the excesses at bay and stay in character. Everyone else is equally good, some dialogue is included to give a fair sense of the show, and there's even a guest star: Stephen Rea, in the spoken role of George Washington. A major work has been stirringly served here, as have Rodgers and Hart and, really, everyone who wants to know about the delights of 1920s musical theater.
— R.B.