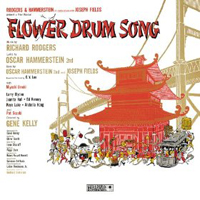 Original Broadway Cast, 1958 (Columbia/Sony)

(4 / 5) Although Flower Drum Song doesn't have the substance of most of Rodgers and Hammerstein's other shows, it features one of the team's most enjoyable scores. The book — by Hammerstein and Joseph Fields, based on C. Y Lee's much grittier novel — presents an affectionate portrait of an assimilating Chinese-American middle class and its attendant generation-gap problems. Miyoshi Umeki shines as Mei Li, the Chinese picture bride who finds a new life in America; her renditions of the poetic "A Hundred Million Miracles" and "I Am Going to Like It Here" are marvels of delicacy. Larry Blyden, in a 1950s version of nontraditional casting, is Sammy Fong, the thoroughly Americanized nightclub owner who doesn't want to marry her; he adds some Broadway zip to "Don't Marry Me." Pat Suzuki livens up the proceedings as nightclub star Linda Low, sashaying through "Grant Avenue" and the politically incorrect "I Enjoy Being a Girl" ("I talk on the telephone for hours / With a pound and a half of cream upon my face!"). As Wang Ta, the faithful Chinese son who chafes at parental strictures, Ed Kenney offers a persuasive rendition of "Like a God." Juanita Hall as the fun-loving, Americanized matron Madame Liang delivers "Chop Suey," a witty inventory of American culture circa 1958 ("Hula hoops and nuclear war / Dr. Salk and Zsa Zsa Gabor / Harry Truman, Truman Capote, and Dewey / Chop Suey!"). Arabella Hong, as the lonely seamstress who bears unrequited love for Wang Ta, sings the operatic "Love, Look Away." The show is lively, dated, and slightly silly. — David Barbour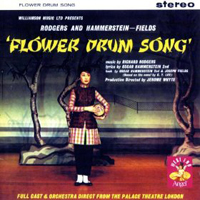 Original London Cast, 1960 (HMV/Angel)

(2 / 5) As Mei Li and Sammy Fong, Yau Shaun Tung and Tim Herbert aren't as distinctive as their Broadway counterparts. Surprisingly, this recording really comes to life in the nightclub numbers "Grant Avenue," "Fan Tan Fannie," and "Gliding Through My Memoree," all of which are even bolder than before. Yama Saki gives a vivacious performance as Linda Low; with her strong belt and aggressive manner, she brings a great sense of fun to her songs.  While this recording is no substitute for the original, it's a nice supplement to it. And it's amusing to note one textual change: On the Broadway album, in "Gliding Through My Memoree," the nightclub singer tells a chorus girl to say something in Irish, and she replies, "Elin Go Blah!" On the London album, the same request is met with "Blendan Beehan!"  — D.B.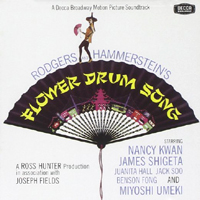 Film Soundtrack, 1961 (Decca)

(1 / 5) Ross Hunter's film adaptation of Flower Drum Song is a camp classic. You know you've departed from reality in the first scene, when Mei Li and her father emerge from a shipping crate (smuggled in from China) looking perfectly coiffed and made up. It gets sillier from there, with a grotesquely overblown dream ballet attached to "Love, Look Away" (the vocal dubbed by Marilyn Horne). The "Sunday" sequence is equally blown up. The film score disappoints in eliminating "Like a God," and the running time of the soundtrack album is padded with instrumental tracks. Umeki and Hall, retained from Broadway, are still charming. Jack Soo is fine as Sammy Fong, and B.]. Baker, dubbing Linda Low's songs for Nancy Kwan, provides lively vocals. A CD bonus track features Rosemary Clooney singing "Love, Look Away." — D.B.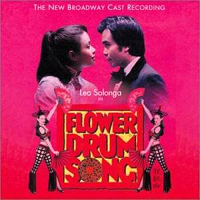 Broadway Cast, 2003 (DRG)

(4 / 5) In David Henry Hwang's new, politically corrected libretto for Flower Drum Song, Mei Li is an escapee from Communist China who takes refuge in a San Francisco-based Chinese opera theater run by Ta's father. Madame Liang is now an enterprising press agent who turns the theater into a nightclub that panders to Western audiences with "exotic" shows. Thankfully, Linda Low is still belting "I Enjoy Being a Girl," and all in all, this disc presents a luxuriously sung version of a delightful score. Lea Salonga's sweetly seductive voice and powerful belt are tailor-made for Mei Li's numbers, and Jose Llana is more than a match for her as Ta, especially in "Like a God." As Madame Liang, Jodi Long leads a zesty version of "Grant Avenue" and partners amusingly with Randall Duk Kim (as Ta's father) in "Don't Marry Me." As Linda, Sandra Allen has plenty of oomph. Don Sebesky's inventive new orchestrations make extensive use of Chinese harmonies, and he really goes to town in the nightclub sequences, turning "Fan Tan Fannie" into a production number with an irresistible pop beat. Despite the fact that some of the numbers are overextended here, this is probably the most accessible recording of this score for modern ears. — D.B.