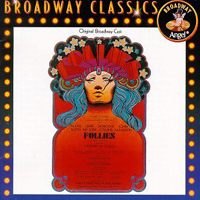 Original Broadway Cast, 1971 (Capitol/Angel/Kritzerland)

(4 / 5) To many, Follies is one of the greatest of all shows, possibly the ultimate musical theater piece. Others find it cultishly "interesting," with a magnificent Stephen Sondheim score compromised by a problematic book. And some, especially those seeking "pure entertainment," cannot grasp the show's then-and-now, fact-and-fantasy structure or the juxtaposition of clever pastiche songs with those emanating from four unhappy people. In short, Follies will always be controversial, but those who love it do so with the fiercest devotion. One aspect of the show's legend that is not open to dispute is that its original cast album is ultimately a pale (if frequently wonderful) reflection of a legendary production. All the great performers are here — Alexis Smith, Dorothy Collins, Gene Nelson, Yvonne De Carlo, Mary McCarty, and the rest — but the decision to edit this lengthy score to fit it on one LP disc was penny-wise and posterity-foolish. On the startling list of total omissions are "Loveland," "Rain on the Roof," and nearly all of the show's dance music. ("One More Kiss," originally left off the LP, was reinstated for the CD.) Furthermore, many of the songs that are here have damaging internal edits. What is present here is very fine and irreplaceable, including Collins' aching "Losing My Mind" and De Carlo's gutsy "I'm Still Here," even if both of these songs were among those cut down for the recording. Still, this condensed version of one of the most varied and intelligent scores in Broadway history allows precious little of the flavor of the original Harold Prince-Michael Bennett production to come through. (Note: The Kritzerland CD is a limited edition, remixed and remastered version of the original recording.) — Richard Barrios
New York Concert Cast, 1985 (RCA, 2CDs)

(4 / 5) This concert production at Lincoln Center featured an all-star cast, and the results were dazzling if not perfect. All of the show's strengths are clear in this nearly complete recording of the Follies score, but there are so many opportunities for big moments by stellar performers that it takes some doing to keep everything in balance. In fact, the balance is decidedly off when Elaine Stritch makes "Broadway Baby" into a weird, disenchanted cousin to "The Ladies Who Lunch." More in line with the overall concept is a sweet memento from Betty Comden and Adolph Green, who chirp "Rain on the Roof, " and a grand memento of operatic glories past is diva Licia Albanese in "One More Kiss."(She's beautifully paired with the clear-voiced Erie Mills.) Phyllis Newman as Stella is no match for Mary McCarty, nor does Carol Burnett, good as she is, offer a more definitive "I'm Still Here" than Yvonne De Carlo's original. But Barbara Cook is up to the Dorothy Collins standard; not surprisingly, "Losing My Mind" is one of the highlights of the disc. Lee Remick is engaging as Phyllis, and George Hearn does well as Ben. In the role of Buddy, Mandy Patinkin offers his strange combination of fine singing and irritating self-indulgence. Everyone else delivers the goods acceptably, and the orchestra is no less than the New York Philharmonic, conducted splendidly by Paul Gemignani. — R.B.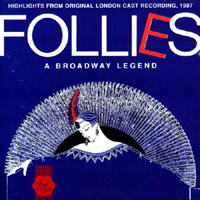 Original London Cast, 1987 (First Night, 2CDs)

(4 / 5) Sondheim made considerable alterations to the score for this production.  The Prelude and "Bolero d'Amour" were cut, "The Story of Lucy and Jessie" was replaced by an "intellectual striptease" called "Ah,  But Underneath," "The Road You Didn't Take" was dropped in favor of the intricate Ben/Phyllis duet "Country House," there was an entirely different "Loveland," and Ben's "Live, Laugh, Love" became his exhortation to "Make the Most of Your Music." As for the leading performers: Diana Rigg is a predictably strong Phyllis, Julia McKenzie is a moving Sally, David Healy does fine as Buddy, and Daniel Massey is solid as Ben. Some of the featured roles are cast with the resonance necessary to any production of Follies; Dolores Gray sings "I'm Still Here" with much of her plush vocal tone intact, and operetta veteran Adele Leigh quavers her way poignantly through "One More Kiss." A few of the others struggle too hard to sound American, and the show as a whole seems a little reserved and earthbound. British reticence? Perhaps. At any rate, an ideal Follies may reside only in the minds of those who adore the show. — R.B.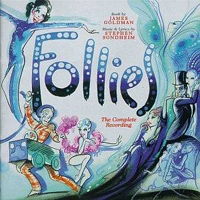 Paper Mill Playhouse Cast, 1998 (TVT, 2CDs)

(4 / 5) As production costs skyrocketed in the 1990s, a full-scale Broadway revival of Follies seemed an ever decreasing possibility. But the Paper Mill Playhouse, a  45-minutes-from-Broadway theater in Millburn, N.J., mounted a well-received production in 1998. The design values were impressive, and the casting was rich, imaginative, and crammed with Broadway/Hollywood talent: Kaye Ballard, Eddie Bracken, Laurence Guittard, Dee Hoty, Donna McKechnie, Ann Miller, Lilane Montevecchi, Phyllis Newman, Tony Roberts, and Donald Saddler. Some aspects of this revival were certainly arresting. Who, after all, was more qualified to sing "I'm Still Here" than Ann Miller, well into her seventies but still going strong? Who was a more apt "Broadway Baby" than Kaye Ballard? Who could be a more winsome Sally than A Chorus Line sweetheart Donna McKechnie? If not all of this two-CD set lives up to the highlights offered by those performers, it's good enough to use an example of the ongoing truth that every recording of Follies is fascinating and absolutely necessary in its own way. One caveat about this one: It's labeled "The Complete Recording," and an appendix section does offer a wonderful array of songs written for but not included in the original production (plus "The Story of Lucy and Jessie," which was dropped for the Paper Mill production in favor of "Ah, But Underneath"). But since most of the numbers created for the London version are not here, it isn't truly complete. Still, why carp? The cast ranges from competent to magnificent, the atmosphere is theatrically solid, and the resonant acoustic is gracious to some of the older singers. — R.B.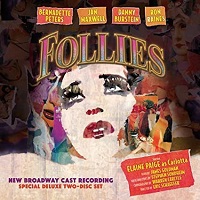 Broadway Cast, 2011 (PS Classics, 2 CDs) 

(4 / 5) The success of the Paper Mill Playhouse production played a sizable role in convincing Broadway that a Follies revival was, in fact, feasible. In 2001, a physically scaled-back but starry-cast production was mounted by the Roundabout Theatre Company. It did not earn a commercial recording, and nor did the well-received 2007 Encores! series presentation of the show. But the Follies discography did begin to expand again with the next Broadway production, which originated at the Kennedy Center in Washington D.C. and moved (with a few cast changes) to New York for a limited run. The acclaim that greeted this production was almost drowned out by some hand-wringing over one controversial piece of casting: Bernadette Peters as Sally. Indeed, as the recording indicates, the vulnerability that has always been part of the Peters persona may not always match up with that of the crestfallen Sally, reminding us that not every wonderful performer can be a complete success in every great role. In contrast, the late, Tony-winning Jan Maxwell makes a crisp, perfectly realized Phyllis, and Danny Burstein is an outstanding Buddy. Ron Raines is satisfactory as Ben, and the various cameos are, in general, highly successful. Elaine Paige has no difficulty delivering a powerhouse "I'm Still Here," Jayne Houdyshell is an endearing Hattie, and as Emily Whitman, Susan Watson is still a charmer more than half a century after Bye, Bye Birdie. Two outstanding turns rate special mention: Terri White's boffo "Who's That Woman?" is a track one can happily play over and over, and veteran Met mezzo Rosalind Elias delivers a "One More Kiss" so firm as to make a listener wonder if she's playing the old Heidi or the young one. (That latter role is beautifully sung by Leah Horowitz.) The recording generously extends over two discs and includes ample dialog. Once again, Follies casts its riveting, too-great-to-be-perfect yet mesmerizing spell. — R.B.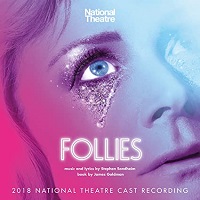 National Theatre Cast, 2018 (Arts Music)

(4 / 5) Now well into the fifth decade of its existence, Follies came back yet again in a lavish, imaginative, and rapturously-received production at London's National Theater. This is not only the latest major production of the show (at this writing) but is also one of the most widely seen, courtesy of broadcasts in movie theaters. Visually stunning and dramatically penetrating, the NT Follies fares a little less well as a purely auditory experience. Part of the problem comes, once again, with those Brits-striving-to-sound-American inflections. As with the first London recording, only more so, the cast members on this recording work rather conspicuously to convince listeners that they're as American as, say, Ethel Shutta. The strain, as exacerbated by those intricate Sondheim lyrics, is detectable. Nor, to many listeners, will the entirely competent cast always seem as vocally distinctive as many of their predecessors. Under the direction of Dominick Cooke, the brilliant Imelda Staunton offers a take on the role of Sally that may not be appreciated by everyone but is certainly valid and striking. The other members of the central quartet are all fine, the "turns" are well done, and Tracie Bennett is an insightful Carlotta. There's also a glimpse of "star glow" in the casting of long-ago movie hunk Gary Raymond as Weismann and opera diva Josephine Barstow as Heidi. In this Follies, the whole matters more than the individual parts, which is as worthy a concept as any bestowed on this iridescent, endlessly meaningful work of art. — R.B.