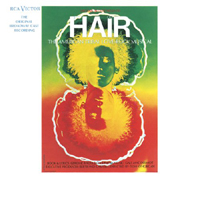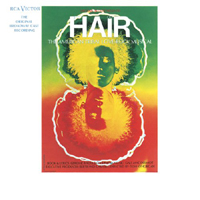 Original Off-Broadway and Broadway Casts, 1967/1968 (RCA, 2CDs)

(1 / 5) Many musical theater traditionalists were nonplussed when the seminal rock musical Hair was a big success Off-Broadway and then on Broadway in the late 1960s. But the overall excellence of the score of this seminal rock musical, with truly great music by Galt MacDermot and scattershot-quality lyrics by Gerome Ragni and James Rado, was recognized from the beginning, and several songs from the show became pop hits that received a lot of radio airplay — most notably "Aquarius," "Let the Sunshine In," "Good Morning, Starshine," and "Easy to Be Hard." Unfortunately, judging on the basis of the cast albums, the original productions were deplorable in that they featured lots of substandard singing, as is proved by RCA's re-release of those albums in a two-CD Broadway Deluxe Collector's Edition. On both discs, the singing ranges from very good (in a few cases) to merely adequate and right on down to execrable; for example, as recorded for the Off-Broadway album, "Aquarius" and "Good Morning, Starshine" are sung so poorly and so far off-pitch that you'll gasp. The few listenable performances of songs from MacDermot's phenomenal score are to be found on the Broadway recording. Among them are Lynn Kellogg's "Easy to Be Hard" and Shelley Plimpton's "Frank Mills, " plus it's fun to hear a young Diane Keaton and Melba Moore in "Black Boys" and "White Boys," respectively. Leads Ragni (as Berger) and Rado (as Claude), who wrote the book for the show as well as the lyrics, sing well enough, but their interpretations lack theatrical charisma. With the exceptions noted above, and a couple of others, the performances to be found on these recordings are off-putting and dispiriting — which didn't stop the Broadway album from becoming a best-seller anyway. — Michael Portantiere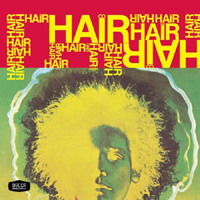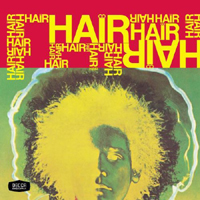 Original London Cast 1968 (Decca)

(1 / 5) Decca released two LPs worth of recordings of songs from the original London production of Hair, "the American tribal love-rock musical." As Peter Knight explains in his notes for the CD release, "the show contains some 34 titles but, when the initial recording [of the London Hair} was made in 1968, it was impossible to cram them all onto one 12-inch vinyl pressing … Fresh Hair [a follow-up album} was conceived to resolve the problem." Both albums are included in full on the single CD. Unfortunately, the singing here is often as ragged and out of tune as what's to be heard on the recordings of the Off-Broadway and Broadway productions. That sadly includes very shaky performances of "Aquarius," led by J. Vincent Edwards, and "Sodomy," led by Michael Feast.  Leads Oliver Tobias, Paul Nicholas, and Annabel Leventon fare much better. (Nicholas would be heard from again,  in several subsequent West End musicals and on their cast albums.) Still, for a really worthy recording of this great score with solid singing across the board, look elsewhere. (See below.)  — M.P.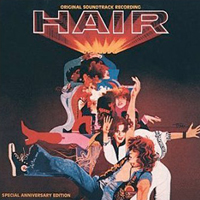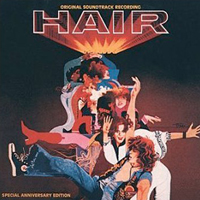 Film Soundtrack, 1979 (RCA)

(5 / 5) The film version of Hair was a vast improvement over the original stage productions in New York and London, not only in terms of its script (a brilliant adaptation by Michael Weller), but also for the overall excellent representation of the score. To begin with, the songs are sung very well — and almost all of the voices you hear are actually those of the performers you see on screen. Treat Williams is an ideal Berger, bursting with subversive energy in "Donna" and "I Got Life."John Savage sings "Where Do I Go?" with great beauty of tone as well as great depth of feeling, and he engagingly duets with Williams in "Manchester." Don Dacus is funny and very appealing as Woof in "Sodomy" and "Hair."  Cheryl Barnes sings the hell out of "Easy to Be Hard." And, in her one brief solo spot, Beverly D'Angelo brings a sweet voice to "Good Morning, Starshine," even if she does sing one or two notes off pitch. Two alums of the Broadway staging of Hair, Melba Moore and Ronnie Dyson, sing powerfully in the terrifying "3-5-0-0," while Nell Carter and Ellen Foley turn up elsewhere. The phenomenal score is thrillingly arranged and conducted by composer Galt MacDermot himself, with Tom Pierson as vocal arranger/conductor.  This recording was originally released on two LPs, but the longer playing time of CDs allowed all of that content to be issued on one disc, and now the entire recording is available as a digital download. As was the case with some previous film soundtrack albums — for example, Carousel and The King and I — the Hair recording includes full versions of several songs from the original score that were edited down for the film itself ("Donna," Black Boys") or cut entirely (most notably "Frank Mills"). The only really negative thing to be said about this recording is that, annoyingly, none of the vocalists are specifically credited anywhere in the CD package — and that includes Betty Buckley, who sings the "Walking in Space" solo but does not actually appear in the film. — M.P.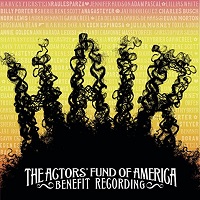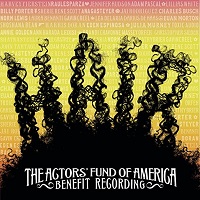 Actors' Fund of America Benefit Concert Cast, 2005 (Ghostlight)

(4 / 5) Here's an excellent studio recording of a memorable benefit concert presentation of Hair that did full justice to Galt MacDermot's epoch-making score.  The only caveat here is that the songs were distributed among the Broadway star-studded cast without regard to the characters who sang them in the original production; but since the stage version of Hair has never been known for the cohesion of its narrative or the depth of its characters, that honestly doesn't matter too much. The ensemble is strong and energized throughout, and the many highlights among the solo vocals include Lillias White's "Aquarius," Chuck Cooper's "Colored Spade," Euan Morton's "Manchester, England,"  Raúl Esparza's "Hair," Charles Bush's "My Conviction," Jennifer Hudson's "Easy to Be Hard," Annie Golden's "Frank Mills," Liz Callaway's "Good Morning, Starshine," and Norm Lewis's "Flesh Failures." Two items of special interest are a scorching hot performance of "Goin' Down," one of Hair's more obscure numbers, by Gavin Creel, who would go on to play Claude Hooper Bukowski in the 2009 Broadway revival; and Harvey Fierstein's hilarious take on "Air," a song for which his uniquely gravelly voice is perfect. Indeed, the only misfire on this recording is Lea DeLaria's "Donna," because the range and style of the song are not well suited to her abilities. Under musical director Seth Rudetsky, a large orchestra plays the brilliant score with tremendous verve, but also with far more discipline than one can hear on the earliest cast recordings. (Hair is about free spirits, but there are limits!) — M.P.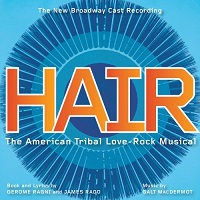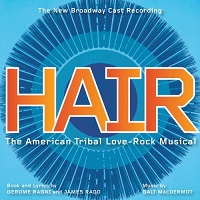 Broadway Cast, 2009 (Ghostlight)

(5 / 5) Even if one didn't see this production live, its cast album provides evidence that, from a musical/vocal standpoint at least, it was one Broadway revival that can be rated as far superior to the original production(s). Gavin Creel's voice, one of the most beautiful heard on Broadway thus far in the 21st century,  is a great pleasure to experience in Claude's songs, especially "Where Do I Go?" Will Swenson oozes charisma and sex appeal as Berger, and judging from his performances of "Donna" and other songs, he had not yet begun to experience the pitch problems that befell him later in his career. Sasha Allen gets the recording off to a thrilling start with her singing of "Aquarius," Caissie Levy as Sheila does a lovely job with "Easy to Be Hard" and "Good Morning, Starshine," Allison Case as Crissy is adorable in "Frank Mills," and Andrew Korber as "Margaret Mead" is a stitch in "My Conviction." But really, everyone in the "tribe" sounds great, as does the orchestra under conductor/keyboardist Nadia DiGiallonardo. Because all of the songs here are sung by the specific characters for whom they were originally written, as was not the case with the 2005 recording reviewed above, this must be rated as the overall best cast album of Hair to date. — M.P.