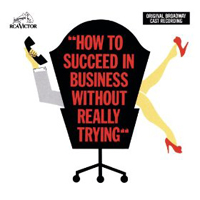 Original Broadway Cast, 1961 (RCA)

(4 / 5) George S. Kaufman said that "satire is what closes on Saturday night," but that certainly did not apply to How to Succeed in Business Without Really Trying. In its original Broadway run, the show saw three-and-a-half-years' worth of Saturday nights. With an incisive book by Abe Burrows, Jack Weinstock, and Willie Gilbert, this is a musical comedy that's truly funny — and it's got a great Frank Loesser score, from the mock-romantic "Happy to Keep His Dinner Warm" and the intentionally syrupy "Love From a Heart of Gold" to the caffeine-inspired "Coffee Break." Other highlights are the business-rule numbers "The Company Way" and "A Secretary Is Not a Toy." Judging by this recording, the original cast was energetic, but star Robert Morse is an acquired taste — and there's a lot of him here. Although he has the right kind of youthful ebullience for go-getter J. Pierrepont Finch, his singing is best described as "characterful" rather than good. Morse's leading lady, Bonnie Scott, tends to bray Rosemary's songs. Charles Nelson Reilly as Finch's rival, Bud Frump, and Rudy Vallee as company president J. B. Biggley come across much better, as do Sammy Smith and Virginia Martin in their supporting roles. Overall, How to Succeed… succeeds nicely. — Matthew Murray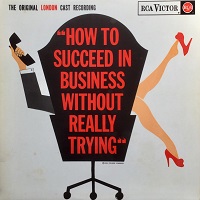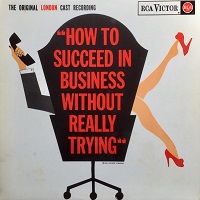 Original London Cast, 1963 (RCA)

(4 / 5) Out of print for decades, this recording is worth seeking out as a delightful addendum to the original Broadway cast album. Happily, a few minor slips notwithstanding, the members of the cast who are actually British manage to sound convincingly American here — a vital point, as this satirical tale of brash go-getters doing their thing in the dog-eat-dog business world of Manhattan circa the early 1960s would seem off kilter with clipped English accents. That said, the two male leads,  Warren Berlinger as Finch and Billy De Wolfe as J.B. Biggley, are in fact American, and both give performances worthy of comparison to their predecessors in these roles. Berlinger's singing is about as good as Robert Morse's, and his characterization is pretty much equal in terms of charm and skillfully understated comic finesse. No one would contend that De Wolfe's voice is as rich as that of Rudy Vallee, but since Biggley's songs require more in terms of personality than sheer vocal quality (which is the case with most of this score), De Wolfe is terrific in the role. As for the rest of the cast, it's a safe bet that most listeners will find Patricia Michael's sound far more pleasing than Bonnie Scott's in Rosemary's songs, and both David Knight and Josephine Blake are right on point as Frump and Smitty. This recording is so rare that I have only been able to track it down and hear it in mono, but with that qualification, the sound quality is excellent overall, as is the musical direction and the work of the ensemble. Some interesting trivia: "The Company Way" is performed here by Berlinger and Bernard Spear (as Twimble) in a higher key than the original, and several of the lyrics in other songs have been cleverly rewritten to remove certain references (to F.A.O. Schwartz, Bergdorf-Goodman, Lionel toy trains, the 21 Club, Tarrytown, etc.) that presumably would have been unfamiliar to London audiences. Funnily enough, the "work/clerk" rhyme in "Been a Long Day" remains, despite the fact that those two words don't rhyme as Brits pronounce them 🙂 — Michael Portantiere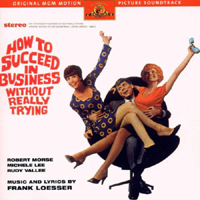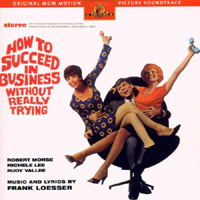 Film Soundtrack, 1967 (United Artists/MGM)

(2 / 5) Several of the original Broadway cast members appear in the film version of How to Succeed…, and Rosemary is played by Michele Lee, who was a replacement in the role on Broadway and on tour. She does a much better job with the songs than Bonnie Scott, sounding warmer and far more natural. However, she doesn't have many songs: "Happy to Keep His Dinner Warm" and "Paris Original" were both excised from the stage score for the movie. Lee does perform a solo version of "I Believe in You," but is otherwise heard only in the trio "Been a Long Day." Robert Morse, Rudy Vallee, Sammy Smith, and Ruth Kobart (as J. B. Biggley's executive secretary) from the Broadway cast all sound good here, so does John Myhers as Mr. Bratt in "A Secretary is Not a Toy," and although Anthony Teague doesn't have Charles Nelson Reilly's nervous energy, he's fine as Frump. The "Coffee Break" number may be heard on this soundtrack album but is not in the movie, having been filmed but cut from it. While the incompleteness of this recording diminishes its appeal, avid Frank Loesser fans may value it. — M.M.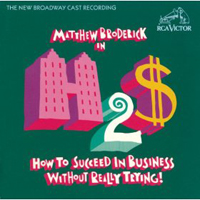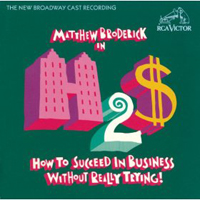 Broadway Cast, 1995 (RCA)

(2 / 5) This is a very full recording. In addition to the show's voice-over passages (spoken by Walter Cronkite!), it includes some incidental music, a number of reprises, and even the Pirate Dance. The album boasts new orchestrations by Danny Troob that are even brassier than the originals, a reworked "Brotherhood of Man" with a lot of scatting from Lillias White as Miss Jones, and a new second-act opener. There's also a reprise of the title song (with new lyrics written by the production's director, Des McAnuff) in place of the cut "Cinderella, Darling."  If these changes aren't really improvements, neither are they significant detriments. Megan Mullally is an ideal Rosemary, and Victoria Clark provides a very well sung Smitty. Jeff Blumenkrantz is Frump; other roles are well done by Ronn Carroll, Gerry Vichi, and Jonathan Freeman. Luba Mason's Hedy is a bit too vacant, though she makes quite a vocal effect when she slides up a full octave at the end of "Love From a Heart of Gold." But then there's Matthew Broderick, singing and acting in the same constipated style that he would later bring to The Producers and  other shows. While he hits all the right notes in Finch's songs and only sounds strained a couple of times, he never sounds real. — M.M.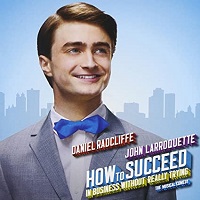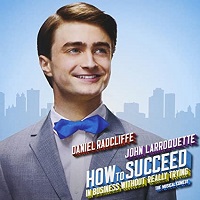 Broadway Cast, 2011 (Decca)

(2 / 5) The first 21st-century Broadway revival (sorry, "revisal") of How to Succeed was done in by the direction of Rob Ashford, who somehow managed to remove most of the humor from this sharply satirical show and left his cast adrift to fend for themselves — including Daniel Radcliffe, for whom the central star role of J. Pierrepont Finch might have been a perfect fit if he had had a competent director to guide him. But this is one of those not infrequent cases where the cast album is far more pleasurable on its own terms than the production itself. Because we don't have to endure Ashford's dimming of the comedy in the show's dialogue, nor need we experience his deplorable staging and choreography, sometimes overloaded and sometimes inadequate or non existent (such as his having left Radcliffe to stand on stage doing literally nothing during each and every one of those little orchestral interludes in "I Believe in You"), we're free to enjoy what this production had to offer in terms of musical values. Radcliffe's singing voice is clear, strong, youthful, and pleasant, his American accent is flawless, and the charm he exhibited in all those Harry Potter films is intact, so his performance here is highly effective, regardless of what it lacked on stage. On the minus side, listeners may wish that John Larroquette had a bit more of a singing voice to bring to Biggley's musical moments. Standouts in other roles are Rose Hemingway as Rosemary, Tammy Blanchard as Hedy La Rue, and Rob Bartlett as Twimble/Womper, but one's enjoyment (or not) of this recording may depend largely on how one feels about the aggressive rearrangements and re-orchestrations of the score by David Chase and Doug Besterman. — M.P.