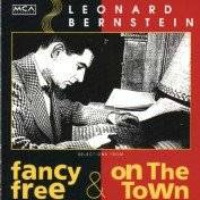 Original Broadway Cast Members, 1944 (Decca/MCA)

(2 / 5) Record companies treated Broadway musicals pretty poorly until the concept of the original cast album became firmly entrenched, so this collection is mainly of interest for its historical value. Rather than issuing an integral recording of the Leonard Bernstein-Betty Comden-Adolph Green musical On the Town, which was certainly a big hit, Decca produced 78rpms of Nancy Walker doing her solo "I Can Cook, Too" and performing the quartet "Ya Got Me" as another solo; Comden and Green in their duet "Carried Away"; the Lyn Murray Chorus in the show's opening sequence (including "I Feel Like I'm Not Out of Bed Yet" and "New York, New York," but with no dialogue); and Mary Martin crooning the two ballads that were sung in the show by John Battles as Gabey, "Lucky to Be Me" and "Lonely Town." All of these recordings, plus an extended version of the opening sequence, are included on the 1991 MCA CD, along with selections from Fancy Free (the Jerome Robbins ballet that inspired On the Town) as performed by the Ballet Theatre Orchestra under the direction of composer Bernstein. — Jeffrey Dunn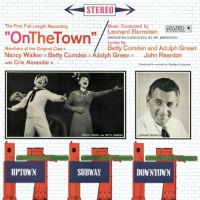 Studio Recording With Original Cast Members, 1960 (Columbia/Sony)

(5 / 5) In 1960, legendary cast-album producer Goddard Lieberson reassembled most of the original On the Town principals and brought them into a studio to record virtually the entire score with Leonard Bernstein conducting. Nancy Walker, Cris Alexander, Betty Comden, and Adolph Green were all present, and the excellent John Reardon joined them as Gabey. Two songs missing from the first LP release of this album, the female chorus number "Do Do Re Do" and Pitkin's "I Understand," sung by George Gaynes, were restored for the Sony CD. The performances are so fresh that the recording sounds as if it were made right after the show opened on Broadway; Bernstein's conducting is sensational in all of the ballet music and in the wonderful songs, too. Walker and Alexander are perfect in "Come Up to My Place," as are Comden and Green in "Carried Away," while Reardon lends his warm, clear baritone to "Lonely Town" and "Lucky to Be Me." The choral work is fine, and we are even treated to Bernstein himself doing some singing as Rajah Bimmy in "The Real Coney Island" Ballet. An indispensable recording. — J.D.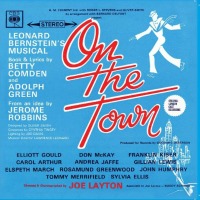 Original London Cast, 1963 (CBS/Masterworks Broadway)

(2 / 5) The first London production of On the Town was based on a critically acclaimed but unsuccessful Off-Broadway production; the principals of that staging were imported for the occasion, but the London edition also failed to become a hit. An LP was released and quickly became a collectors' item. The three male leads are much better than the rest of the cast: Don McKay is an excellent Gabey, Elliott Gould is a funny, underplayed Chip, and Terry Kiser is quite good as Ozzie. Less successful are Carol Arthur as Hildy and Gillian Lewis as Claire. The album includes the show's rarely recorded overture, but almost all of the ballet music is abridged. Though the performance is well conducted by Lawrence Leonard, this recording is not a necessity.  — J.D.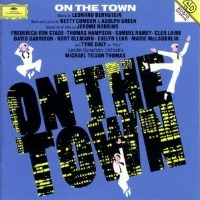 London Concert Cast, 1992 (DG)

(4 / 5) On the Town in concert, with an all-star cast from the worlds of Broadway and opera plus Michael Tilson Thomas conducting the London Symphony Orchestra, sounds like a great idea-and, indeed, it was. The orchestra is magnificent and the live-performance energy of the cast is palpable. Tyne Daly is tops as the tough Hildy, especially in "I Can Cook, Too." As Claire and Chip, Frederica von Stade and Kurt Ollman prove themselves to be opera singers who can successfully "cross over" to Broadway. When respectively paired with them in the comic duets "Carried Away" and "Come Up to My Place," musical theater veterans David Garrison (who plays Ozzie) and Daly blend with ease; and when these four team up for the rueful "Some Other Time," any barriers between Broadway and classical music are broken. Thomas Hampson uses his creamy baritone well in Gabey's songs; Evelyn Lear is very fine as Mme. Dilly; and basso Samuel Ramey's "I Understand" is impressive. Included are two previously cut songs: "Gabey's Comin'" ("Pickup Song") introduces tunes subsequently used as leitmotifs in the score, and its importance as a missing link is explained in the first-rate CD booklet notes written by Ethan Mordden. Cleo Laine sings the second restored song, "Ain't Got No Tears left," and Adolph Green makes a cameo appearance as Rajah Bimmy in "The Real Coney Island" ballet. As an appendix, we get yet another cut song, "The Intermission's Great." — J.D.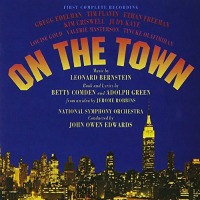 Studio Cast, 1996 (JAY, 2CDs)

(3 / 5) This "First Complete Recording" of On the Town boasts a commitment to character truth that deeply engages the listener; the five singing principals are exactly right from a vocal standpoint, and they illuminate the material. As Gabey, Ethan Freeman is vulnerable in "Lonely Town" (the previously unrecorded chorale section of the song after the "Pas de Deux" is haunting), and his "Lucky to Be Me" is exuberant. Gregg Edelman and Kim Criswell deliver the goods in "Come Up to My Place," and Criswell raises the roof with "I Can Cook, Too," complete with encore. Tim Flavin and Judy Kaye, in the roles that Betty Comden and Adolph Green wrote for themselves to play in 1944, are solid in "Carried Away." The two couples raise their voices joyously when cheering up Gabey in "Ya Got Me" and heartbreakingly when they prepare to part in the melancholic "Some Other Time." The ballet music is complete and excitingly conducted by John Owen Edwards — as are the overture, the entr'acte, the exit music, the amusing nightclub sequence, and even the deleted "Gabey's Comin'." — J.D.