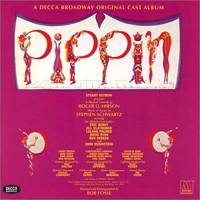 Original Broadway Cast, 1972 (Motown/Decca)

(3 / 5) Stephen Schwartz wrote the score for this hippy-dippy medieval musical. John Rubinstein starred as the son of Charlemagne, roaming the Holy Roman Empire looking for the meaning of life and instead finding war, sex, patricide, and — finally! — the love of a good woman. The oddball story was all-that-jazzed up by Bob Fosse, whose sexy, inventive staging made the show one of the biggest hits of the decade. Even with a fundamentally weak concept, there's much to like here, starting with the unique, folk-jazz sound of the score. "Magic to Do," led by narrator/emcee Ben Vereen, is the definitive band-of-strolling-players opening number; and Pippin's first solo, "Corner of the Sky," is a stirring piece of writing. Also hard to resist is that paean to pagan joys "No Time At All," which provided veteran trouper Irene Ryan with her career sign-off. A very young Jill Clayburgh offers a lovely reading of the clear-eyed ballad "I Guess I'll Miss the Man," and Vereen and Rubinsten demonstrate split-second timing in the duet "On the Right Track." The pure 1970s soft-pop orchestrations are, surprisingly, by Ralph Burns, who apparently could work in just about any style. As a result, this is one of the most intimate-sounding of all Broadway albums. — David Barbour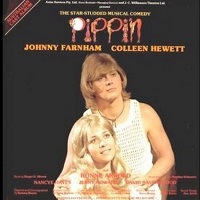 Australian Cast, 1974 (EMI/no CD)

(2 / 5) This recording doesn't start off all that well, as both Ronne Arnold in the role of the Leading Player and the ensemble sound a little pitch-shy at moments in "Magic to Do." Indeed, the members of the ensemble don't sing as well throughout as did their counterparts on the original Broadway cast album; note, for example, how the gorgeous harmonies in the climactic section of "Glory" have been completely eliminated here. Despite a few moments of strain, Johnny Farnham as Pippin displays a strong, youthful-sounding voice that's mostly very enjoyable in his solos, nearly all of which are sung in higher keys than the originals.  David Ravenswood is a properly pompous Charlemagne, but whatever personality Jenny Howard brings to Berthe's song "No Time at All" doesn't compensate for her trouble matching pitches.  Catherine Hewett performs "I Guess I'll Miss the Man" with lots of emotion, and she sounds lovely when harmonizing with Farnham in "Love Song." The finale cut here is notable for including a reprise of the "Think about the sun, Pippin" chorus after Pippin's epiphany ("I'm not a river or a giant bird"), which certainly doesn't fit in with the ending of the show as originally directed by Bob Fosse. (Perhaps this was the curtain call music?) — Michael Portantiere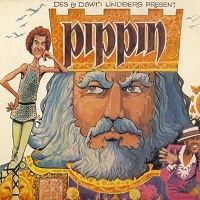 South African Cast, 1975 (Bell/no CD)

(2 / 5) Sammy Brown as the Leading Player displays a singing voice similar in style, timbre, power, and control to Ben Vereen's, which of course is meant as a compliment. Hal Watters as Pippin sounds lovely and persuasive in the ballads, and he also possesses the vocal goods for the musical/emotional climaxes of Stephen Schwartz's great songs. Jo-Ann Pezarro as Fastrada has a lot of fun with "Spread a Little Sunshine," and if Bess Finney as Berthe is not quite a match for Broadway's Irene Ryan when it comes to sheer joie de vivre  and comic brio, she sings a lot more of "No Time at All" — and hits a lot more of the notes on pitch — than did Jenny Howard of Australia. The choral work is solid throughout the album, and the orchestrations sound great as recorded here; they are the originals for the most part, but note the cool harpsichord effect at the beginning of "I Guess I'll Miss the Man," sung persuasively by Andre Hattingh. — M.P.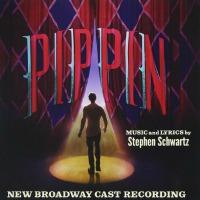 Broadway Cast, 2013 (Ghostlight)

(3 / 5) Removing Bob Fosse's staging from Pippin necessarily created a vacuum that Diane Paulus, this revival's director, filled with a whole lot of everything: magic acts, acrobats, circus performers, and brassier new orchestrations by Larry Hochman. You may miss the imperturbable cool of the original recording, but this one has its compensations, beginning with Patina Miller, whose sassy, high-energy Leading Player is a constant delight. Matthew James Thomas's Pippin is even better sung than John Rubinstein's original, Terrence Mann amusingly captures Charlemagne's fat-headed pomposity (even in "War is a Science," still the show's weakest number), and Rachel Bay Jones gives a charming, screwball spin to Catherine (the Jill Clayburgh role). In a class by herself is Andrea Martin; her recorded performance of "No Time at All" is necessarily missing the acrobatic turn that brought audiences to their feet in mid-number, but her warm, bigger-than-life persona comes through loud and clear. As Fastrada, the villain of the piece, Charlotte D'Amboise was sly and stylish on stage, but on the album she seems to be trying a little too hard. There are some changes in the lyrics of a few songs, and this recording of the score is more expansive than its predecessor; the scorching sex ballet that follows the sweet ballad "With You" is included here,  and there's also an entr'acte, which the intermissionless original production never had. — D.B.