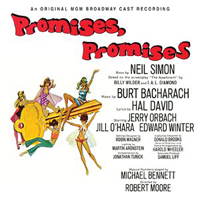 Original Broadway Cast, 1968 (United Artists/MGM/Kritzerland)

(3 / 5) Based on the film The Apartment, this show was the only Broadway effort of pop songwriters Burt Bacharach (music) and Hal David (lyrics), who had written such hits as "Alfie," "One Less Bell to Answer," and "Do You Know the Way to San Jose?" As originally released, the cast recording of Promises, Promises was highly problematic. To begin with, the usually wonderful Jerry Orbach sounded pitch-shy as Chuck Baxter in several cuts, especially in "She Likes Basketball" and two duets, "Our Little Secret" (with Edward Winter as J. D. Sheldrake) and "A Young Pretty Girl Like You" (with A. Larry Haines as Dr. Dreyfuss). In those last two named songs, it was hard to tell who was singing farther off pitch, Orbach or his co-stars, but both cuts were almost unlistenable in sections. Also, in the original mix of the album, there was an excessive amount of reverb in the vocals, while the percussion sounded too heavy and the strings remote. The happy news is that a latter-day remastering of this recording for the Kritzerland label ameliorated these problems (except for the excessive reverb, which was not fixable) through skillful remixing and pitch correction, greatly improving the overall listening experience; Orbach's vocals in particular now sound far more pitch-solid overall. As Fran Kubelik, the young woman caught between Baxter and Sheldrake, Jill O'Hara displays a voice with a folk-singer quality that some Broadway aficionados may not appreciate, but this score is far from typical Broadway, and in fact, Bacharach has gone on record as saying that he wrote these songs with O'Hara's sound specifically in mind. The score in general is flawed due to David's sometimes ham-fisted lyrics, but the good work ("Half as Big as Life," "Knowing When to Leave," "I'Il Never Fall in Love Again," the title song, and others) finally outweighs the bad. Note: According to the album credits, you can supposedly hear Donna McKechnie singing along with Baayork Lee and Margo Sappington in "Turkey Lurkey Time," but the number was actually recorded by the show's "orchestra voices." — Michael Portantiere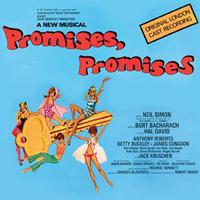 Original London Cast, 1969 (United Artists/Kritzerland)

(3 / 5) This recording was out of print for years, until it finally received an excellent if belated digital transfer and release by Kritzerland. The two leads, Tony Roberts and Betty Buckley, were just starting their careers in 1969 but went on to become established Broadway stars. Roberts is charming in Baxter's songs, and if Buckley's steely belt/soprano won't appeal to everyone, she's solid from a technical standpoint. James Congdon as Sheldrake sings "Wanting Things" well, if not with quite as much voice as Edward Winters on the original Broadway cast album. A major plus of the recording is its superb technical quality; Jonathan Tunick's orchestrations sound magnificent, with the strings more prominent than on the OBCR, and the voices are recorded with a great deal of presence and no excess of reverb. Note: Donna McKechnie traveled to London with the show and is again credited on the cast album, but you won't hear her singing on "Turkey Lurkey Time" track here, either. — M.P.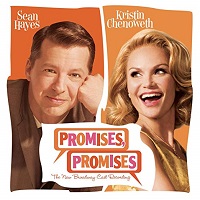 Broadway Cast, 2010 (Masterworks Broadway)

(2 / 5) The 2010 Broadway revisal of Promises, Promises was marred by poor direction (Rob Ashford was responsible) and the ill-advised, unnecessary interpolation of two Bacharach-David hits that were not in the original score, "I Say a Little Prayer" and "A House is Not a Home."  But the slack direction is, of course, not evident on the cast album, and the added songs are enjoyable in their own right out of context, so much of this recording is an agreeable listening experience. A stumbling block for some listeners may be the buzz-saw vibrato of Sean Hayes's voice as heard in Chuck Baxter's multiple songs, surely not to everyone's taste. More pleasant to hear is Kristin Chenoweth's singing as Fran, even if her songs are sung in keys much lower than the soprano range in which she's most at home. Although Tony Goldwyn is not known as a singer, he does a fine job with Sheldrake's "Wanting Things" and his duet with Hayes, "Our Little Secret." Katie Finneran is a comic delight as Marge MacDougall, playing off Hayes in "A Fact Can Be a Beautiful Thing," and Jonathan Tunick's adaptations of his own original orchestrations sound pretty great.  — M.P.