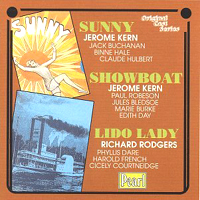 Original London Cast, 1928 (Columbia/HMV/Pearl)

(3 / 5) Composer Jerome Kern and librettist-lyricist Oscar Hammerstein's groundbreaking musical Show Boat premiered in New York in 1927, before the concept of original Broadway cast albums had been established. This album includes selections from the Show Boat score with members of the original London cast, plus other material. Performed here by what is billed as "The Mississippi Chorus" are tab versions of "Cotton Blossom," "Queenie's Ballyhoo," "In Dahomey," and "Can't Help Lovin' Dat Man," all in their original choral arrangements. In "Make Believe," Edith Day is a charming Magnolia, and Howett Worster a very fine Ravenal in all three of his duets with Day. In London, Paul Robeson finally got to play the role of Joe, which was written for him but not played by him during the original Broadway run. Unfortunately, the "Ol' Man River" chosen for inclusion here is Robeson's surprisingly casual 1928 studio recording with the Paul Whiteman Orchestra. (Also represented on this disc is the Joe of the original Broadway production, Jules Bledsoe, who offers a suitably tough and angry "Ol' Man River.") Marie Burke's "Can't Help Lovin' Dat Man" and "Bill" are good, if unexceptional. Day's "Dance Away the Night," written for this production, is bright and bouncy. The Pearl CD also includes selections performed by the London casts of Kern's Sunny and Rodgers and Hart's Lido Lady.  — Jeffrey Dunn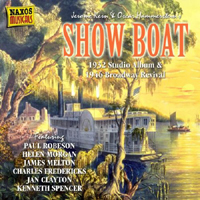 Original Broadway and Studio Casts, 1932 (Columbia-CBS/ASV-Living Era/Naxos)

(2 / 5) Some worthy performances are collected here. Helen Morgan, who famously created the role of Julie in the original Broadway production of Show Boat and played it again in the 1932 revival, as well as in the 1936 film version, sings "Can't Help Lovin' Dat Man" and "Bill." Paul Robeson, who was Joe in the '32 revival, delivers a stirring "Ol' Man River." James Melton is overly florid in solo versions of "Make Believe" and "You Are Love," but Countess Olga Albani displays a nice soprano in "Why Do I Love You?" (with Frank Munn). An overture and finale are also included, with eight selections conducted by Victor Young. — J.D.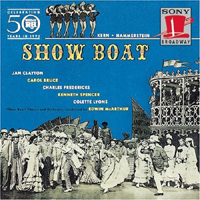 Broadway Cast, 1946 (Columbia/Sony)

(2 / 5) For this revival, Oscar Hammerstein stripped away many of the comedy aspects of Show Boat and focused on the drama. Robert Russell Bennett revised his 1927 orchestrations to give them a more 1940s Broadway sound. The new overture is well conducted by Edwin McArthur, but "Cotton Blossom" is rushed and sounds strangely old-fashioned on this recording. While Jan Clayton is an earnest Magnolia, Charles Fredericks lacks character as Ravenal. The orchestral lead-in to "Ol' Man River" is almost laughable; Kenneth Spencer restores some dignity to the song with his earthy approach but, unfortunately, the second verse is omitted. Carol Bruce began the tradition of Julies who are less soprano and more husky-voiced, making impressively throaty sounds in both "Can't Help Lovin' Dat Man" and "Bill." Colette Lyons is a conventional soubrette as Ellie, squeakily cute in a very brisk version of "Life Upon the Wicked Stage" that includes some of "I Might Fall Back on You" as dance music. Jan Clayton's "Nobody Else but Me," reputedly the last song Kern ever wrote, brings this 10-track recording to a lively finish. — J.D.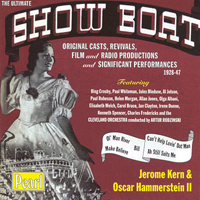 The Ultimate Show Boat, 1928-1947 (various labels/Pearl, 2CDs)

(2 / 5) This attempt to be the "ultimate" recording is a 1999 compilation that includes the cast album of the 1946 Broadway revival, the eight-song album of 1932, and a Show Boat orchestral "Scenario." It also offers nine (!) versions of "Ol' Man River": four by Paul Robeson and one each by Jules Bledsoe, Kenneth Spencer, Todd Duncan, Al Jolson (bizarre), and Bing Crosby (baffling). Helen Morgan's two recordings from 1928 are here, and so is Tess Gardella's "Can't Help Lovin' Dat Man." Further inclusions: vintage recordings of two non-Kern songs usually heard in the Act II Trocadero scene, "After the Ball" and "Goodbye My Lady Love," with the latter sung by its writer, Joseph E. Howard; and "I Still Suits Me" in a solo version by Robeson, plus another version that pairs him with Elisabeth Welch. Finally, there's some material featuring Allan Jones, Irene Dunn, and Charles Winninger, three of the stars of the 1936 Show Boat film.  — J.D.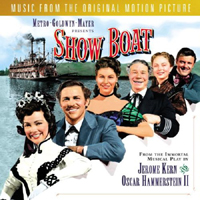 Film Soundtrack, 1951 (MGMlRhino-Turner)

(2 / 5) Because so much background scoring is included here, this CD almost sounds like a Show Boat suite for voices and orchestra, conducted and played very slowly. Howard Keel and Kathryn Grayson are in top form, and the MGM Orchestra makes magnificent sounds as conducted by Adolph Deutsch.  It's fun to hear Marge and Gower Champion sing "I Might Fall Back on You" and "Life Upon the Wicked Stage," even if one can't see them dance on the soundtrack album. There is a powerful if somewhat turgid "Ol' Man River" by William Warfield, and a lovely "Make Believe" reprise by Keel. Annette Warren sings Julie's songs for Ava Gardner, as in the film, but the bonus tracks of the Rhino CD give us Gardner herself singing "Can't Help Lovin' Dat Man" and "Bill" very well, indeed. — J.D.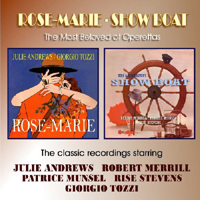 Studio Cast, 1956 (RCA/Flare) No stars; not recommended. One of the greatest of all musical theater scores goes down in defeat here. An early "crossover" recording, this entry features Metropolitan Opera stars Robert Merrill, Patrice Munsel, and Rise Stevens. Their singing is disappointingly colorless, as are Janet Pavek and Kevin Scott's turns as Ellie and Frank. The orchestrations aren't the originals, and aren't very good. "Dance Away the Night," written for the 1928 London staging, is given a lifeless performance here. The album also includes "Till Good Luck Comes My Way," often omitted from productions and recordings of Show Boat; Merrill makes this song dull, too, but he can't be fully blamed for his "Ol' Man River," which was a bad idea in the first place. [Ed. Note: Flare's CD also features selections from Rose Marie with Julie Andrews and Giorgio Tozzi.] — J.D.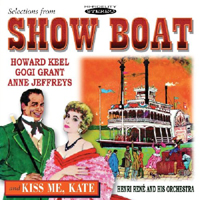 Studio Cast, 1958 (RCA/Sepia) No stars; not recommended. From the overture on, this recording makes you feel like you're trapped in an elevator, so Muzak-like is Henri René's orchestra (no arranger credited). Howard Keel is in good voice but seems dramatically detached, and Anne Jeffreys' usually lustrous soprano sounds like it's under wraps. Gogi Grant is a torchy Julie in too-slow renditions of "Can't Help Lovin' Dat Man" and "Bill." Although there are a few interesting inclusions — such as "Nobody Else but Me," "Till Good Luck Comes My Way," and "Where's the Mate for Me?" — this Show Boat sinks. — J.D.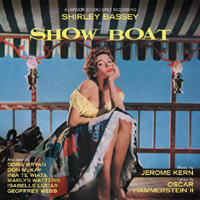 Studio Cast, 1959 (EMI/no CD)

(1 / 5) A wild combination of disparate elements, this recording has soupy arrangements, tempi that are often woefully slow, and awful orchestrations. Shirley Bassey is a restrained Julie. On the plus side, New Zealander Inia Te Wiata's "Ol' Man River" is well sung. Don McKay and Marlys Watters display lovely voices in their three big duets as Ravenal and Magnolia, while Dora Bryan's Ellie exudes showbiz know-how in "Life Upon the Wicked Stage" and, with Geoffrey Webb, in "I Might Fall Back on You." — J.D.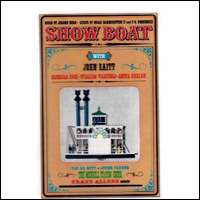 Studio Cast, 1961 (Columbia/Sony)

(1 / 5) Theatricality is missing from this Show Boat. While John Raitt's Ravenal  and Barbara Cook's Magnolia are nicely sung, "Make Believe"seems incomplete here. The duo's recording of "You Are Love"is only adequate, and the singers are swamped by the orchestrations in "Why Do I Love You?" William Warfield is solid but unexciting in Joe's "Ol' Man River." Anita Darian's Julie is almost coquettish in "Bill," warm and honest when caressing "Can't Help Lovin' Dat Man." Fay DeWitt has a bubbly belt and is reasonably droll in Ellie's "Life Upon the Wicked Stage," but the female chorus drags down the number. In fact, every time the Merrill Staton Choir takes over, singing with little feeling, there is a deadening effect. The orchestra, playing uncredited orchestrations, is led by Franz Allers. Four bonus tracks on the CD reissue offer Tess Gardella in a bang-up version of "Can't Help Lovin' Dat Man" (recorded in 1928), Helen Morgan singing "Bill" with the Victor Young Orchestra (1932), Paul Robeson in a solo version of the duet "I Still Suits Me" (1947), and Jan Clayton singing "Nobody Else But Me." — J.D.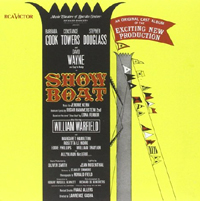 Music Theater of Lincoln Center Cast, 1966 (RCA)

(4 / 5) This fine, succinct cast album deletes the opening chorus of "Cotton Blossom," but from then on, most of the major songs of Show Boat are heard in fairly complete versions, very well sung and convincingly acted. Barbara Cook (Magnolia) and Stephen Douglass (Ravenal) do superlative work in their three duets: Broadway's greatest soprano and one of its greatest baritenors truly soar when they raise their voices in "You Are Love," "Make Believe," and "Why Do I Love You?" The last-named song also has a comedic chorus sung by David Wayne as Captain Andy. (In the production, he sang it to Margaret Hamilton as Parthy, but she is not heard on the album.) "Can't Help Lovin' Dat Man" is sung with feeling by Constance Towers as Julie, with Rosetta LeNoire and the spirited chorus lending strong support. Towers' "Bill" is also lovely. Allyn Ann McLerie is definitive in Ellie's "Life Upon the Wicked Stage," and the Act II opening is well done, if brief. Finally, this recording is blessed with a sensational "Ol' Man River" sung by William Warfield, whose voice has incredible power and beauty throughout its range in a performance bursting with spontaneity. The Robert Russell Bennett reorchestrations are largely intact and lovingly conducted by the great Franz Allers. — J.D.
London Cast, 1971 (EMI-Stanyan/LaserLight)

(3 / 5) Although musically inauthentic in many ways, the 1971 London production of Show Boat ran for more than 900 performances. What makes the cast album most special is the presence of Cleo Laine as Julie; her "Bill" is achingly beautiful and deeply felt, her "Can't Help Lovin' Dat Man" is rich in sultry tone and thrilling riffs, and her "Nobody Else But Me" is delivered as a soulful ballad. André Jobin as Ravenal and Lorna Dallas as Magnolia sing their songs beautifully. Kenneth Nelson and Jan Hunt are very lively as Frank and Ellie, performing in fine vaudeville style to enjoyable effect in the interpolated "How'd You Like to Spoon With Me?" Thomas Carey is good as Joe in "Ol' Man River," and Ena Cabayo makes a distinctive Queenie. Included for this recording, but not in the production itself, were "Life Upon the Wicked Stage," "Till Good Luck Comes My Way," "I Have the Room Above Her," and "I Still Suits Me" — but note that the LaserLight edition is a one-CD album of highlights from the album, which was originally released on two LPs. — J.D.
Studio Cast, 1988 (EMI, 3CDs)

(5 / 5) This complete set is the one indispensable recording of Show Boat. Five classic songs — "Make Believe," "Ol' Man River," "Can't Help Lovin' Dat Man," "You Are Love," and "Bill" (lyrics partly by P. G. Wodehouse) — have survived every permutation of the show, and "Why Do I Love You?" has survived most, but other songs have been included or excluded from each of the numerous productions and recordings. This album offers every extant piece of music ever written for Show Boat: the complete score as heard on Broadway in 1927; portions that had been deleted during road tryouts; songs added for the many revivals and the 1936 film version; and a lot of dialogue, most of it underscored. Only some music for scene changes and a few incidentals are omitted. John McGlinn reconstructed the score and conducts this truly monumental recording, which also includes all or most of the show's dialogue. From the first chord of the original overture, intermingling the score's ever-changing moods, it's clear that the result is unique. Opera stars Frederica Von Stade and Jerry Hadley, as Magnolia and Ravenal, act almost as well as they sing. Playing Julie is another opera star, the magnificent Teresa Stratas, who combines the inner strength of the character with a touching vulnerability. Representing the unrecorded 1983 Broadway revival of Show Boat are Paige O'Hara as Ellie, Bruce Hubbard as Joe, and Karla Burns as Queenie — all of them terrific. Hubbard's "Ol' Man River" is warm, wise, and sung with the right amount of power mixed with resignation. Two other Broadway veterans, Robert Nichols and David Garrison, bring their talents and good humor to the roles of Captain Andy and Frank, respectively. The supporting roles are also luxuriously cast, which helps boost this recording to such a high level. It's a revelatory experience, whether one is hearing the astonishing "Mis'ry's Comin' Aroun'" for the first time or simply marveling at how the individual pieces of the score fit together. — J.D.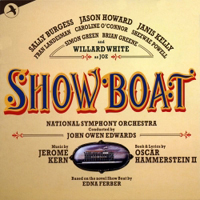 Studio Cast, 1993 (TER-JAY)

(3 / 5) This nearly complete recording based on the 1946 Broadway edition of Show Boat includes the rarely performed or recorded "In Dahomey" and a good deal of dialogue. John Owen Edwards does an excellent job of conducting the National Symphony Orchestra. Janis Kelly sings Magnolia superbly, and Jason Howard is a heavy-voiced but romantic Ravenal; their "Make Believe" duet is particularly impressive. Sally Burgess has the right vocal heft for Julie, displaying a legit voice with a lot of soul in her songs. Shezwae Powell is cutely sassy as Queenie, while Caroline O'Connor is nice and brassy as Ellie, but Willard White's "Ol' Man River" seems a bit too ponderous. — J.D.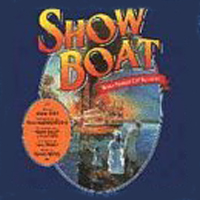 Original Toronto/Broadway Cast, 1994 (Quality Music)

(4 / 5) Harold Prince and Susan Stroman created a new version of Show Boat that ran 946 performances on Broadway, beating the London record set in 1971. Recorded during the pre-Broadway Toronto run, this cast album features Robert Morse as Captain Andy. The fine orchestrations by Robert Russell Bennett and William David Brohn show respect for the originals while forging a Show Boat for the 1990s with restorations/inclusions such as "Mis'ry's Comin' Aroun'," "Till Good Luck Comes My Way," and "I Have the Room Above Her." Here, "Why Do I Love You?" is done as a solo by Elaine Stritch in the previously nonsinging role of Parthy. "Kim's Charleston" is a dance confection thrillingly whipped up by arranger David Krane. Also included is the music for both of Stroman's great Act II montages. Rebecca Luker and Mark Jacoby are excellent as Magnolia and Ravenal — no sugary nonsense in either interpretation, but lots of beautiful vocalism.  "Stunning" is the best word to describe Michel Bell's unadorned, heartfelt "Ol' Man River." Lonette McKee as Julie is believable and expressive in "Can't Help Lovin' Dat Man" and "Bill," neatly treading the fine line between legit authenticity and soul. Queenie is sung by the rich-voiced Gretha Boston, who won a Tony Award for her performance. Under Jeffrey Huard's intelligent musical direction, the entire cast and the orchestra sound excellent throughout. — J.D.