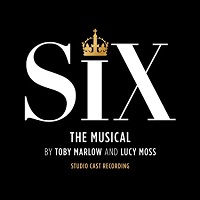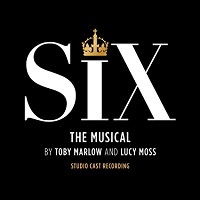 Studio Cast, 2019 (Absolute)

(3 / 5) Part history lesson, part Coachella,
SIX
gives cheeky insight into the lives of the six wives of Henry VIII in the form of a concert, with the women performing as a pop girl group and each one getting a song to represent herself to the audience. The musical has no concrete plot. Instead, as conceived by writers Toby Marlow and Lucy Moss, it plays out like a mix tape of various contemporary music genres; each wife has a song that tells her story, plus there's an opening number ("Ex-Wives") and a finale ("Six") that thematically connects them all. When this concept recording was released online, it garnered a large fan following and prompted multiple productions of the show around the world. Because the concept album is designed to sound like a traditional pop/R&B album rather than a cast recording, some listeners may be turned off by the over-produced sound mixing and the breathy affectations of several of the vocalists. But don't be disillusioned by the sheen of this pop presentation:
SIX
is a strong musical theater score. Marlow and Moss' lyrics are creative and clever, and their songs naturally channel modern-day pop, a genre that has largely eluded Broadway composers until now. For example, "Don't Lose Ur Head" (chronicling the rise and fall of Anne Boleyn) and "All You Wanna Do" (re-claiming the narrative of Katherine Howard) bring to mind the bubble-gum ear worms of Avril Lavigne and Katy Perry, while ballads such as Jane Seymour's "Heart of Stone" could easily fit into an Adele album. Still, it will be difficult for some to listen to this concept album and be able to embrace
SIX
as a musical theater score. But there is an alternative…  —
Matt Koplik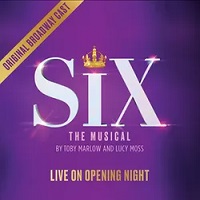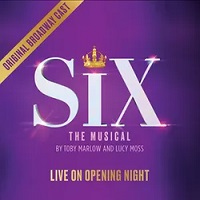 Original Broadway Cast, 2022 (6 Music Ltd.)

(4 / 5) Recorded live on opening night of the Broadway production of SIX, this album captures the show's fervent energy and the score's dramatic meat when it's put in the hands of six smart and talented singing actresses. The crowd's hyper-energetic response to "Ex-Wives"at the start may be overwhelming or frustrating for some listeners,  but given that SIX's opening was delayed for 18 months due to the COVID-19 pandemic, that response is understandable. Thereafter, the album focuses primarily on the performers, starting with Adrianna Hicks salivating over the Beyonce-inspired "No Way" and moving on non-stop from there. Each singing actress delivers in the pop/R&B style of the score while also infusing these songs with spice and personality. Andrea Masceat fills "Don't Lose Ur Head" with "Ain't I a stinker?" attitude, while Abby Mueller communicates pain through each melisma in "Heart of Stone." Then there's Brittney Mack delightfully showing off in "Get Down" and Samantha Pauly blending trauma with Ariana Grande-style power belting in "All You Wanna Do," finally capped by Anna Uzele bringing cool and calm to "I Don't Need Your Love." The album includes pieces of dialogue to help string the songs together, and some extra music is included, making this a more complete representation of the score than the studio cast recording. SIX isn't for everyone, but if you have a friend who's on the fence about giving Marlow and Moss' Gen Z song cycle a chance, this is the album to lend them. — M.K.