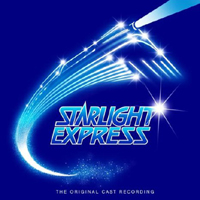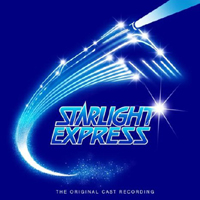 Original London Cast, 1984 (Really Useful Records, 2CDs)

(3 / 5) Starlight Express is the most enjoyable show  — or, to look at it from another perspective, the least objectionable —  that Andrew Lloyd Webber wrote after his partnership with Tim Rice broke up. With lyrics by Richard Stilgoe that are mostly fun and suitable to the story, this fantasy about anthropomorphized toy trains is rather juvenile, but at least it's not pretentious. And the pastiche score is largely delightful. Highlights include the opening "Rolling Stock" and "Pumping Iron," two homoerotic numbers in which the diesel engine "Greaseball" sings lead. The songs written for the female trains Belle, Dinah, and Pearl aren't as interesting, though Dinah's "Uncoupled" is a cute spoof of a country-western lament. The show's title song has a soaring melody that ranks among the very best Lloyd Webber ever wrote. Oddly, while the entire company is listed on the back cover of the CD booklet for the original release of this cast album, nowhere are we informed which roles they play or which songs they sing; and though all of the lyrics sung on the album are printed in the booklet, you'll need a magnifying glass to read them. Better to purchase these tracks as downloads. — Michael Portantiere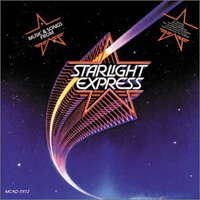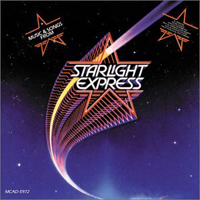 Studio Cast, 1987 (MCA)

(2 / 5) In an introductory note for this recording, Andrew Lloyd Webber oddly describes it as a "concept album" that was made after Starlight Express had already been staged in London and New York. Even though this is not really a cast album, it's worthy of attention because it was produced by the great Phil Ramone, and some of the singers are terrific — for example, EI DeBarge in a revised version of the title song, Richie Havens in "Light at the End of the Tunnel" and "I Am the Starlight" (a duet with Peter Hewlett). The other singers are Josie Aiello, Marc Cohn, Earl Jordan, and Harold Faltermeyer. — M.P.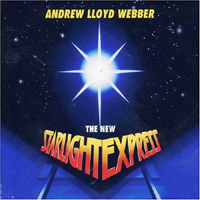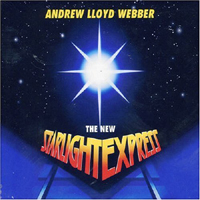 Studio Cast, 1993 (Hip-O)

(3 / 5) The two-dozen tracks on this recording encompass all of the music from Starlight Express that anyone needs to hear. The songs are well performed, and there's also some fun dialogue by "Control" (the kid who's playing with the trains) and his mother, entertainingly delivered by Tara Wilkinson and Debbie Blankett. Greg Ellis does a fine job of singing the phenomenal title song, here arranged and orchestrated by Andrew Lloyd Webber, Nigel Wright, and David Collen. Lon Satton is Poppa, Maynard Williams is Greaseball, and Caron Cardelle is Dinah. — M.P.