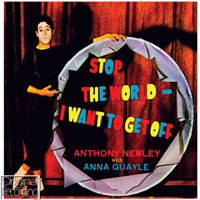 Original London Cast, 1961 (Decca/Hallmark)

(4 / 5) This may not be a great musical, but it has a great score by Leslie Bricusse and Anthony Newley. These are inventive, compelling songs. The lyrics are impeccable, full of fresh ideas and good jokes, sitting perfectly on the music and rhyming skillfully; the melodic music is whimsical on occasion, but emotionally rich when it needs to be. A rather pretentious, abstract piece set in a circus ring, Stop the World — I Want to Get Off tells the story of Littlechap (played by Newley) from birth to death, using musical theater, British music hall, and mime techniques. The songs chart this Everyman's rise from poverty to success in business and a run for public office. Littlechap marries the boss's daughter (Anna Quayle) after getting her pregnant. Though he is often unfaithful to her, all of the women with whom he dallies are essentially his wife; Quayle plays all of them with great comedic skill. In addition to funny material for Littlechap's romantic conquests, there are some nice musical scenes ("Nag! Nag! Nag!" and "Mumbo Jumbo") and three instant hit songs: "Gonna Build a Mountain," "Once in a Lifetime," and "What Kind of Fool Am I?"– David Wolf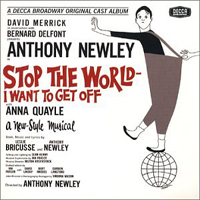 Original Broadway Cast, 1962 (London/Decca)

(5 / 5) I would rate this the best recording of the wonderful Stop the World score if only for the drummer in the overture, but there is much more here to recommend. It's a hotter record than the British cast album, with a tighter, seemingly larger orchestra that can really swing. Star Anthony Newley is sharper than on the London album, singing and acting Littlechap's songs with greater precision, insight, and flair. Anna Quayle is again wonderfully funny, and the unique score continues to be a marvel. —  D.W.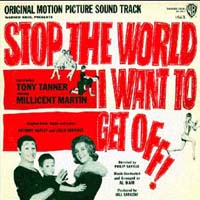 Film Soundtrack, 1966 (Warner Bros./no CD)

(1 / 5) The original Stop the World orchestrations have been softened here, some of the tempi are slower, and the performers can't begin to compete with Anthony Newley and Anna Quayle. Tony Tanner, who replaced Newley onstage, comes through creditably but without his predecessor's dramatic singing style. As all of the women in Littlechap's life, Millicent Martin, a talented performer, simply doesn't register, for some reason. The score is presented more or less as heard onstage in London and New York, except that the Typically German woman with whom Littlechap gets involved is a Typically Japanese one here, and a terrible song titled "I Believed It All" has been inserted for the chorus at the end.  — D.W.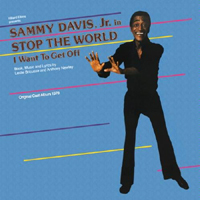 Broadway Cast, 1978 (Warner Bros./no CD)

(1 / 5) Since Sammy Davis, Jr. had made hit recordings of "Gonna Build a Mountain," "What Kind of Fool Am I?" and "Once in a Lifetime," it seemed reasonable to cast him as Littlechap in this revival, but he was not really suitable for the role. The character was Americanized and renamed "Littlecat," and the material was cheapened in many ways, from the new orchestrations to the staging to the crudely rewritten lyrics. The new "Jewish" section of "Mumbo Jumbo" is embarrassing, and a completely new song called "Life Is a Woman" adds nothing to the proceedings. "Family Fugue"/ "Nag! Nag! Nag!" has been cut entirely. Davis, a great pop singer who had previously proven himself in musical theater, comes across here as if he's giving a personal appearance rather than performing in a book show. The gifted comedian Marian Mercer is a little understated as Littlecat's wife et al., although she does find a new, amusing take on the Russian woman. This production was eventually filmed as Sammy Stops the World, but the movie was never released. — D.W.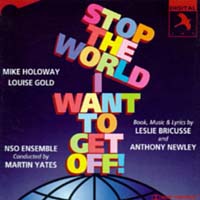 Studio Cast, 1996 (JAY-TER)

(3 / 5) There's some material here than can't be found on the wonderful original London and Broadway cast albums of Stop the World. "Welcome to Sludgepool" (introducing the Russian sequence), a reprise of "Once in a Lifetime" (leading into "Mumbo Jumbo"), the entr'acte, and play-out music are among the extras. Mike Holloway is a perfectly adequate Littlechap, but he lacks the star presence required for the role. As Mrs. Littlechap and all the women with whom her husband has affairs, Louise Gold is fine but not innately comedic. Still, it must be said that the extraordinary Newley-Bricusse score comes through with its ingenuity and wit intact.  The orchestra is well conducted by Michael Yates. — D.W.