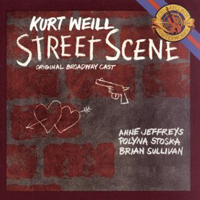 Original Broadway Cast, 1947 (Columbia/Sony)

(4 / 5) Composer Kurt Weill and lyricist Langston Hughes set Elmer Rice's 1929 Pulitzer Prize-winning play Street Scene to music as an opera, although there's plenty of dialogue in it. The music underscores the talk very much as if Weill had scored a film instead of a play. A paean to the aspirations and frustrations of the common man, the piece is set mostly on the sidewalk and street in front of a row of squalid tenements. For a work about the American melting pot, into which Weill himself had melted, he wrote great songs that sound unlike anything he'd written before. Hughes' lyrics are a complementary aspect of the drama. The central figures are Anna Maurrant; her jealous husband, Frank; their daughter, Rose; and Rose's ardent suitor, Sam Kaplan. The action takes place on a day when Frank's volatile behavior dims the future of the other three. This recording, well worth repeated listening, was produced by Goddard Lieberson, who perfected the concept of the original cast album. But note that Anne Jeffreys as Rose, Brian Sullivan as Sam, and Polyna Stoska as Anna are only heard in excerpts from the score, with some sections edited and others eliminated entirely from the recording. Jeffreys' "What Good Would the Moon Be?" is vocally stunning, although her acting is routine. Sullivan sounds too mature for the young man he plays, but his "Lonely House" is lovely. Stoska's strong voice impresses, and the children in the second-act opener "One, Two, Three, Four, Superman" are terrific. — David Finkle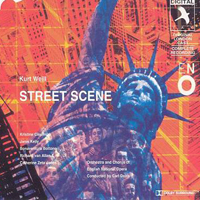 Original London Cast, 1989 (JAY, 2CDs)

(4 / 5) It took more than 40 years for Street Scene to be introduced to British audiences, courtesy of the English National Opera. Conductor Carl Davis put together a cast that's stronger on singing than emoting, as most opera-house casts are. It doesn't help that this show calls for all sorts of accents from the characters, because it's set in a New York City tenement that houses people of various ethnicities. But if some of the singers in supporting roles struggle with Langston Hughes' lyrics, the leads are intelligible and sing like angels. Kurt Weill worked in a number of musical modes when composing this score; for example, "Moon-faced, Starry-Eyed" is his quite good notion of a jitterbug, performed here by Philip Day and Catherine Zeta-Jones. The other principals include Kristine Ciesinski, Janis Kelly, Bonaventura Bottone, and Richard van Allen as the four characters caught up in the plot's climactic turn of events. They variously get to sing some truly exquisite arias, such as the poignant "Lonely House" and the equally stunning "What Good Would the Moon Be?" Because sections of Street Scene are melodramatic and/or sentimental, the piece as a whole may now seem dated — but the music isn't. And when two nursemaids sing a lullaby to their charges about the horrible newspaper headlines, we hear Weill and Hughes at their most scathing. — D.F.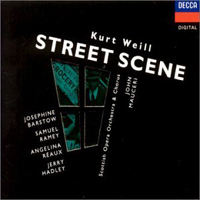 Studio Cast, 1990 (London, 2CDs)

(4 / 5) Street Scene is a nearly through-sung piece, and conductor John Mauceri's tangy, respectful treatment is its first complete recording. The score is sung beautifully and with appropriate passion by a cast led by Josephine Barstow, Samuel Ramey, Angelina Reaux, and Jerry Hadley. But the acting, which includes a turn by maestro Mauceri as a police officer, isn't quite so beautiful or passionate. Ramey does some particularly leaden emoting as the bullying husband in a melodrama that telescopes birth, death, and thwarted romance into a couple of hot June days. Perhaps because Mauceri is such a purist, he takes no liberties with tempi or meter. As a result, the awkward manner in which some of the words are set to the melodies is more noticeable here, and this must have presented a challenge for the singers. On the other hand, in declaiming their lines with such fervor, these performers see to it that the authors' political and social criticism comes across loud and clear, helped by the fact that the recording is very well engineered. — D.F.