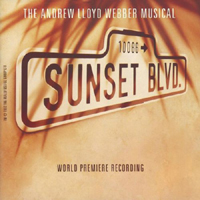 World Premiere Recording, 1993 (Polydor, 2CDs)

(3 / 5) Andrew Lloyd Webber heard a semi-operatic, sung-through musical in Billy Wilder's 1950 melodrama film noir, but he made a mistake in choosing Don Black and Christopher Hampton to write the prosaic lyrics, overrun as they are with tiresome exposition set to the same few melody lines. Whatever may be said about the composer's cribbing from Puccini and Rachmaninoff, when Lloyd Webber gets to the full-blown arias for Norma Desmond, he supplies steel-trap tunes: "With One Look," "The Perfect Year," and "As If We Never Said Goodbye" rank with his best. The world premiere production of Sunset Boulevard in London starred Patti LuPone, whose often-remarked-upon trouble with consonants is no problem here; on the contrary, her enunciation is impeccable, and her characterization fascinates. With her fluid reading of the songs and her delivery of what dialogue there is on the recording, LuPone presents the self-deluded Norma Desmond as someone who's surrendered spontaneity to a magnificent artificiality. Her Norma is a defeated woman falling from a great height. Kevin Anderson sings and orates forcibly as Joe Gillis, the screenwriter supporting Desmond in her addled belief that she can make a return to film. Daniel Benzali is a sensitive Max, Madame's butler and former husband; and Meredith Braun is fine as Betty Schaefer, the would-be screenwriter who falls for Joe. The sumptuous orchestrations by David Cullen and Lloyd Webber himself possess 1950s-film-soundtrack fervor. — David Finkle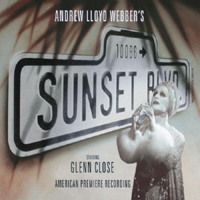 American Premiere Recording, 1994 (Polydor, 2CDs)

(2 / 5) Whereas Patti LuPone's recorded performance as Norma Desmond in Sunset Boulevard may surpass what she accomplished onstage, Glenn Close, who played the role in Los Angeles and on Broadway, sounds crotchety and almost laughably desperate on this cast album. When speaking, Close comes across as an aging Ophelia. (The effect worked better live.) When singing the hothouse solos "With One Look" and "As If We Never Said Goodbye," the star sometimes strides confidently into a note and disports herself much more vigorously than one might have expected, yet she does have problems in terms of range and volume . Too often, her shifting from chest voice to head voice and back again is the aural equivalent of watching a hurdler clear obstacles. Also, more than seems appropriate, much of her delivery sounds like whispering. Alan Campbell plays Joe Gillis and is more than adequate in his singing, yet not entirely convincing in the role. Judy Kuhn as Betty is, as always, lovely and real; what a lustrous voice she has. As Max, George Hearn adds another oddball performance to his list of Broadway oddballs. Musical director Paul Bogaev brings out all the overheated drama of Lloyd Webber's melodies, which include a sweeping opening theme. — D.F.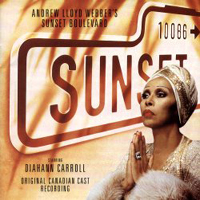 Original Canadian Cast, 1995 (Polydor)

(2 / 5) Diahann Carroll fans are the likeliest targets for this recording, which cuts out a good deal of material that may be heard on the two previous Sunset Boulevard albums. But what's gone isn't missed, since the show's heavy-handed satire of Hollywood's eat-'em-alive attitudes can become tedious. Carroll, an unexpected choice to play silent-screen-vamp Norma Desmond, gives a viable performance. Her Norma is full-bodied and commanding, and she brings interesting nuance to "New Ways to Dream" in particular. Rex Smith has an engaging way about him as Joe Gillis, Walter Charles lends depth to the loyal Max, Anita Louise Combe is a sweet Betty Schaefer, and Jeffrey Huard's conducting is stately. — D.F.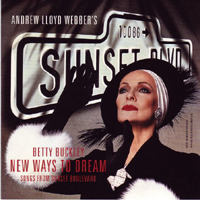 Betty Buckley: New Ways to Dream: Songs from Sunset Boulevard, 1995 (Polygram)

(3 / 5) When Betty Buckley replaced Glenn Close in the Broadway production of Sunset Boulevard, the show finally acquired its ideal Norma Desmond. From the first words that Buckley spoke — "You there! Why are you so late?" — the iron-butterfly quality of Desmond was suddenly, blazingly present in this dark musical's speeches and songs. That opening comment is the only bit of dialogue Buckley speaks on this recording, which includes four of the character's arias: "Surrender," "With One Look," "New Ways to Dream," and "As If We Never Said Goodbye." Still, they're enough to confirm Buckley's mastery of the role. Alan Campbell makes a guest appearance as Joe Gillis, Paul Bogaev conducts, and their contributions here are superior to their previous recordings of this score. Buckley, it would seem, inspired them to rise to her vaunted level. — D.F.