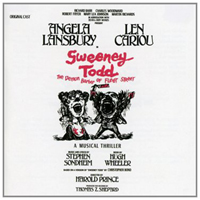 Original Broadway Cast, 1978 (RCA, 2CDs)

(5 / 5) Every musical theatre fan has a personal favorite Sondheim score, and the man's oeuvre is so rich and diverse that it's impossible to argue what is truly his "best" work. But few people if any would dispute that Sweeney Todd, the Demon Barber of Fleet Street is Sondheim's grandest, largest-scale achievement. It's also  perhaps the work he's most closely associated with, having achieved high-profile status in theaters and opera houses around the world, as well as having served as the basis for a popular film version. Adapted from the play by Christopher Bond, which in turn is a dramatic interpretation of an English urban legend, Sweeney Todd tells of a barber who slits the throats of his customers and consigns their dead bodies to his landlady, Mrs. Lovett, who bakes them into meat pies. The show is billed as "a musical thriller," but Sondheim and book writer Hugh Wheeler focus on its themes of revenge, corruption, and obsession, adding more complex elements of humanity to the musical horror. That approach clearly worked, as Sweeney Todd is widely acknowledged as a musical theater masterpiece. The original Broadway cast recording remains definitive; it represents nearly the entire score and book of the show, and it's thrilling from start to finish. As the vengeful barber, Len Cariou is sexy, sympathetic, and terrifying all at once. He's superbly partnered by Angela Lansbury, providing comedic relief and giving a career defining performance as Mrs. Lovett. The duo's incredible chemistry comes to a high point with the famous Act 1 finale "A Little Priest," when Sweeney and Lovett suddenly realize how to discard the remains of his victims as well as provide her with quality meat for her pies; Cariou and Lansbury fiendishly toy with Sondheim's brilliant lyrics, making the song simultaneously hilarious and disturbing. The two are given excellent support by the rest of the principal company: Merle Louise's demented Beggar Woman, Ken Jennings' doe-eyed Tobias, Edmund Lyndeck's lecherous Judge Turpin, and Sarah Rice and Victor Garber as the innocent lovers Johanna and Anthony are all perfect. Jonathan Tunick's grandly operatic  orchestrations have never been equaled, and Paul Gemignani conducts with a fearless, steady hand that keeps the entire piece moving seamlessly. There will always be room for differences of opinion as to what score represents the very best of Sondheim, but when it comes to Sweeney Todd, only one recording is truly essential: this one. — Matt Koplik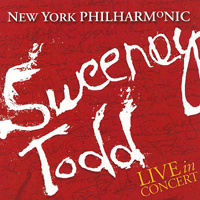 New York Philharmonic Concert Cast, 2000  (N.Y. Philharmonic Special Editions, 2CDs)

(3 / 5) Now, assuming that you've done your homework, purchased the original cast album of Sweeney Todd, and thoroughly familiarized yourself with it, you can start having fun with other interpretations.  In May of 2000, Lonny Price directed a semi-staged concert version of Sweeney for the New York Philharmonic in honor of Sondheim's 70th birthday, and a live recording of the event was issued in a special limited edition. With a starry cast, an audibly thrilled audience, and the incomparable Philharmonic playing the score with searing focus, there's a palpable energy to this performance; the applause that greets stars George Hearn and Patti LuPone upon their entrances and the knowing laughter that punches every line of "A Little Priest" are just a few examples. And yet, the heady, almost giddy atmosphere keeps this recording from ever truly soaring to great heights. While LuPone and Hearn are vocally peerless and blend together sensationally in "My Friends" and "Priest," they both have a habit of indulging the audience rather than mining their characters for full dramatic potential. (LuPone provided a more well-defined Mrs. Lovett five years later in John Doyle's stripped down revival; see review below). Neil Patrick Harris is an endearing if somewhat vocally underwhelming Tobias; Heidi Grant Murphy is a lovely Johanna, second only to Sarah Rice; and Audra McDonald is, of course, fantastic as the Beggar Woman. This may not be the most moving or compelling Sweeney Todd you'll  ever hear, but it's pretty exciting. — M.K.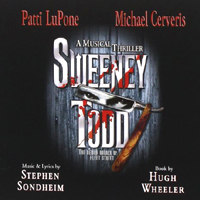 Broadway Cast, 2005 (Nonesuch, 2CDs)

(4 / 5) When Sweeney was first revived on Broadway in 1990, at Circle-in-the-Square, that production (which yielded no cast album) was nicknamed "Teeny Todd" for its downsizing from the Grand Guignol style of the original production to a far more intimate affair, disposing of the chorus and large orchestra. Audiences were thrown by seeing and hearing the show performed on such a small scale after a decade of its having played in large theaters and opera houses. But even that staging couldn't prepare Broadway for British director John Doyle's re-conceptualized production 15 years later, set in an insane asylum. Doyle used only 10 actors and famously had them double as the orchestra throughout the show. The results are fascinating and, ultimately, rewarding; though the score loses its grandeur, the show becomes chillingly personal. The excellent cast/orchestra, led by Sondheim vets Michael Cerveris and Patti LuPone, glides through the score with assurance, each of them switching back and forth from actor to musician seamlessly. Cerveris makes for a particularly brooding Sweeney, and LuPone — more disciplined and restrained than in her New York Philharmonic performance (see review above) — is a sexy Mrs. Lovett. While everyone gets a chance to shine, the true star here is orchestrator Sarah Travis. Rather than reduce Jonathan Tunick's original charts, Travis completely restyled Sondheim's score to match the frightening intimacy of Doyle's vision. Who knew that "Johanna" could sound so beautiful with only accordion and cello accompaniment? Even though "City on Fire" is sadly not included here, and some listeners may miss the impact of a large chorus, this is an excellent addition to the Sweeney discography and a wonderful opportunity for fans to hear a brilliant score in an entirely different way — M.K.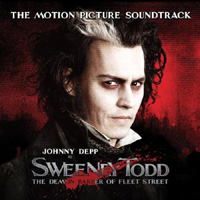 Film Soundtrack, 2007 (Nonesuch)

(2 / 5) Tim Burton's film adaptation of Sweeney Todd is terrific or terrible, depending on whom you ask. Opting for a basically intimate film, Burton shied away from all things operatic, cutting any material that was sung by the chorus in the original score ("The Ballad of Sweeney Todd" and all of its reprises, for starters) and focusing solely on his principal cast. This makes for an arguably excellent film but a poor representation of the stage show and an uneven listening experience, the approach working better for some sections of the score than others. The singing voices of the movie's cast, led by Johnny Depp and Helena Bonham Carter, don't allow them to  revel in the lushness of Sondheim's music. Without the film's visuals, some listeners to the soundtrack may wonder why Carter whispers most of "The Worst Pies in London," or why "Pirelli's Miracle Elixir" is cut in half. Others may balk at Depp's crooning, rock-tinged style of singing, less George Hearn and more David Bowie. Still, even without the benefit of seeing the film, this recording offers some perks. Broadway maestro Paul Gemignani leads a huge Hollywood orchestra that tears into the score with incredible intensity. (The orchestrations are Jonathan Tunick's originals, with some changes of key and other minor alterations.) "Not While I'm Around" is sung beautifully by Ed Sanders, the first child actor to portray Tobias in a major production of Sweeney. The entire supporting cast is strong, with Laura Michelle Kelly making a memorable impression as the Beggar Woman even though Burton eliminated much of her role.  — M.K.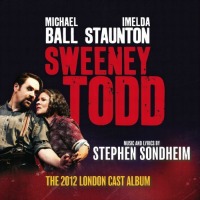 London Cast,  2012 (First Night) 

(1 / 5) Premiering at the Chichester Festival Theatre in England, this revival of Sweeney Todd immediately transferred to the West End, where it enjoyed a very successful run and numerous accolades. While many, including Sondheim himself, have sung the production's praises, and indeed it may have worked in the theater, this recording does very little to argue for its artistic merits. It doesn't help that what we have here is really only a selection of highlights — although that isn't how the album is labeled. Among the songs and sequences not included are "Poor Thing," "Pirelli's Miracle Elixir," and "Green Finch and Linnet Bird." These major omissions aside, there are other elements that make this recording nonessential. While the orchestra heard here is smallish, the orchestrations weren't rewritten accordingly (as they were by Sarah Travis for the John Doyle production), but instead are just pared-down versions of the Jonathan Tunick originals. As a result, the score sounds tinny. On the plus side, the two critically acclaimed leads, Michael Ball and Imelda Staunton, provide fully realized performances as Sweeney and Mrs. Lovett. Though Ball's voice is often too young-sounding and he therefore lacks a certain gravitas for the role, his "Epiphany" is strong, and Ball takes a note from Len Cariou in playing Sweeney with a restrained intensity throughout. Staunton is vocally on par with Lansbury, though her Lovett is more fiery and sinister, making her sparring with Ball on "A Little Priest" more frightening. Still, overall, this recording is the least satisfying of the stage cast albums reviewed here. — M.K.