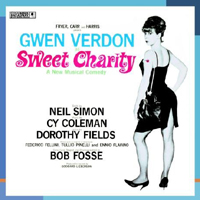 Original Broadway Cast, 1966 (Columbia)

(5 / 5) This is a practically flawless recording of a Cy Coleman-Dorothy Fields score that ranks as one of the best of the 1960s. Bob Fosse's adaptation of the Fellini film Nights of Cabiria starred Gwen Verdon in a beguiling, heartfelt performance as dance-hall girl Charity Hope Valentine. All of Verdon's songs on the album are a pleasure, from the coy "You Should See Yourself" to the ecstatic "If My Friends Could See Me Now" and "I'm a Brass Band." Her rendition of "Where Am I Going?" is heartbreaking; listen to her delivery of the final three words. Verdon finds all the warmth, humor, and vulnerability in Charity, selling the role from a vocal standpoint just as completely as she did with her world-class dancing onstage. The rest of the cast is also terrific: A full-voiced John McMartin sings the title song; Helen Gallagher and Thelma Oliver are equally effective in the big number "There's Gotta Be Something Better Than This" and the much more intimate "Baby, Dream Your Dream"; James Luisi soars in the gorgeous "Too Many Tomorrows"; and the chorus women sex it up in the classic "Big Spender." The musicians, playing Ralph Burns' dynamite orchestrations, sound like the ultimate Broadway orchestra under Fred Werner's musical direction; the overture and "The Rhythm of Life" will get your blood pumping and your feet tapping. The CD includes extended takes of "Rich Man's Frug" and "I Love to Cry at Weddings," opening-night interviews with Gallagher, Verdon, book writer Neil Simon, and celebrity guest Ethel Merman, and three great cuts of composer Coleman singing his songs with full accompaniment. — Matthew Murray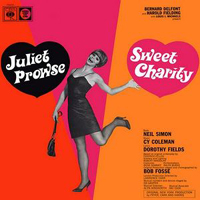 Original London Cast, 1967 (CBS/Sony West End)

(4 / 5) This second Sweet Charity is not quite perfect. The accents are a bit wonky. There are a number of internal cuts to the songs, and no "Charity's Soliloquy" or "I'm the Greatest Individual." The tempos and Ralph Burns's gently revised orchestrations aren't as sharp as on the Broadway recording. But, otherwise, this is a choice take on the material. As Charity, Juliet Prowse lacks the huggable personality and sleeve-worn vulnerability that made Gwen Verdon's performance a treasure, but she stakes her claim to being the second best exponent of the role on record with gutsy renditions of the songs that squeeze every bit of dramatic juice from the character's hard-bitten background. For that reason, she's better in the sharper numbers ("You Should See Yourself," "If My Friends Could See Me Now") than the sweeter or darker stuff, but Prowse is a genuine pleasure in any event. So is pretty much everyone else, with Rod McLennan crooning well as Oscar, John Keston providing a rich "Too Many Tomorrows," and Josephine Blake and Paula Kelly offering spirited backup as Charity's dance-hall colleagues Nickie and Helene. The OBCR may be irreplaceable, but for a flavorful spin on the property before it started going downhill, this is as good as the runners-up get. — M.M.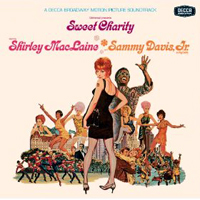 Film Soundtrack, 1969 (Decca)

(2 / 5) Shirley MacLaine lacks much of Gwen Verdon's conviction in the title role of Sweet Charity; she finds the character's basic mood, but fails to offer distinctive vocal renditions of any of her numbers. The new songs written for the score by Cy Coleman and Dorothy Fields, "My Personal Property" and "It's a Nice Face," are not the equals of those they replaced. The audio quality of many of the tracks is poor, and slipshod editing prevents the soundtrack album from being an accurate record of what's heard in the film. But some of the performances are excellent: Chita Rivera as a tough but Ioving Nickie, Sammy Davis, Jr. as a thoroughly magnetic "Big Daddy" in "The Rhythm of Life," and a jovial Stubby Kaye as Herman in "I Love to Cry at Weddings." John McMartin recreates his definitive Oscar, but he gets only one song here — a rewritten, less-exciting version of the title number. Joseph Gershenson supervises and conducts the music with verve, and, audio quality aside, the orchestra sounds great. — M.M.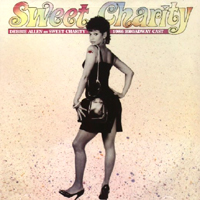 Broadway Cast, 1986 (EMI)

(1 / 5) What a step down, holy cow! You know you're in trouble from the first seconds of this recording, when the musicians playing Ralph Burns' orchestrations under Fred Werner's baton lugubriously bleat out the opening salvos of the once-glorious Sweet Charity overture. Add in Debbie Allen's self-indulgent performance as Charity, complete with overwrought vocal stylings ("I'm the Bravest Individual" is practically unlistenable), and the result is a misguided performance of the score with almost none of the thrills and charms to be found in other recordings. Only Michael Rupert as Oscar, Bebe Neuwirth as Nickie, and Mark Jacoby as Vittorio Vidal save the album from being a complete botch; Jacoby offers the best "Too Many Tomorrows" on record, and Rupert does a nice job with the film version of the title song. — M.M.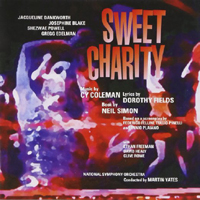 Studio Cast, 1995 (JAY, 2CDs)

(2 / 5) The big benefit of this recording is its completeness: Every musical number from both the stage and film versions of Sweet Charity can be found here, plus all of the dance music. The downside is that conductor Martin Yates, leading the National Symphony Orchestra, slows down the tempi significantly. Jacqueline Dankworth is vocally the strongest Charity yet recorded, but she's rather "hard," failing to tap into the character's vulnerability and starry-eyed resilience. She leads a mostly fine cast: Gregg Edelman as a smoothly sung Oscar, Clive Rowe as a wild "Big Daddy," and Josephine Blake and Shezwae Powell as Nickie and Helene. Only David Healey's Herman is surprisingly weak, making "I Love to Cry at Weddings" a skippable track. — M.M.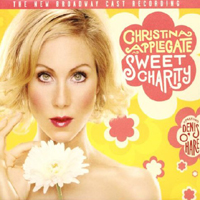 Broadway Cast, 2005 (DRG)

(2 / 5) An unapologetic star vehicle, Sweet Charity is only as good as its leading lady — who, in even the best of cases, will forever be compared to Gwen Verdon. Christina Applegate is  a hard worker,  and a trouper; during a nightmarish out-of-town tryout period, she sustained an injury that almost scuttled the production. But she is at best okay in the role, even on disc. With a thin voice and not a lot of verve, she can't do much with the character, and not a single one of her renditions of the songs is memorable for any reason, good or bad. Denis O'Hare, cast almost dangerously to type as Oscar, displays his usual, hyper-neurotic stage persona. No one today does this kind of thing better, so his work is enjoyable (and he's been given the rarely heard song "A Good Impression") but not much different than in any other show. As Nickie and Helene, Janine LaManna and Kyra Da Costa come across very well. So does Paul Schoeffler as Vittorio, providing the closest this recording gets to a killer vocal with an emphatic "Too Many Tomorrows." Substandard orchestrations by Don Sebesky, who cut down Ralph Burns's peerless original charts, wrap the package. All of that said, with the exception of a funkified version of "The Rhythm of Life" that represents a painful, pitiful reinterpretation of the show-stopping real deal, most of the numbers still charm and amuse. The dazzling bonus tracks feature performances of several songs from the score by Cy Coleman and, on "I'm the Bravest Individual," Dorothy Fields as well. These tracks in themselves arguably make this album necessary for completists. —M.M.