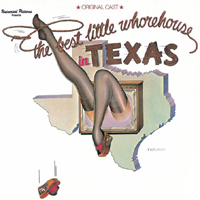 Original Broadway Cast, 1978 (MCA)

(4 / 5) On the off chance that you've never seen or heard of this show, don't be put off by its title. Yes, it's about a house of prostitution and its central character is the brothel's madam, Miss Mona, but this musical is smart, funny, and sexy rather than stupid and smarmy — in contrast to its flop Broadway sequel. With a book by Larry L. King and Peter Masterson, the based-in-fact story concerns the fallout that occurs when a self-righteous TV personality "exposes" the existence of the Chicken Ranch, a whorehouse that's been in operation for decades. Carol Hall's tuneful songs are amusing, heartfelt, and rousing by turns. Among the highlights are the expository songs "20 Fans" and "A Lil' Ole Bitty Pissant Country Place"; the "Aggie Song," in which a bunch of horny football players plan their victory celebration at the Chicken Ranch; and "Hard Candy Christmas," sung by the girls when they learn that the place will soon close. Miss Mona is played by Carlin Glynn — the wife of co-author Masterson, who also co-directed the show with Tommy Tune. Glynn does a bang-up job with such numbers as"Girl, You're a Woman," "No Lies"(a sassy duet with Delores Hall as the maid, Jewel), and "The Bus From Amarillo." There are amusing turns by Clint Allmon as TV snoop Melvin P. Thorpe and Jay Garner as the slick Governor of Texas. Henderson Forsythe as Sheriff Ed Earl delivers his one song, the solid country ballad "Good Old Girl," with lots of feeling.  — Michael Portantiere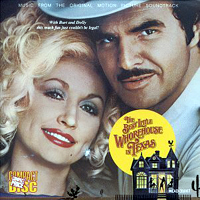 Film Soundtrack, 1982 (MCA)

(2 / 5) Country-music superstar Dolly Parton was an excellent choice to play Miss Mona in the movie version of Whorehouse. Opposite her is Burt Reynolds, for whom the role of Sheriff Ed Earl was transformed into a younger, more self-involved character. The soundtrack orchestrations are fuller than the stage originals, although not excessively Hollywoodized. The huge mistake made here was the excision of several of Carol Hall's songs in favor of others written by Parton. Apparently, the star wrote several new songs for the flick, but only the lame Parton-Reynolds duet "Sneakin' Around" made the final cut; another Parton addition, "I Will Always Love You," had been written earlier, and several years after the release of the Whorehouse film would become a monster hit for Whitney Houston. The great Theresa Merritt, who plays Jewel in the movie, is only heard here singing a few lines of "A Lil' Ole Bitty Pissant Country Place." Fortunately, "Texas Has a Whorehouse in It" was retained — it's sung by Dom DeLuise as Melvyn P. Thorpe — and the governor's number, "The Sidestep," is done to perfection by Charles Durning. — M.P.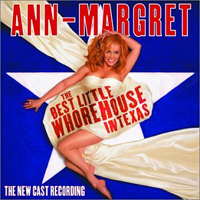 National Tour Cast, 2001 (Fynsworth Alley)

(2 / 5)
This recording of a national touring production of Whorehouse that was built around Ann-Margret in the role of Miss Mona has neither the spontaneity of the original Broadway album nor the polish of the film soundtrack. A-M's work in the tour engendered some negative reviews; the star's live performances had hitherto been limited to Vegas acts and arena concerts, and she reportedly seemed unsure of herself in a book show. This album gives credence to the charge of tentativeness that was leveled at her. She never really lets go and belts any high notes, which is a disappointment in songs like "A L'il Ole Bitty Pissant Country Place," "No Lies," and "The Bus From Amarillo." Still, A-M works well within her limitations, sounding just fine in the lower-lying sections of the role and employing a sexy, breathy head voice for the higher parts. Even if her vocal performance lacks theatrical energy, it has its own sort of charm. As for the rest of the cast: Gary Sandy as the sheriff is appealing in "Good Old Girl," Rob Donohue as Melvin P. Thorpe is a stitch in "Texas Has a Whorehouse in It," Roxie Lucas sings "Doatsy Mae" persuasively, and Avery Sommers has a high old time as Jewel. "A Friend to Me," a pretty new ballad by Carol Hall, is well rendered by Ann-Margret, and also by Hall herself in a bonus track.  (P.S.: The cover art for the recording, featuring A-M in an aggressively sexy pose, is quite ridiculous.) — M.P.