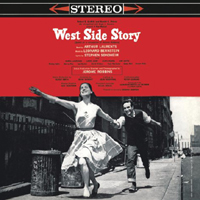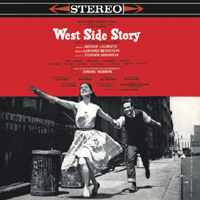 Original Broadway Cast, 1957 (Columbia/Sony/Masterworks Broadway)

(5 / 5) Conceived by Jerome Robbins, with music by Leonard Bernstein, lyrics by Stephen Sondheim (and an uncredited Bernstein), and a book by Arthur Laurents, West Side Story is a groundbreaking musical theater work that remains thrillingly vital and is continually revived worldwide, both professionally and by schools and community theaters. The phenomenal score, including such by now universally beloved songs as "Tonight," "Maria," and "Somewhere," deepens the audience's emotional involvement in an immortal story of star-crossed lovers, inspired by Shakespeare's Romeo and Juliet and reset among warring American and Puerto Rican gangs in Manhattan circa 1957. Happily, the score is well represented by this recording, which has a theatrical snap and an emotional conviction that more than compensate for any flaws in the performance. Although Carol Lawrence's soprano thins out in the highest reaches of Maria's music, and Larry Kert's tenor develops something of a braying quality when he pushes for volume, both singers sound lovely in the more lyrical sections of the score, and they bring a youthful, unaffected style to their roles. Chita Rivera is a ball of fire as Anita, and Mickey Calin (later Michael Callan) sounds equally sexy as Riff. Reri Grist sings a lovely "Somewhere," and Marilyn Cooper makes a notable contribution to the "America" number. Nearly an hour's worth of material was laid down in the studio, making this one of the longest Broadway cast albums of its day, the better to document the superb score as performed by the original company; among the few significant sections missing are the "Blues" and "Promenade" sections of the Dance at the Gym. The bravura playing of the orchestra, conducted by Max Goberman, is captured in excellent early stereo sound. — Michael Portantiere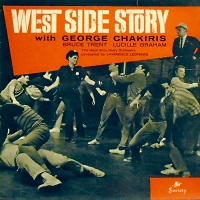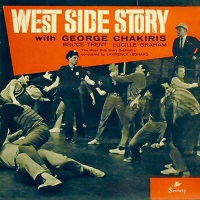 London/British Tour and Studio Casts, 1959-1966 (Various Labels)

(3 / 5) A note from Christopher Hamilton: "The Original London Cast Recording of West Side Story was only an EP with four songs — 'Maria,' 'Tonight,' 'I Feel Pretty' and 'One Hand, One Heart' — sung by Don McKay and Marlys Watters. It was released in 1959. In 1961, a studio cast recording was released, conducted by Lawrence Leonard, who was the MD [musical director] on the original London production. The album featured George Chakiris (Riff) singing 'Cool.' In 1966, another studio cast recording was released featuring David Holliday (Tony), Jill Martin (Maria), Mary Preston (Anita), and Tony Adams (Riff). These performers had all played the roles in the West End or on tour. This recording was conducted by Alyn Ainsworth." As heard in a historically valuable compilation presented on YouTube by Hamilton, the overall quality level of these rare recordings is quite high. Particularly enjoyable tracks include Holliday's "Something's Coming" and Chakiris's "Cool." (Chakiris won acclaim and an Academy Award for his performance as Bernardo in the film of West Side Story, so it's a lot of fun to hear him sing one of Riff's songs.) Watters and McKay do a beautiful job with the "Tonight" duet and "One Hand, One Heart"; her high soprano notes are fuller than Carol Lawrence's, and some listeners will find his vocal tone more pleasing than Larry Kert's. On the minus side, McKay's "Maria" is marred by a too-slow tempo and his flattening of some of the rhythms.  It's interesting to note that, as was the case with the OBCR, the tempi for many of these recordings — especially the dance numbers — are very fast, no doubt to help fit more material onto the vinyl LPs of the day. [Note: The image included with this review is of the LP cover of the 1961 recording.] — M.P.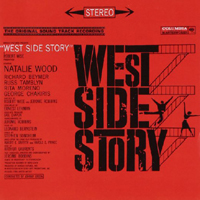 Film Soundtrack, 1961 (Columbia/Sony)

(5 / 5) The ubiquitous movie vocal double Marni Nixon here sings Maria's music in lieu of the film's star, Natalie Wood, and her performance points up one of the challenges in casting West Side Story: If you find performers who can fulfill the musical requirements of this difficult score, they  probably won't be entirely convincing as New York City street kids. Nixon's opera-quality lyric soprano is not exactly that of a teenage Nuyorican girl, but her voice is very beautiful in itself, and the matching of her singing to Wood's speech is skillfully done in the movie. Jim Bryant, dubbing for Richard Beymer, has a less "legit" sound, but he does an overall admirable job with Tony's vocals, despite the fact that he often seems to be singing below his ideal range because the original keys of many of the songs were dropped for the film medium. Sharing Anita's musical moments, Rita Moreno and dubber Betty Wand both do very well, and there is no disconnect between their voices. An intriguing fact of the recording is that, while Russ Tamblyn sings for himself in "Gee, Officer Krupke," he's dubbed by fellow cast member Tucker Smith for the "Jet Song." Since Smith does his own singing in "Cool," that means he's actually heard on the soundtrack as two different characters. To make things even more interesting, Nixon sings Anita's part in the latter part of the "Quintet," presumably because it was too high for Wand or Moreno. Happily, the movie and this recording feature what are more or less the original theater orchestrations by Bernstein, Sid Ramin, and Irwin Kostal, beefed-up for a much larger orchestra conducted by Johnny Green. The "expanded" edition of the soundtrack album includes dialogue and music taken directly from the film. Though it's great to have this extra material, including a thrilling orchestral performance of the "Mambo," the sound quality of the added sections is noticeably different from that of the tracks taken from the original soundtrack album master, and the switching from one to the other is a bit disconcerting. — M.P.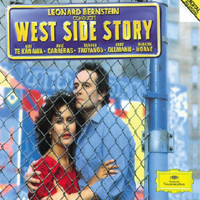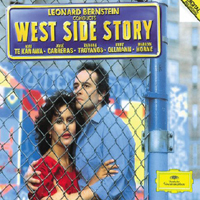 Studio Cast, 1985 (Deutsche Grammophon) 0 stars; not recommended. A near-total disaster, preserved for posterity in the form of this album and also in a gasp-inducing film documentary of the studio sessions. It was a great idea (in theory) to have Leonard Bernstein conduct a full recording of the West Side Story score, but a horrendous idea to cast all of the major roles with opera singers. While José Carreras's tenor sounds gorgeous here, his thick Latino accent makes him ridiculous in the role from a dramatic standpoint. This wouldn't be a problem in terms of enjoying the performance on a purely musical level, but Carreras also seems uncomfortable with the more "pop" elements of the score — for example, the syncopations in "Something's Coming." Although the late, great operatic mezzo Tatiana Troyanos was duly praised for her performances in works by Bizet, Mozart, et al., she is an overripe Anita, while the talented baritone Kurt OIlman creates a sound more appropriate for Don Giovanni than for Riff. Kiri Te Kanawa as Maria fares best among the principals, but still, she sounds too mature and self-possessed to be credible as a very young, innocent, Puerto Rican girl. Even Bernstein's conducting is a disappointment; there are wonderful moments, but also some extremely odd tempi. For example, both "One Hand, One Heart" and "I Feel Pretty" are way too slow by any reasonable measure. The one major plus of the project is star mezzo soprano Marilyn Horne's gorgeous and moving rendition of"Somewhere." — M.P.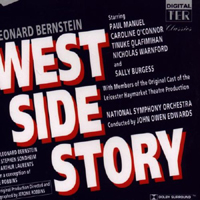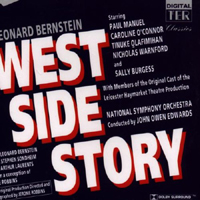 London/Studio Cast, 1993 (JAY, 2CDs)

(2 / 5) According to a note in the accompanying booklet, "This recording is inspired by the Leicester Haymarket Theatre production which opened on November 20, 1992." It's a complete recording of the score with many nice features but a few flaws so major that they damage the overall experience. The tempi set by conductor John Owen Edwards are much closer to ideal than those often found in a British performance of an American musical; one exception is "I Feel Pretty," which is far too slow, Edwards here following the bad example set by composer Leonard Bernstein himself on the Deutsche Grammophon recording reviewed above. The brilliant West Side Story score, in its original orchestrations by Bernstein, Sid Ramin, and Irwin Kostal, is for the most part magnificently played by the National Symphony Orchestra under Edwards' leadership. Also, the sound quality of the recording is superb, its dynamic range allowing for many exciting musical moments. As for the singers, Tinuke Olafimihan is a lovely Maria, and Caroline O'Connor is very good as Anita despite her tendency to growl a little too often. Another plus is Sally Burgess's beautiful rendition of "Somewhere." But Paul Manuel's voice is so thin that it's hard to understand how he could ever have been cast as Tony. A further problem is Manuel's inability to disguise his English accent; the same can be said for all of the "Jets" on this recording, and it sure is disorienting to hear New York street toughs sounding as if they were born and bred in Great Britain, as compared to the far more skillful accent work heard on the previous British recordings reviewed above. — M.P.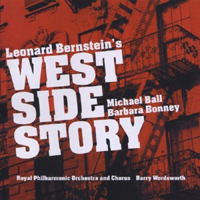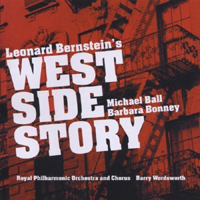 Studio Cast, 1993 (Pickwick/Warner Classics) 0 stars; not recommended. This recording features West End musical star Michael Ball and the acclaimed American operatic soprano Barbara Bonney as Tony and Maria, with LaVerne Williams as Anita and Christopher Howard as Riff. (In a major oversight, the "Somewhere" soloist is not identified. It sounds like it could be Bonney, but who knows?) The principals are backed by the Royal Philharmonic Orchestra and Chorus, conducted by Barry Wordsworth. But if any of that sounds good to you, please think twice. While Ball possesses a strong and attractive vocal instrument, his singing is severely marred by weird inflections, exaggerations, and enunciations. For example, when he sings "Tonight there will be no morning star," the last word sounds like "staa-huh-EHHHH." The tastelessness of Ball's singing is exacerbated by his failed attempt to sound like a New York teenager; instead, he comes across as a Brit affecting the mannerisms of a Las Vegas lounge singer. The performance of Williams, a mezzo with a cavernous register break, is equally problematic, her Anita almost seeming to have been created for a comedy sketch about opera singers ruining great musicals. Howard and the other Jets are less objectionable, though their attempts to hide their British accents are more amusing than successful. Bonney, with her sweet but strong vocal tone, is the best of the leads by far. As for the orchestral cuts on this album, the prologue is lethargic, and each section of the "Dance at the Gym" sequence is either a little too fast or a little too slow.  — M.P.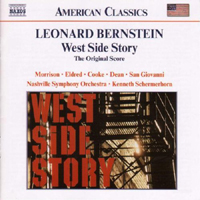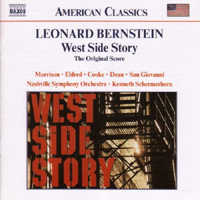 Studio Cast, 2001 (Naxos)

(2 / 5) This is billed as a recording of "the original score" of West Side Story, whatever that means. All sections of the "Dance at the Gym" are included — except for the lovely "cha-cha" setting of "Maria" that accompanies Tony and Maria's love-at-first-sight scene. The version of "America" heard here is sung by the Sharks and their women, as in the 1961 film, but the lyrics are a mixture of those used in the stage show and the movie. (Apparently, the original concept of the number in the Broadway production was that it would be performed by the Shark men as well as their girlfriends, but during rehearsals, a decision was made to feature the women only.) Mike Eldred acquits himself best among the leads; in fact, his ardent, youthful tenor makes him one of the best Tonys on records, despite some mildly intrusive pop mannerisms. Betsi Morrison as Maria is less consistent, sounding rather insipid at times but coming through in the clutch, as in the "Tonight" quintet. Similarly, Michelle Prentice calls to mind a breathy pop singer in the opening phrases of "Somewhere," but she handles the song's climaxes well. Robert Dean offers a paradoxical Riff, his burly vocal tone undercut by sibilant esses. As captured in thrilling digital sound, the Nashville Symphony Orchestra sounds great playing the score, even if some of Kenneth Schernerhorn's conducting is a little sluggish. — M.P.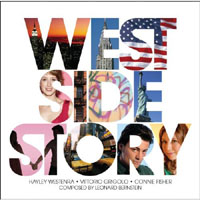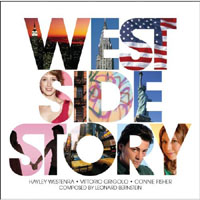 Studio Cast,  2007 (Decca Broadway)

(2 / 5) The shining star of this recording is the Italian operatic tenor Vittorio Grigolo, who gives a gorgeously sung, heartfelt, idiomatically persuasive performance as Tony.  In all honestly, Grigolo's Italian accent is nearly as thick as José Carreras's Spanish one,  but somehow this unsuitability for the character doesn't rankle nearly as much here — partly because Grigolo sounds captivatingly youthful despite the maturity of his "legit" sound, and he seems much more at home with the score on a stylistic level.  Also, he's smart and sensitive enough to sing softly and lyrically when called for (as in "One Hand, One Heart") without ever sounding like he's crooning or condescending to the music. In contrast, the very thin and "white" sound of Hayley Westenra's voice in the role of Maria is not offset by her vocal acting, which is also pallid in terms of emotion. Especially in her higher register, she sounds so wispy that one can only wonder why she was tapped for this assignment, regardless of whatever name value she may have possessed at the time. Melanie Marshall doesn't successfully solve the belt-or-head-voice issues presented by Anita's music, and Connie Fisher sings the achingly beautiful "Somewhere" with too much of a pop-song approach. But Will Martin is one of the best Riffs on record, a couple of obviously Brit pronunciations aside; and the Jets sound convincingly American, including Loren Geeting as Action, who does a fine job with the comedy of "Gee, Officer Krupke."  Nick Ingman conducts the Royal Liverpool Philharmonic with snap in some sections of the score, too slowly in others. But Grigolo's performance makes this is a must-have recording despite its flaws, and earns it a higher star rating than it would have received otherwise.  — M.P.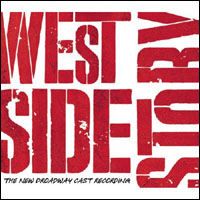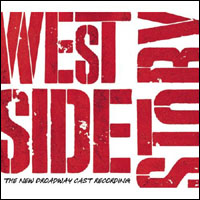 Broadway Cast, 2009 (Masterworks Broadway) 0 stars; not recommended. Here, for what it's worth, is an audio memento of a misguided 2009 Broadway revival of  West Side Story.  While the production itself was primarily sunk by the willfully odd direction of the show's book writer, Arthur Laurents, the cast album is more specifically undone by the musical direction and conducting of the normally reliable Patrick Vaccariello. His reading of the score begins with a loose performance of the orchestral "Prologue," and things don't get much better thereafter; "The Rumble" is conducted stolidly, and Vaccariello drags the tempi for many of the vocal numbers. Among the singers, the female leads come across best: Josefina Scaglione's sweet yet strong soprano is right for Maria, and Tony Award winner Karen Olivo is alternately sexy, funny, and ferocious as Anita. Matt Cavenaugh sings prettily if somewhat nasally as Tony, but he takes many liberties in terms of musical phrasing, and his delivery of the spoken dialogue included on the recording is extremely stiff. Cavenaugh also stumbles in his far-from-credible New York accent — as does Cody Green, whose intentional mispronunciation of the "r" consonant makes his Riff sound like he requires the services of a speech therapist. When this production opened, much was made of the decision to have Lin-Manuel Miranda (composer/lyricist of Broadway's In the Heights and, later, Hamilton) translate some of Stephen Sondheim's lyrics to be sung in Spanish by the Puerto Rican characters, in order to emphasize the clash of cultures that bears significantly on the show's plot. This might have seemed like a good idea in theory, but in practice, it didn't work — certainly not in those sections of the "Quintet" version of "Tonight" when the Jets and Sharks, respectively, sing in English and Spanish at the same time. (Most of the Spanish lyrics were eliminated from this production as the run continued, but not before they were recorded on the cast album.) All of these flaws, plus the unwise choices to have a boy soprano sing "Somewhere" and to throw a silly vocal competition into "I Feel Pretty" (sung in Spanish as "Me Siento Hermosa"), make this a highly unsatisfying addition to the West Side Story discography, so much so that it's not recommended for listening despite its few pluses. — M.P.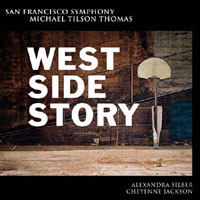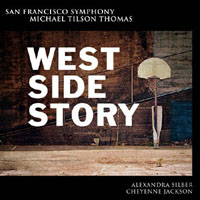 San Francisco Symphony Concert Cast, 2014 (S.F. Symphony, 2CDs)

(4 / 5) This is an honorable, limited-edition recording of the West Side Story score. Alexandra Silber is generally very fine as Maria, even if she occasionally phrases too freely and distorts some of the written note values. As Tony, Cheyenne Jackson displays an innately beautiful baritenor and excellent musical theater instincts, yet he has a distracting habit of obviously manipulating or "placing" his voice differently for various passages of the score; sometimes he sounds a little throaty, sometimes a bit nasal, sometimes just right. Kevin Vortmann, who has shone in other roles, comes across as rather too "legit" in sound for Riff, and when the Jets and Sharks are singing as a group, they sound more like a large-size concert chorus of trained voices (which they are) than a small band of street toughs. But Jessica Vosk is definitely among the top-tier Anitas, and Julia Bullock sings "Somewhere" gorgeously. The score is presented note-complete and is well conducted overall by Michael Tilson Thomas, even if he sometimes indulges in the penchant of some classical music conductors to set too-slow tempi in WSS. ("I Have a Love" and the opening section of "America" are two examples.) Quite a bit of dialogue is included here, some lines delivered more persuasively than others. The state-of-the-art sound of the recording is spectacular. — M.P.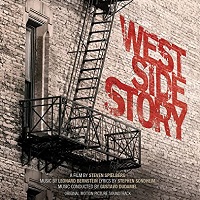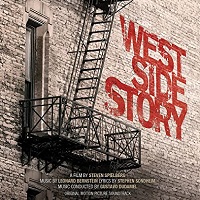 Film Soundtrack, 2021 (Hollywood Records)

(4 / 5) Steven Spielberg's and Tony Kushner's reimagining of West Side Story for a motion picture remake is near miraculous in its overall excellence, and the soundtrack album is one of the best recordings of the classic Bernstein/Sondheim score. Gustavo Dudamel expertly and passionately leads the New York Philharmonic (and, for a few passages, the Los Angeles Philharmonic) in a new adaptation of the score that largely preserves the incomparable original arrangements and orchestrations. In the role of Maria, Rachel Zegler displays a lovely voice and is far more natural-sounding that some previously recorded exponents of the role, complete with what strikes this listener's ears as an accurate Puerto Rican accent. Opposite her as Tony, Ansel Elgort also sings beautifully and persuasively, and both he and Zegler are 100 percent vocally credible as teenagers. Ariana DeBose is strong, sexy, and deeply moving by turns as Anita; David Alvarez impresses in his brief musical moments as Bernardo; and the actors who solo in "Gee, Officer Krupke" (Kevin Csolak, John Michael Fiumara, Jess LeProtto, Ben Cook, Kyle Allen, Myles Erlick, Patrick Higgins) offer vivid vocal characterizations. As Riff, Mike Faist brings to the "Jet Song" a sound as lean and mean as his striking appearance in the film. (Faist is also heard briefly in the "Tonight" ensemble and in "Cool," but the bulk of the latter song has been given to Elgort as Tony; nor is Faist heard at all in "Gee, Officer Krupke," as his character has been removed from that number, for some reason.) In the new role of Valentina, Doc's widow, Rita Moreno — who won an Academy Award for her performance as Anita in the first big-screen version of West Side Story — offers a heartbreaking rendition of "Somewhere." If the 2021 film itself has any flaws, they may be found in the overwriting of some of the new dialogue that Kushner created for the screenplay, but since very little of that is heard here, the soundtrack album is thoroughly enjoyable as an aural document of a superlative cinematic achievement, presented in state-of-the-art recorded sound. — M.P.