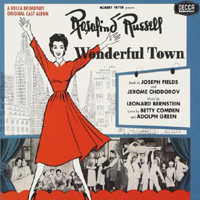 Original Broadway Cast, 1953 (Decca/MCA)

(4 / 5) Nine years after their breakthrough show, On the Town, composer Leonard Bernstein and lyricists Betty Comden and Adolph Green were hired on very short notice to provide a replacement score for Wonderful Town. Their excellent work was initially overshadowed by a dominant star, Rosalind Russell, who had headlined a 1942 non-musical film version of Ruth Sherwood's comic memoir My Sister Eileen and agreed to become a song-and-dance gal for the Broadway musical adaptation. The show's success was immediate, with one critic chiming "Roz for President." Russell's ace timing and her rough-and-ready way with her numbers, including the comedic showpiece "One Hundred Easy Ways (to Lose a Man)," were so beguiling that the merits of the score weren't fully appreciated right away; filled with wit and sharp pastiche, it cleverly gives the more legit music to others in order to let Russell's Ruth thrive within a limited vocal range. The original cast album conveys much of the show's magic, notably the complex comedy-and-music structure of "Conversation Piece";  the gentle parody "Ohio," in which Russell harmonizes with the sweet yet assertive Eileen of Edith (later Edie) Adams; and the wild "Conga!" with men from the the Brazilian navy. No one would say that Russell was a singer of any polish, nor does her vocal tone fall liltingly on the ear. Subsequent Ruths would have more voice, but Russell was unique and irresistible. — Richard Barrios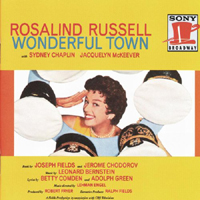 Television Cast, 1958 (Columbia/Sony Broadway)

(4 / 5) Wonderful Town was one of the glories of the age of the television musical spectacular. Repeating her stage role, Rosalind Russell was supported by a mostly new company, although Jordan Bentley as the dumb jock and Cris Alexander as the drugstore guy were retained from the original cast. Recorded in stereo, this album stacks up quite well against the mono original. Jacqueline McKeever is nearly as good an Eileen as Edith (Edie) Adams. Sydney Chaplin as Bob Baker seems more suitably cast to type than the Broadway production's George Gaynes, and he does a persuasive job with "A Quiet Girl" and "It's Love" even though he has far less voice. On the minus side, the intervening five years (and countless performances of Auntie Mame) had taken a toll on Russell; while the verve and humor are still there, albeit with an added soupçon of diva attitude, her vocal decline exacerbates her tendency to bully her way through the music by hook or by crook. But she's still Roz, and this is a fine recording of the score overall. — R.B.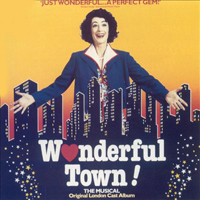 London Cast, 1986 (First Night)

(3 / 5) Quality will out, at least some of the time, and Wonderful Town was finally appreciated on its own merits in the enthusiastically received London revival that yielded this recording. Even with a scaled-down orchestra that included a synthesizer, this production soared. The strong craftsmanship of the show was more apparent than ever because its wagon wasn't hitched to a big star. Maureen Lipman's expert performance as Ruth is smart, deadpan-witty, hopeful, exuberant, and incisive; Lipman has no difficulty with the character or the songs, and her American accent is fine. The Eileen of Emily Morgan is sweet, if a shade thin-voiced, and Ray Lonnen is a bit weak as Bob Baker, but the rest of the cast is energetic and committed even as they struggle with their American accents. This is an enjoyable performance that makes a good case for the show as more of an an ensemble piece than a star vehicle. — R.B.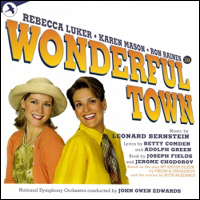 Studio Cast, 1996 (JAY-TER, 2CDs)

(4 / 5) This complete recording of Wonderful Town, including all of the music cues and dances, was welcome. Karen Mason sings very well as Ruth, and she doesn't stint on the comedy in one of the score's and the album's highlights: the hilarious "Ruth's Stories" sequence, with its "literary" quick-changes and droll Bernstein interjections. Rebecca Luker is an outstanding Eileen, if perhaps a shade too aware of her own charm, and Ron Raines is a better Baker than his predecessors. Conductor John Owen Edwards does his customary efficient work, the supporting cast and chorus are fine, and the extended dialogue sections give a real sense of the show.  — R.B.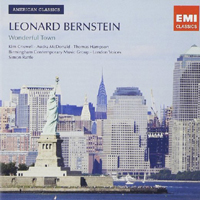 Studio Cast, 1998 (EMI)

(3 / 5) Conductor Simon Rattle, a Leonard Bernstein partisan, decided to give the Wonderful Town score another big studio recording. His Ruth is Kim Criswell, a veteran of many show albums. The much-loved Broadway musical star Audra McDonald is Eileen, and the imposing operatic baritone Thomas Hampson is Bob Baker. This time, the composer and conductor are the stars of what is orchestrally the best Wonderful Town ever recorded. Under Sir Simon, the Birmingham Contemporary Music Group sounds like the finest Broadway pit orchestra of all time; every instrumental line is transparently clear, and the whole of it is a testament to Bernstein's wit, lyricism, and comedic savvy. The usual balance of the score is further shifted with the ascension of Eileen; even though McDonald's voice might be a shade mature for the role, she's such an intelligent and intuitive artist that she vocally dominates the proceedings. Criswell tries hard, but her characterization is all on the surface, with lots of shtick accessories applied. Hampson overwhelms and over-sings his role, though he does add some good humor to the "Rigoletto" line in "What a Waste." Brent Barrett's "Pass the Football" is well sung, and operatic baritone Rodney Gilfry is excellent in two small roles. — R.B.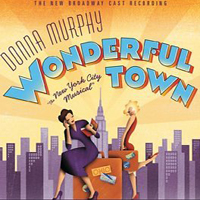 Broadway Cast, 2003 (DRG)

(4 / 5) As the preceding roster of Wonderful Town recordings attests, this score has been especially fortunate in the studio. That certainly applies to the cast album of the 2003 Broadway revival, which was based on the 2000 City Center Encores! presentation starring Donna Murphy. Not since Roz Russell has a star so completely dominated the proceedings — and this one can really sing! Murphy is a sensational Ruth, wry and funny and romantic by turns, all the while interacting fully with the other performers. Just listen to the spectrum of vocal colors she produces in "Swing" and you'll know that a true musical comedy expert is at work here. Jennifer Westfeldt is a charming Eileen, the rest of the cast (including Gregg Edelman and Michael McGrath) operates at a high level, and Rob Fisher conducts Bernstein's terrific score with his usual skill. As an appendix, DRG has included recordings of four songs from the show as performed by Betty Comden and Adolph Green circa 1953. — R.B.