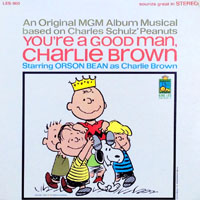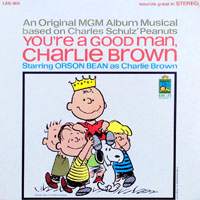 Studio Cast, 1966 (MGM/no CD)

(3 / 5) Long out of print, this recording was one of the first musical theater "concept albums." Few people seem to be aware that You're a Good Man, Charlie Brown began not as an Off-Broadway show but as a recording of 10 songs by composer-lyricist Clark Gesner, inspired by Charles Schultz's extraordinarily popular "Peanuts" comic strip. Very difficult to track down, the LP is noteworthy for several reasons aside from its historical value as the basis for one of the most successful Off-Broadway musicals ever. The four-member cast — Orson Bean as Charlie Brown, Barbara Minkus as Lucy, Bill Hinnant as Snoopy, and Gesner himself as Linus — is excellent. Although Bean is probably best remembered as a television host and game show panelist, he was a fine actor, and his Charlie Brown is endearing even if Bean never really creates the impression of being a child. Minkus, on the other hand, does have a "little girl" voice that she puts to excellent use in Lucy's numbers, especially "Schroeder" and "The Doctor Is In." Gesner is charming in his one solo spot, Linus's "My Blanket and Me." And Hinnant is thoroughly delightful as Snoopy, a role he owned for quite some time (see below). This is the only recording of YAGMCB to boast a full orchestra, led by legendary conductor Jay Blackton. Those trumpets in the title song and those strings in "Snoopy" really add something to the music. — Michael Portantiere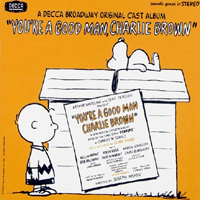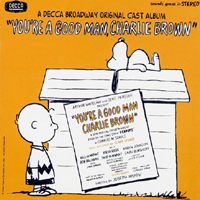 Original Off-Broadway Cast, 1967 (MGM/Decca)

(4 / 5) This recording is recommended primarily for the definitive performances of its cast. Gary Burghoff, later famous as Radar O'Reilly in the long-running television series M*A*S*H , is perfect as Charlie Brown. It's a difficult assignment in that the character has to seem hapless and "wishy-washy," as everyone (including himself) thinks he is, yet he must be appealing and sympathetic to the audience in an Everyman sort of way. Burghoff walks that line beautifully, and is persuasive in all of Charlie's vocal moments. Reva Rose is equally great in the role of Lucy; her semi-screaming of the high notes in "The Doctor Is In" (a.k.a. "Dr. Lucy") is priceless, and she's a stitch when giving tons of wrong information to brother Linus in "Little Known Facts." Bob Balaban is an adorable Linus, and Bill Hinnant is even better as Snoopy here than he is on the concept album; he's also given more to do, thanks to the addition of the "Red Baron" scene and other juicy sections of dialogue taken directly from the "Peanuts" strip. Karen Johnson has virtually no solo moments in the role of Patty, and Skip Hinnant (Bill's brother) has only slightly more to do as Schroeder. There were a few significant additions to the score for the show's stage debut as compared to what's heard on the original recording; among them are Charlie Brown's extended solo in "T.E.A.M." and "Book Report," a clever ensemble number in which Charlie, Lucy, Linus and Schroeder each take different approaches to the same homework assignment. The title song has also been expanded considerably. The score's instrumentation here is limited to piano and percussion, but the sound quality of the recording is exceptionally good, and there's a palpable theatricality about it. Decca Broadway's CD reissue of the album has four bonus tracks of demos performed by Gesner and Barbara Minkus, with Gesner at the piano. — M.P.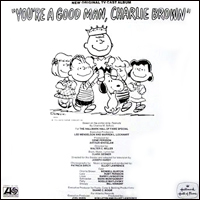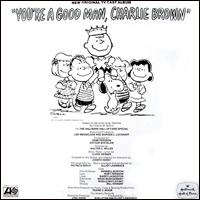 TV Cast, 1973 (Atlantic/no CD)

(3 / 5) Also out of print for decades, this cast album of a 1973 "Hallmark Hall of Fame" TV production of You're a Good Man, Charlie Brown is quite enjoyable in that the company is generally strong and the score is more fully orchestrated than on the Off-Broadway recording (though less fully orchestrated than on the concept recording). The performers include Wendell Burton, who had played Charlie Brown on stage in San Francisco; Bill Hinnant, again outstanding as Snoopy; and Barry Livingston, of My Three Sons TV fame, as an appealing Schroeder. In the role of Lucy, Ruby Persson gives a creditable performance, far better than one would expect after noticing that she has the same last name as one of the show's producers. Rounding out the cast are Mark Montgomery as a charming Schroeder and Noelle Matlovsky in the thankless role of Patty. If you have a working turntable hooked up to your sound system at home, a vinyl LP copy of this album is worth seeking out as more than a curiosity. — M.P.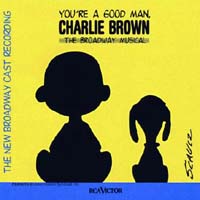 Broadway Cast, 1999 (RCA)

(2 / 5) When the original production of You're a Good Man Charlie Brown transferred to Broadway after a downtown, Off-Broadway run of more than 1500 performances, it closed within a month. But the musical received countless amateur and regional productions over the years, and it may have been a fear of over-familarity that prompted the producers of the '99 Broadway version to have composer-lyricist Andrew Lippa revise and augment the original score. Aside from aggressively rearranging  Clark Gesner's music, Lippa contributed a catchy new section of the title song, but the two new numbers he wrote from scratch are highly questionable additions: Schroeder's "Beethoven Day" is a joyously rhythmic pop tune, the problem here being that this fussy, "serious-musician" type would never express himself in such a way; and though Kristin Chenoweth, in the newly created role of Sally Brown, somehow manages to mine comic gold from "My New Philosophy," the song itself really isn't that funny. There's fine work from Anthony Rapp as Charlie Brown, Ilana Levine as Lucy, B.D. Wong as a lisping Linus, and Roger Bart in a winning turn as Snoopy. Stanley Wayne Mathis does a good job with "Beethoven Day," but he's as miscast in the role of Schroeder as the song is wrong for the character. The practically superfluous role of Patty was eliminated for this production and replaced by Sally, who became an integral part of the show, largely due to Chenoweth's Tony Award-winning portrayal. — M.P.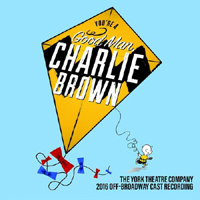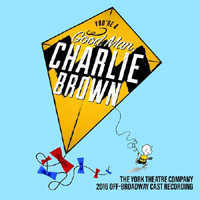 Off-Broadway Cast, 2016 (Broadway Records)

(1 / 5) There exists a recording of the Humperdinck opera Hänsel und Gretel with with actual children singing the title roles, which were intended by the composer to be sung by an adult mezzo soprano and soprano (respectively). Although that may sound like a good idea in theory from the standpoint of verisimilitude, in practice it doesn't work, because the demands of the music are beyond the abilities of pre-pubescent voices. Needless to say, if the composer had wanted these roles to be sung by children, he would have written them very differently. A similar situation exists with this cast album of the 2016 York Theatre Company production of You're a Good Man, Charlie Brown, which featured performers ranging in age from 9 to 14 and retained the unnecessary, mostly unfortunate Andrew Lippa revisions/additions to the score. Although this show is far from operatic in style, it still requires a vocal maturity that these youngsters obviously don't possess. The kids also generally fall short in terms of musical phrasing, comic timing, and persuasive delivery of the fair amount of spoken dialogue included on the recording; it often sounds as if their inflections were grafted onto them by the director, rather than being organic. All of that makes this the least satisfying recording of the score. Interestingly, the opening number here interpolates a couple of measures of the cool jazz trio music that Vince Guaraldi composed for the classic 1960s TV special A Charlie Brown Christmas. Justly famous and beloved as this riff is, it doesn't fit with the original Clark Gesner songs any better than does the Lippa material. One wonders if rights had to be obtained to use it, and at what price! — M.P.